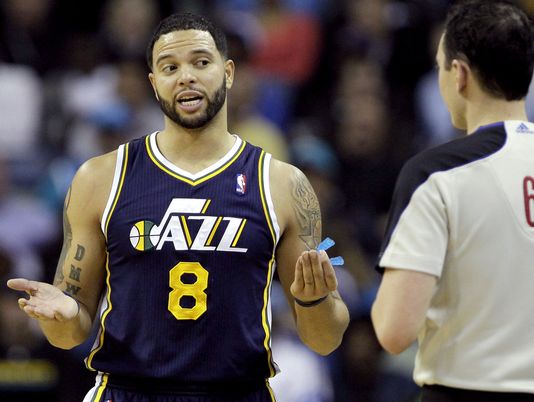 The gist of it
Randy Foye.
Okay, now that's out the way, let's move on. Deron Williams returned to Utah for the second time since the infamous trade that made him a Net, and for the second time the Nets left with a loss. D-Will performed much better than last seasons 3-15, five turnover performance, but the outcome was the same. Williams was booed with every touch of the basketball, despite being semi-cheered during pre-game introductions.
On the whole, this was a game of runs. The Nets and Jazz went back and forth the entire first half, with the Nets hanging onto an unconvincing two point win heading into halftime. Then, Randy Foye happened. I don't know if any of you saw the incredible Trey Burke performance in last night's Kansas-Michigan game, but what Foye did was almost a carbon copy of what happened in Arlington. Foye hit three-pointer after three-pointer in ridiculous fashion, finishing with 26 points on 9-11 shooting (8-9 from behind the arc). The Nets simply didn't have a chance against the hot hand.
On the Brooklyn side, Williams put up a solid game, scoring 21 points with 11 assists. Brook Lopez added 27 points and seven boards and Reggie Evans grabbed his usually-absurd 16 boards. The second half of the game was the story as hot shooting and poor defensive play from the Nets gave the Jazz the W.
Observations
I always find it interesting when star players return home after bad exits. Deron Williams-led Nets teams are now 0-4 against Utah and while D-Will has put up pretty decent numbers against his former team (17 points, eight assists in a small four-game sample size), it hasn't translated to wins. In fact, only December 2012's two-point home loss against the Jazz were even somewhat close. I don't really have a follow up point to this at all, expect the fact that I find it interesting.
PJ Carlesimo finally went with a lineup that featured both Brook Lopez and Andray Blatche… and did so for a whole three minutes! The Nets scored four points and grabbed three rebounds while this lineup was on the floor and that means pretty much nothing, but I would really like to see PJ experiment with this a little more. While Blatche and Lopez are certainly both offensive-minded big men who don't really compliment each other as well as you'd like them to, watching Reggie Evans continue to struggle in the post is painful to watch, especially when there can be more viable options out there.
I was impressed by the offensive play of Brook Lopez tonight, with his 27/7 game. He displayed some pretty impressive range early on in the game, hitting a shot near the top of the key as the shot clock expired in the first quarter and with his usual set of post moves. He shot 11-16, scoring from all over the floor. Andray Blatche, too, was effective in the paint, shooting 5-8, with 10 points, but he also had great looks that didn't translate into points.  Defensively, the bigs had a difficult time against Al Jefferson (20/7), Derrick Favors (13/9) and Marvin Williams (14/6), but they didn't play as a big of a role as the RANDY FOY3 experience.
Yeah, one more time, Randy Foye absolutely killed the Nets tonight. It also was an interesting (headscratching?) decision by PJ Carlesimo to not play the Nets second-best defender as least in Keith Bogans at all in the fourth quarter.
The Deron Williams-Gordon Hayward battle was incredibly fun to watch. Hayward was on D-Will for much of the second half and the two went shot-for-shot in moments during the stretch.
At least this was fun
Up next
Cavs, Wednesday at 7PM.