Uncategorized
Nets 111, Blazers 93: Hey, alright!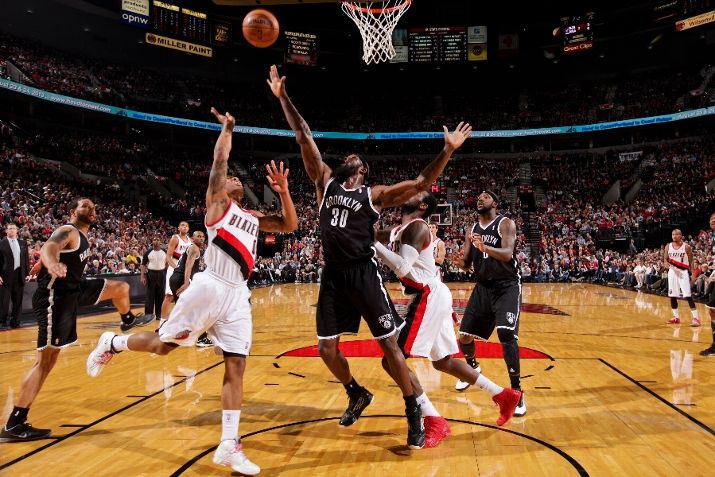 The gist of it: There was an amusing little wrinkle at the beginning of the game, which was originally scheduled for 10:30 EST but became noticeably delayed the longer Chicago-Miami took to conclude, with the revised tipoff announced for 10:45. That doesn't happen often, where one nationally televised game is specifically held back; usually, they just run concurrently. But every basketball fan in the country was tuning in to see if the Bulls would break the Heat's streak, which of course they did—and because that contest ended in such dramatic, blood-curdling fashion, a follow-up game like Nets-Blazers was a hell of a way to come down. A full body bath where you just hang out for a few hours; an Ambien you take and knock off for the rest of your day; a petting zoo where you get to hang out with a baby goat for as long as you want.
It was calming, you know? The Nets were up by 20 at the end of the first quarter and up by 30 a few minutes into the 2nd; they held this lead for basically the entire game, allowing the Blazers to get within 14 at the end but no further. Just a great way to relax, enjoying a blowout in the wake of what's arguably the biggest game of the season to date—though I did feel bad for any of the Blazers beat guys who had to cover that thing in purpose while trying to maintain any kind of emotional equilibrium. Sometimes your chakras are whispering "Take care of your body," and you've just got to respect that lest you burn out.
Observations
° I've smiled at enough Reggie Evans-The 20/20 Experience jokes to fuel an entire blogosphere, but it's sort of preposterous how he tore up the Phoenix defense. (And I can type that in 100% seriousness.) Left hooks for days, just two turnovers and one fewer offensive rebound than the entire Suns team put together for an overall line of 22 points, 26 rebounds. That's Kevin Love stuff, and he even drew an And-1! Too real. mySynergySports notes that he scored 1.22 points per possession, a rarity for him.
° The only thing missing was an Andray Blatche three-point attempt, though Brook Lopez did take one. He missed.
° In the first half, the Nets took 29 shots near the rim and made 21 of them; they were 6-of-20 from the rest of the field. Again, they were up by 23 at the half.
° I got shivers on a Nic Batum chasedown block in the third quarter. He's a special guy.
° During a Gchat with Portland Roundball Society's Danny Nowell in the second quarter, I asked how watching this from Portland was going. His response: "I swear to God somebody just dropped a bottle of beer all over me and a dude next to me in press row." The media's a tough game, kids.
° If you can tell, I'm struggling a little bit to put my thoughts together on this one; I was just burned out after the end of that Heat game and found it hard to do anything but enjoy the basketball. It was a blowout; it doesn't get much nicer than that.
Liftoff!
Just loving the way Brook takes off in transition here, like a sped-up video of a statue riding an invisible escalator. He was here; now he is there, with nary a joint bent out of shape.
Up next: Denver on Friday night. Can the Nets limit the pace as they did with the Clippers?