Uncategorized
Nuggets 109, Nets 87: Poor form, sport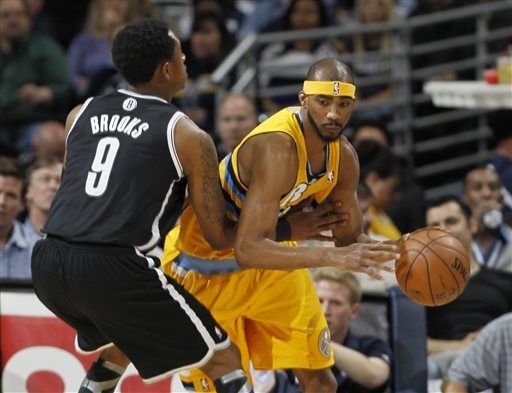 The gist of it
It seemed like a bit of an anomaly that the Nets were hanging with the Nuggets after one quarter, considering how each team was scoring. The Nuggets were getting dependably clean looks inside off their focused pick and roll game, which the Nets remain crummy at stopping, and their transition offense was similarly unstoppable. Brooklyn, on the other hand, was isolating far more and falling back on familiar spots: Bogans in the corner, Deron posting up, Brook working in the paint. But they were within three points, at least until their shots stopped falling and Denver cracked things open by running the hell out of the ball, taking full advantage of Brooklyn's 21 turnovers and a balanced attack that saw six players in double digits, three off the bench. The Nets were down by 18 at the half and didn't get closer than 12 after that—the only note I took during the fourth quarter, when things were going really bad, was "Screw this."
Denver is a league-best 33-5 at home, so maybe a loss was inevitable considering Brooklyn's weaknesses on defense. They're still 4-2 on this circus trip with two games left, but both of those losses have been to the trip's two best teams (Nuggets, Clippers). That might be a little disconcerting until you figure they're probably not going to be facing the Western Conference in the playoffs, since the world is Miami's to lose. Chalk it up to things they need to work on.
Observations
° According to mySynergySports, the Nets transition defense has hovered around the median all year long. You wouldn't have figured that from watching them try to defend the Nuggets, who scored 26 fast break points and got out in transition 29% of the time. Part of this was by unfortunate design: Reggie Evans likes to crash the boards, which often puts him closer to the rim, and Brook Lopez and Andray Blatche aren't great sprinters.
But more often than not the Nets would be ill-positioned to get back—they'd have three or more players hovering inside the arc when the Nuggets would begin running the other way following a miss or turnover, or they'd lose the benefit of the doubt by trotting instead of dashing when Denver was looking up to set up an outlet pass or alley-oop. (Denver's second score of the game: A lob from Andre Miller to Kenneth Faried that spanned the entire floor.) The first item on the Denver scouting report is "They like to run the ball," so it was a little puzzling to see such a passive approach to preventing the break.
° Shooting 50% of their free throws—including a very uncharacteristic 3 of 9 performance from Lopez—didn't help either, and while the margin of loss was much larger than their regular free throw shooting would've accounted for, it's a little demoralizing to keep clanging at the line. Lopez finished 4 of 15 from the floor, too.
° JaVale McGee and Andray Blatche were guarding each other for a moment and it was like watching a living mirror—McGee, undoubtedly familiar with going against him in practice from their Washington days, played a much closer, intimate form of defense that he's usually known for, which only made Blatche endeavor even harder to get his little shimmies through the hole. By my count, Blatche didn't have too much trouble scoring on him, going 8 for 11 overall. Then again, the Nets lost.
° Denver's altitude has to give the Nuggets an advantage, right? The more player continuity there is, the more familiar they are with playing in those conditions. They're probably a lot more in shape after training in the air, too.
° There's fewer basketball moves with as much psychological intrigue as one of those apathetic JaVale goaltends where the ball is well past the peak of the arc but he smacks it away anyways. I wish the NBA had an equivalent of Inside the Actors Studio so we could peek into what motivates him there.
° Kris Humphries had a chasedown block on Corey Brewer in the second quarter, and we should all take a moment to cherish that.
In fact, let's cherish it right now
Precious moments.
Up next: Utah, tonight. The Jazz are reeling, and the Nets can clinch a winning record on the road trip by beating them. Let's hope!