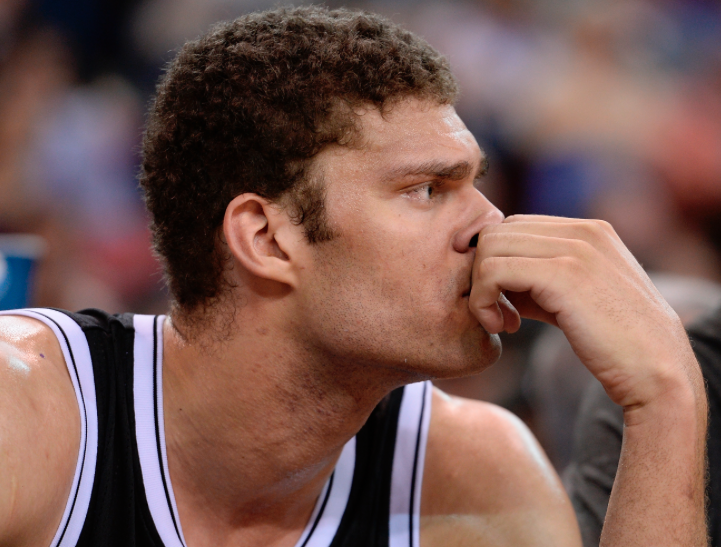 Unless you've been living under a rock, you've undoubtedly heard the news. During the second half Friday night, Brook Lopez played through what would later be diagnosed as a broken foot, essentially ending his season. And, even more so, for the team that things couldn't possibly get any worse…well, they just got a hell of a lot worse.
Take his defensive impact, for instance. Lopez' offensive-wizardry is a given. He shoots well-above 50% from anywhere within 19 ft. of the basket, which is something no other big in the league can say. But the problem lies in their defense, where the Nets are currently allowing seven more points per 100 possessions when Lopez rests (per NBA.com Stats.) Furthermore, he remains a catalyst in the paint, allowing opponents to shoot only 40% around the rim (tops among defenders who have faced at least eight shots per game at the rim, per SportVU Player Tracking.)
So now, the question remains: Where does Brooklyn go from here? The answer, unfortunately, isn't that simple. In fact, it's perplexing.
Outside of the upcoming mix-and-match Nets fans can look forward to, what the future holds is unknown. For example, the five-man-lineup of Anderson-Blatche-Johnson-Garnett-Williams, as well as Blatche-Garnett-Johnson-Pierce-Williams, will probably be used as staples going forward. Those lineups, however, have currently logged a combined four minutes per game. Sure, Blatche has flourished in his limited time as the center in a small-ball lineup, but nothing is guaranteed in an extended role. Plus, Kirilenko will be sliding back in soon, leaving more mysteries around the defensive end of the court.
The rebounding numbers are also an issue, seeing as Lopez is clearly a standout in that category. Brooklyn's rebounding percentage drops just over 3% when he's not on the court, the second-largest drop-off as it pertains to their on/off rebounding numbers (Evans, obviously, is first.)
If anything, send your angst towards the would-be offense. The moment Williams returned from that nagging ankle injury, the spacing opened up, finally displaying a light at the end of the tunnel. Everything made sense. It all worked. In fact, the Nets scored nearly 20 more points per game in the six games after Williams' return as opposed to the nine prior (which really goes without saying.)
Of course, Lopez then came down on his foot awkwardly, leaving an infinite amount of time to jigger more 2013 B.S. (Before Spacing) moments.
So, until the uninvited Asik-for-Pierce deal (which may or may not include Terry and/or Teletovic), this is the team Brooklyn is stuck with. Or, quite possibly, what you see is what you get considering Brooklyn can't draft a player until 2019. (Read that last sentence again.)
For now, get used to it. This, after all, is your 2013-14 Nets.