Analysis, Game Recaps
Sifting Through the Wreckage of Brooklyn Nets 91, New Orleans Pelicans 111
Things started off pretty sweet for the Brooklyn Nets. They were moving the ball well, playing solid defense, and frustrating the New Orleans Pelicans, who were coming off a back-to-back. Unfortunately for the home team things soured quickly, then irreversibly spoiled, with injuries to both pride and person as the Nets lost their 4th straight at home and lost it big: 111-91.
I feel like I've been harping all season about the Nets and their good starts, but I'm getting back up on that soapbox again. After a 25-11 lead with 2:28 left in the first quarter, Brooklyn was outscored 100-66 the rest of the way. You might think that an injury bitten Pelicans team without Ryan Anderson, Jrue Holiday, or Tyreke Evans must have gotten yet another super-human performance from Anthony Davis. You would be wrong as Davis finished with 15 points, 6 rebounds, and 5 assists on just 5-16 shooting. In fact, not a single Pelican scored more than 17 points, but rather six New Orleans players finished between 12 and 17 points.
The Pelicans also did not out-rebound Brooklyn, as both teams finished with 41. What really helped do the Nets in was the Pels massive assist rate (New Orleans assisted on 69% of made field goals compared to Brooklyn's 59%). Of course, the Nets missing 58.3% of their field goals didn't exactly help them either.
To make matters worse, the Nets also suffered a few injuries during the course of the game. Markel Brown (one of this author's favorites) rolled his ankle, Sergey Karasev twisted his knee in a very nasty looking way, and Alan Anderson fell on his tailbone, which is not nearly as funny as it sounds. We still don't know the exact prognosis of any of these players, but coach Lionel Hollins said post-game that Karasev will not go on the upcoming road trip but Brown will.
Alright, so let's snuggle up into this disaster. Today I'm going to look a little deeper at this massive gulf between the start of the game and the rest of it. This has been a constant problem for the Nets this season, but this game versus New Orleans was an extreme version of all that has been right and wrong about this Brooklyn team. To demonstrate, I broke the stats apart between the starters in the 1st quarter and the rest of the game…and it got ugly.
The starters in the first quarter has a net rating of 37.5, boosted by a 71.2% assist ratio, a 67.1% eFG percentage, and a 68.7% PIE, which measures the overall impact on the game. The higher the PIE, the more dominating a player or teams is. The remainder of the game, that net rating fell to -34.1, the assist ratio dropped to 45.8%, the eFG percentage went down to 40%, and that PIE plummeted to 28.7%.
So enough numbers, what did they actually do wrong? Well, I'm glad I asked because I have screenshots for you! The short answer is that everything got all clogged up. Let's start on defense, which isn't necessarily the Nets strong suit anyway, but should have been okay against an injured Pelicans team.
This first play is an example of very good team defense that happened (surprise, surprise) in the first quarter. The play starts with Asik in a very high post position, Davis on the opposite elbow, and the other Pelicans spreading the floor.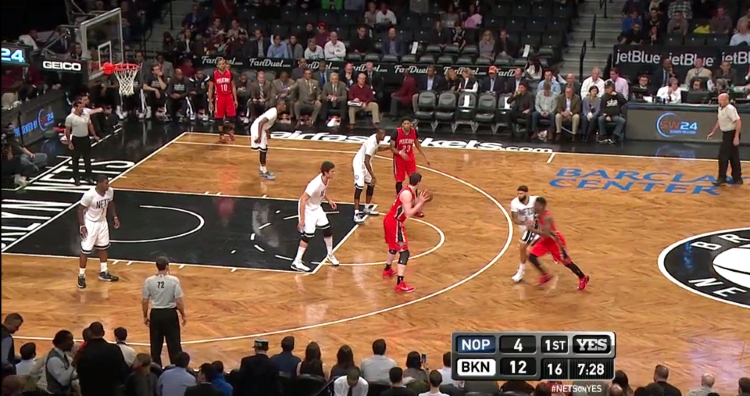 Asik dribbles for some reason while both Cole (on the bottom) and Davis try to set up screens.
Now, watch this defensive movement (I love defensive movement)!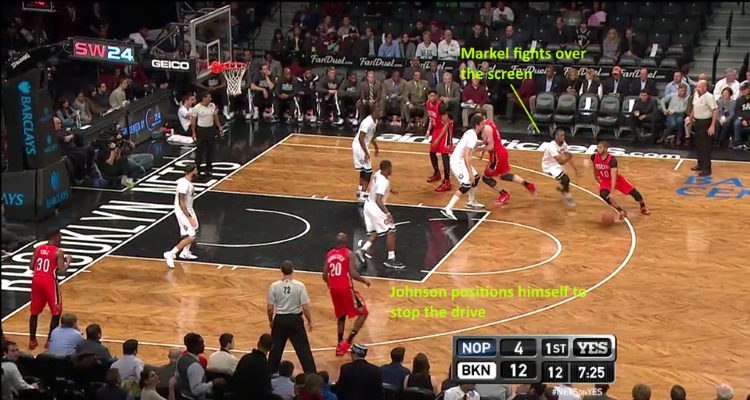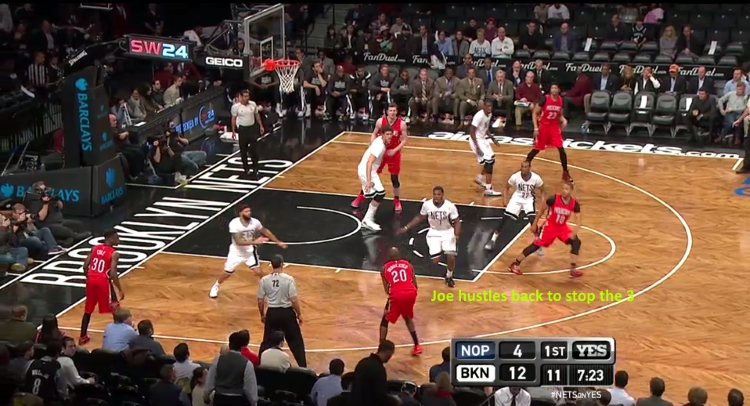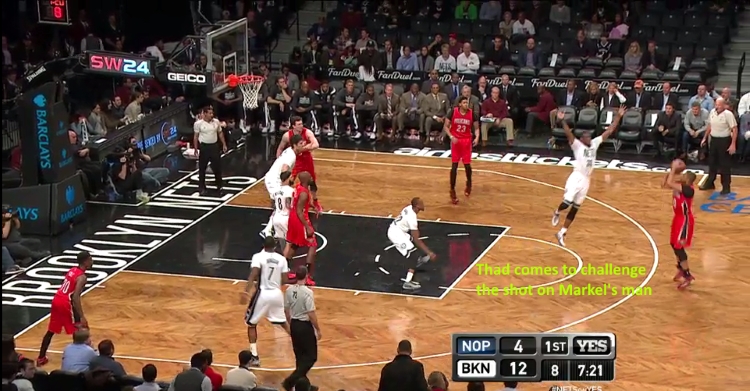 That defensive play still left them scrambling more than I like to see, but at least they were scrambling. Defenses usually start off just a little late on rotations and gradually begin to anticipate the moves of their opponents and their teammates. Yes, it's a little late in the season to start a proper defensive rotation scheme, but at least something's there.
Unfortunately, it didn't last long as evidenced by this play from the 3rd quarter that starts similarly to the first, but without all the effort.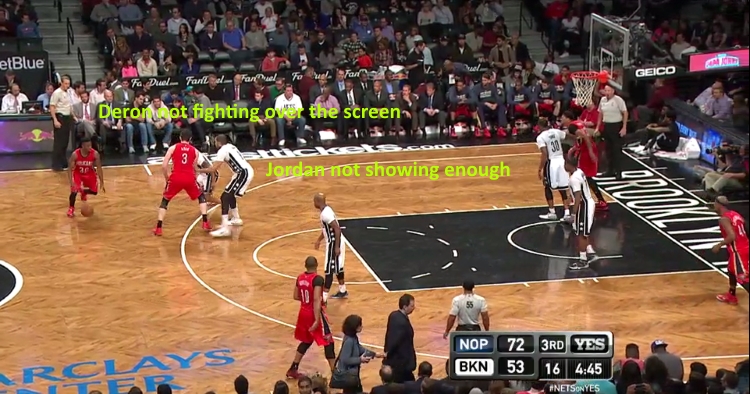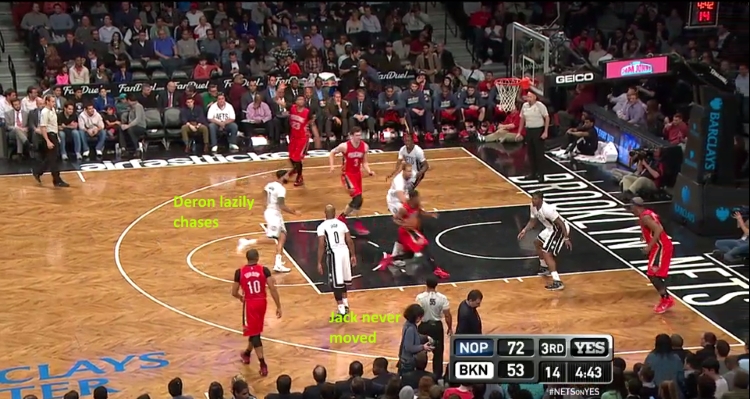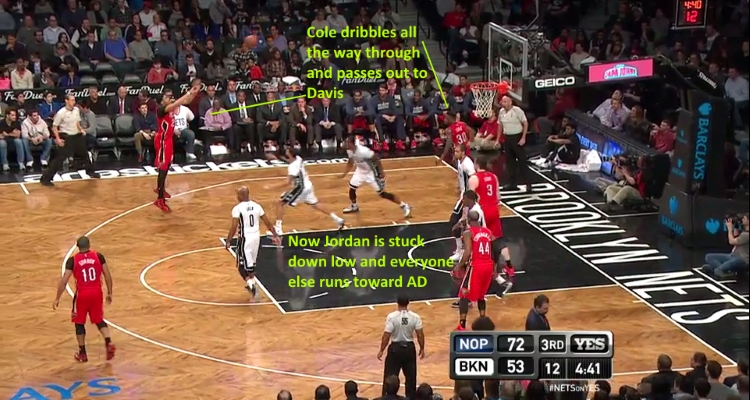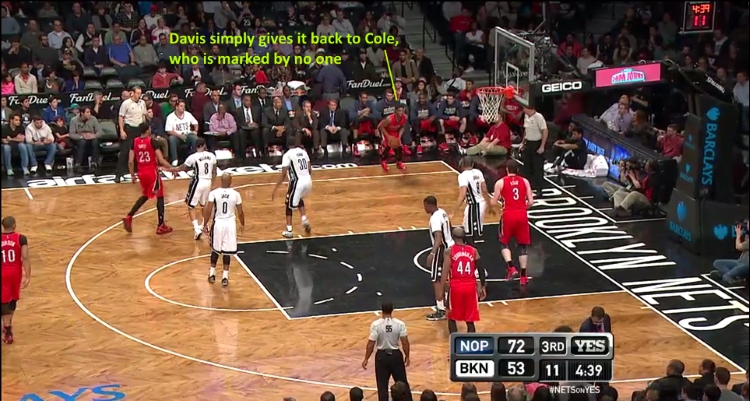 Norris Cole missed that open three because he's Norris Cole, but the outcome of the shot is of no consequence. The fact is that there was absolutely no hustle, and no movement on defense. Jarrett Jack didn't take more than 3 steps the entire play and Thaddeus Young (#30) is not guarding anyone for the last half of the play (check out the last two photos). If either one of those two made a hard move at Cole the above play would not have worked.
Time to move to the offensive side of the ball, the side that the Brooklyn Nets should have been quite good against the defensively deficient New Orleans Pelicans. I'm sure you see this coming, but they started off very well, as seen in those numbers above. Here is an early play that worked perfectly, starting with Thad Young occupying the Brow in a very high post position on the elbow. Deron passed into Thad, then cut down into the lane.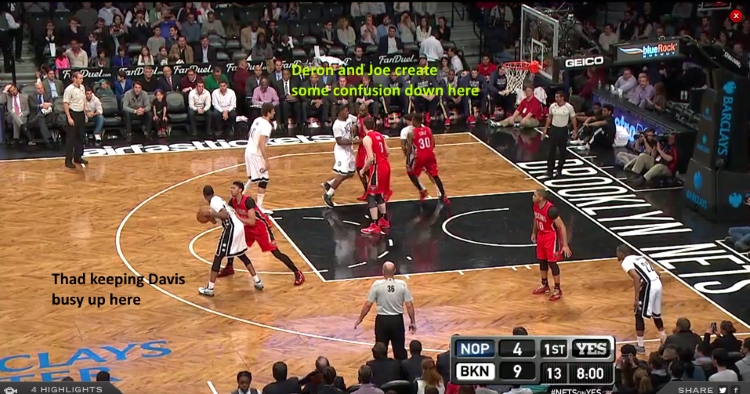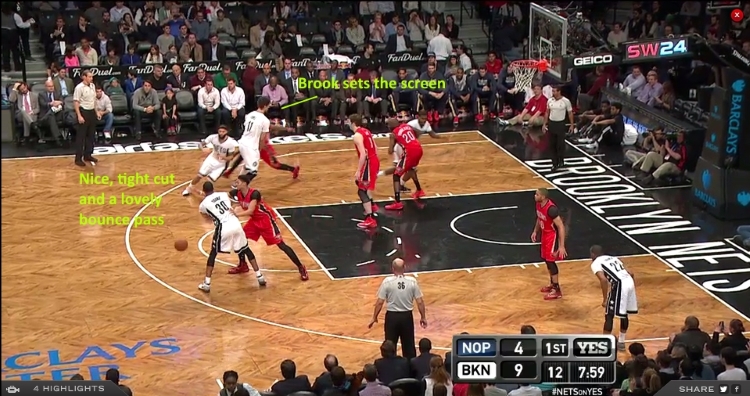 I really love two things about this play: one is that it keeps Anthony Davis away from the rim, and the other is the options in it. Because Deron is dangerous on the drive and Brook is dangerous in the paint, it pulls all defenders right to the basket. As you can see in that last photo, Thad and Markel are both open on the perimeter and Johnson is available for a dump-off on the baseline. Options are the key to an NBA offense, and on this play the Nets managed to look like one.
Well of course we now have to go the other way, to an offensive play with no movement and no ingenuity. It starts out almost exactly the same with Plumlee at the high post, only Jack moves to the outside rather than across the lane.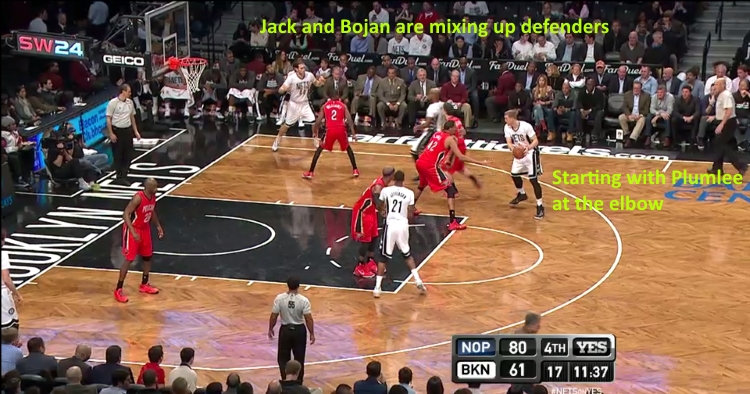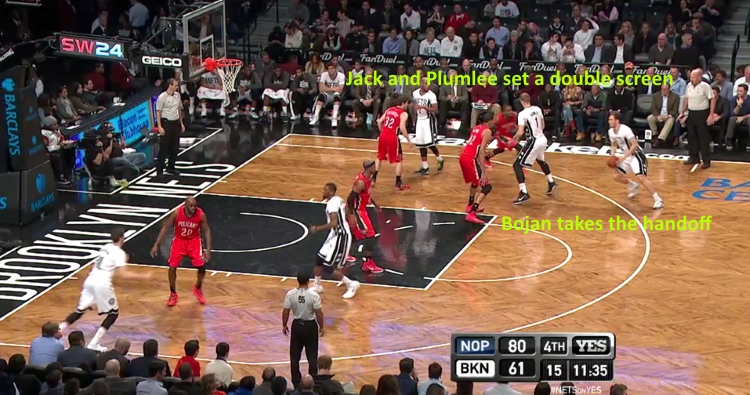 If Bojan Bogdanovic had more confidence he would've let that shot fly, but he doesn't, so we move on.
I don't even know what Jack is doing there, he's not spotting for a 3, nor is he cutting. Likewise, Plumlee doesn't "pop," nor does he "roll."
NO ONE IS MOVING!!!!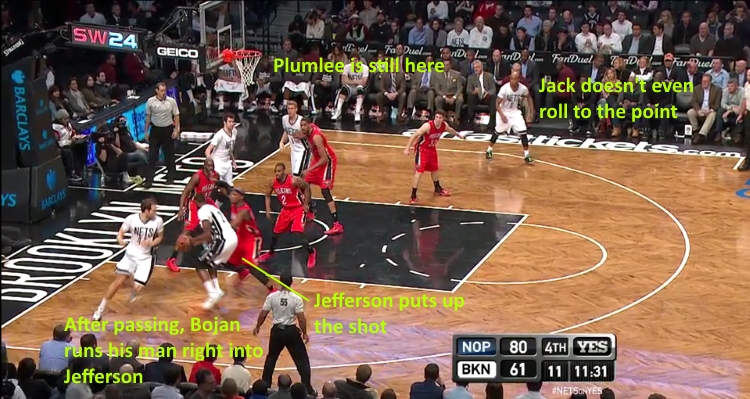 That play is so aggravating. Bojan is the only one moving at all and he just manages to clog up the middle. Karasev just slides around near the rim, Plumlee just looks like he's boxing out the whole play, and Jack doesn't move at all. No one is ready for a shot, no one is trying to lose their man, and no one seems to care. Yes, I know they were down 19 at that point, but they are NBA players and there was almost a full quarter left.
The problem is that I don't know the solution, and I don't think Coach Hollins does either. It would probably be easier to just write off this disappointing Brooklyn team and hope that something good happens in the offseason, but they're in the Eastern Conference, so they might actually still make the playoffs. As a fan, it is incredibly frustrating to watch this quarter-to-quarter transformation every game, so I can't imagine how Lionel Hollins feels, although he may not be around to feel anything past this season.
I hate ending an article on a down note, but this is a song that seems tragic…and almost over. The Nets are carrying awful contracts for inconsistent players, almost no draft picks, and mounting injuries. If they can find a way to make those first quarter plays last the entire game it would go a long way toward respectability…and lowering my blood pressure. Sadly, it is doubtful any of that will change in March or later. Meet the new Nets, same as the old Nets.