Analysis
Markel Brown and Our Restrained Hopes
Most NBA teams will not win the championship this year. In fact, 96.66% won't… sorry to break it to you. To take it even further, there's only a handful of teams that have a realistic chance to win that title. So with all of this disappointment, why do fans stick around? Hope. And players like rookie Markel Brown are capable of giving Brooklyn Nets fans hope, slight as it may be.
People stay with their teams because they have hope for the future, either actual or perceived, and that hope comes from many different places. It may come from a hope that the team will repeat previous success, such as the San Antonio Spurs. It may come from a hope that a team will take another step closer, such as the Oklahoma City Thunder. It may come from a hope that a team may finally draft a superstar, such as the Boston Celtics. As any fan of the Brooklyn Nets knows, we have not won before, are not close enough to win soon, and have very few draft picks for the future… so what gives us hope?
Until recently the answer was "not much." That's slowly been changing over the past month or so as the 24-year-old Mason Plumlee continues to play well and the Nets' crop of little-known young players begin to show signs of life. There's the 24-year-old Darius Morris, the 24-year-old Cory Jefferson, and the 21-year-old Sergey Karasev, but who I'm here to discuss is the exciting 23-year-old-rookie from Oklahoma State, Markel Brown.
Markel is technically a shooting guard, even though he is undersized at 6'3″ and is not a particularly good shooter with a 41.4% eFG on the season. What allows him to compete in the NBA is ridiculous athleticism, which is why he is a surprisingly good rebounder and perimeter shot-blocker. Rather than berate you with stats, let me show you a few examples. First is a shot Brown managed to block versus Denver that he had no business getting to.
Next is rebounding, such as this climb against New Orleans.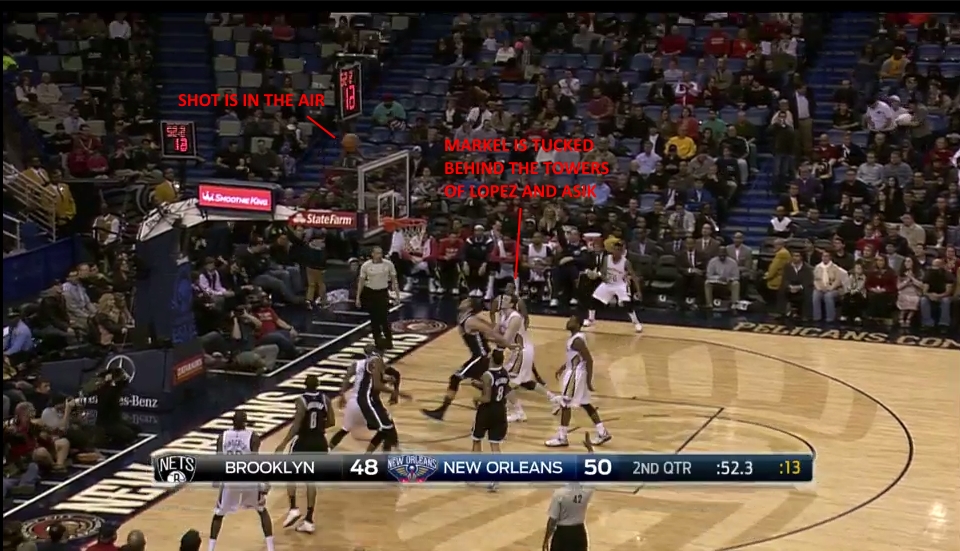 So fine, he's a leaper, but jumping like a coked-up gecko does not exactly make an NBA career.The thing with Markel Brown that gives that valuable hope is that he seems to have a primal understanding of how to play basketball. He plays with his head up and watches his man, his teammates, and the ball, just as all players are taught, yet many seem to forget prior to getting to the NBA.
Brown's problems right now are those that are not uncommon for a rookie, mainly that he doesn't quite know exactly where to go on the court. For this piece I re-watched quite a few of Markel's moments from the past few games and I noticed this time and time again, both the good and the bad. For instance, in the first quarter of Brooklyn's recent game against Dallas, Brown had a very good steal where he snuck up on Monta Ellis, who had his back to the basket at the elbow. Markel then led the break and threw a decent alley oop to Mason Plumlee, who literally dropped the ball. Incidentally, after that play, Brown did something that you love to see in a young player, he looked over at Mason and said "my bad" despite the bad being decidedly not his.
Now, on the other side of that coin of inexperience was the very next trip down the floor, where Dirk Nowitzki made half an attempt at a ball screen at the top of the key to free Markel's man, J.J. Barea. Brown simply didn't read the situation quickly enough and got too far behind Barea, allowing him a path to the lane. To be fair, in this and many other pick-and-roll situations, a basic attempt at jumping out at the ball by the big men would help a lot. On offense, Brown's awareness is on display as well, such as the following example against Houston.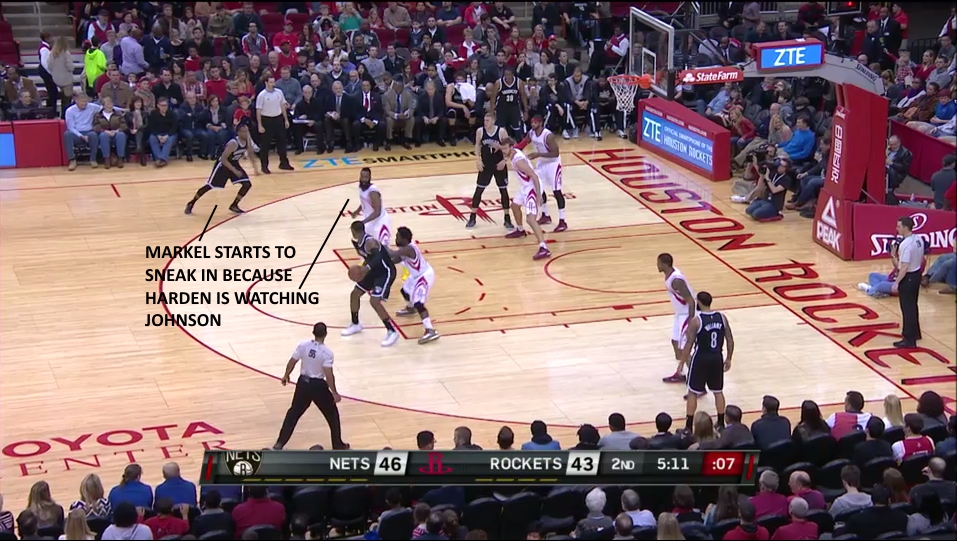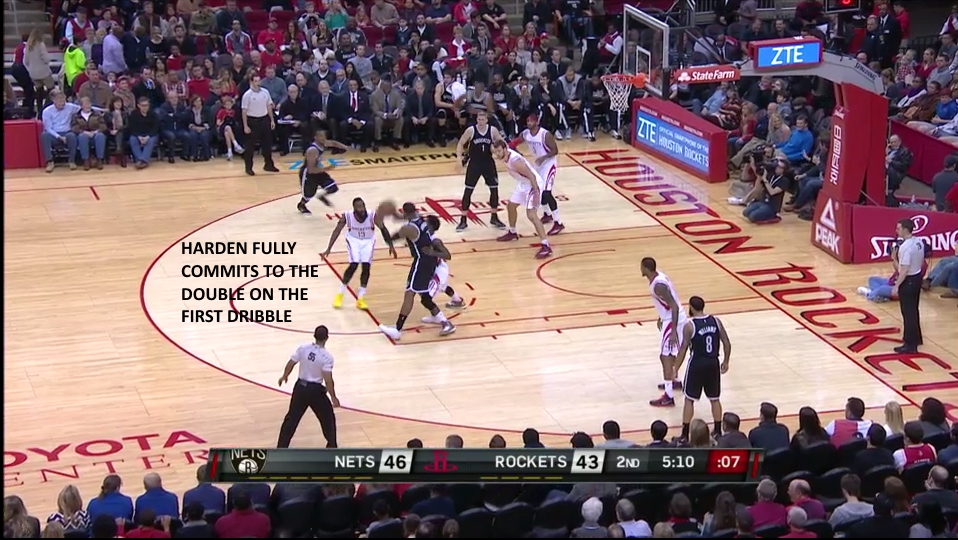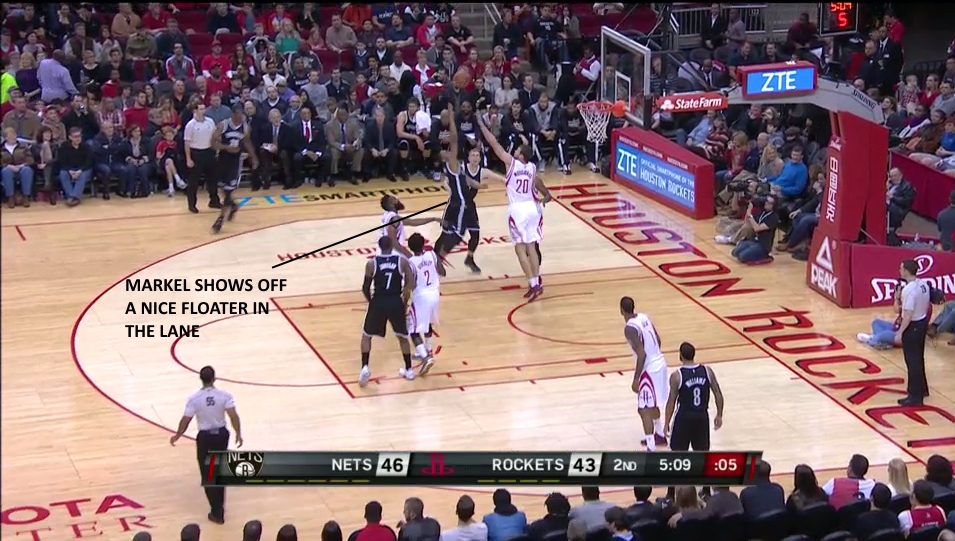 A few things I like about the above play: First is that Brown starts shuffling toward the lane the second Harden looks away. Then, he moves without hesitation the second Harden moves his feet. Finally, he once again shows that he understands both his athleticism and his limitations by leaping and floating the ball over the much larger Donatas Montiejunas.
The major problem with Markel Brown right now is that I don't think he's a shooting guard. But what is he? Well, I think he's a point guard, or more specifically, one of those new-fangled combo-guards that can dish assists and score. He needs to start looking for the pass a little more, but he's got a decent handle, good instincts, and is a good enough shooter to get a modicum of respect. Defensively, he's strong enough and athletic enough to man up against either guard position, and he's a willing on-ball defender. To further my case, here are two comparisons. One of the below players is Markel Brown, the other two are the rookie numbers for two current starting point guards. All numbers are per 36 minutes.
| | | | | | | | | | |
| --- | --- | --- | --- | --- | --- | --- | --- | --- | --- |
| | PTS | FG% | 3P% | FT% | REB | AST | STL | BLK | TOV |
| Player A | 14.3 | 41.5% | 38.0% | 75.9% | 3.6 | 4.2 | 0.8 | 0.2 | 2.9 |
| Player B | 10.1 | 32.1% | 21.0% | 86.2% | 3.8 | 5.1 | 1.8 | 0.1 | 2.6 |
| Player C | 11.8 | 36.3% | 25.9% | 84.6% | 5.4 | 2.3 | 1.6 | 0.8 | 1.9 |
Okay, the giveaway here is the high rebounds, high blocks, and low assists. Yes, Markel is Player C. Arguably the best on that list, Player A scores more, shoots better, and passes more, but has considerably fewer rebounds, steals, blocks, and more turnovers than Markel. That player is Phoenix's Brandon Knight.
Player B is a better comp, and I think he is the comp for Markel Brown, and he's a player that was almost a teammate at the trade deadline: Detroit's Reggie Jackson. I am personally not a big fan of Jackson, but he is a useful player for an NBA team and an almost perfect comparison. Reggie and Markel are the same height, Reggie is a mere 18 pounds heavier, and a mere two years older, despite this being his 4th year in the league.
The funny thing is that Jackson's per-36 numbers are not all that much different than the rookie on that table. He's up to scoring 16.6 points this season, now shooting 42.2%, and grabbing 5.2 rebounds. His three-point percentage and assists have all gone up, but only a bit (27.4% and 5.7 respectively), his steals have gone down to 1.1, and his blocks and turnovers are basically unchanged. It does not take much imagination to see Markel Brown reaching those kind of numbers in 2 or 3 seasons.
So where does all this get us? Well, maybe not too far. The Brooklyn Nets are likely swapping their 2015 first round draft pick with Atlanta, have already given their 2016 and 2018 first rounders to Boston, and might also have to swap their 2017 first rounder with Boston. The Nets also still have Joe Johnson and Brook Lopez on the books for all the money next season, and likely have Deron Williams and Jarrett Jack for the next two (Deron has an early termination option for 2016-17 that he will certainly not exercise). And thus the hope tank drains toward empty.
But no! Hold on to that hope Nets fans! Turn towards the slim light of the dawn and know that the sun will rise! There is Markel Brown, a player with potential lacked by other Nets. A player who has a chance to be a piece of a legitimate team. A player that could be fun to watch for years to come, years that may have little in the way of hope. Grasp on to Markel people and feel that warm rush of hope that can carry us through dark times that may be coming prior to the light.
Or General Manager Billy King will just sign Reggie Jackson to a max contract this summer.