Uncategorized
Ranking your 2013-14 Brooklyn Nets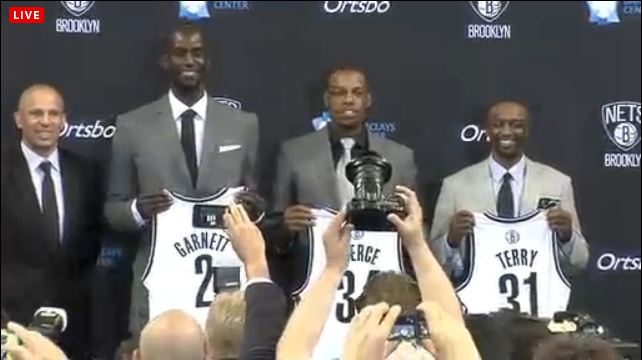 Listen, it's the offseason. The Nets aren't participating in anything currently taking place in Vegas, so times are tough here at Brooklyn's Finest. And that's why, until we receive enough tweets (@notjdaigle/@BKsFinestTHN) to pull off a Mentions Bag, I've reached for my patented Bleacher Report mace in order to bludgeon you to death with some sort of list.
But not just any ol' list.
Since Orlando's Summer League just finished up and the roster has been, at the least, revamped during the past month, it's probably a good time to re-rank the players—according to their importance—however we deem fit (and, admittedly, because we don't have any better ideas.
1. Deron Williams
Obviously. You don't give a guy $98 million over five years for him not to be the best player on your team (Though I think I just contradicted the Joe Johnson contract in one sentence.) Plus, he undoubtedly reverted back into the D-Will of old towards the latter half of last season (you know, the one that occasionally cropped up in conversations as arguably the best point guard in the league three seasons ago, even though we knew in our hearts that it was probably Chris Paul) And remember, he got even better once Carlesimo took over (which probably means nothing now that Kidd is running the show, but bear with me, I'm on a roll.)
In the 32 wins during P.J's short-lived tenure, Williams scored nearly 6 more points per 100 possessions than the 14 wins under Johnson (115.2/109.4.) He's the captain and atop these rankings for a reason.
2. Brook Lopez
Not only is he one progressive season away from morphing the top of these rankings into 1A and 1B, but I also think it's pretty easy to make his case as a top-two center in the East.
Think about it. Of all the notable big men in the conference, we can go ahead and weed out Chandler (above-average, but $14 million per year is a lot for a guy that only plays 60 games each season), Jefferson ($40.5 million is a lot, in general, for him), and Monroe (tough to admit, but still too early to move him up a tier.) That leaves (in no particular order) Horford, Noah, Lopez, and Hibbert.
I would honestly listen to any argument siding with any of those four, but, for the sake of this piece, let's just assume the top two are Lopez and Hibbert. In terms of remaining expenditure on the books, Lopez is set to make an extra $2.4 million more than Hibbert over the next three seasons. In other words, the real differences come in their styles of play.
If a Hibbert-for-Lopez swap was offered, I don't think it would be a stretch to conclude that both teams say no, if only because each guy works perfectly in the system they're currently in. For instance, Lopez is the better all-around shooter (especially from the 10-14 ft. range, where he shot 43.4% last season as opposed to Hibbert's 37%) and Hibbert is in a class of his own on defense. [Among starters throughout the entire league, only Tony Allen (94.3), Mike Conley (95.1), and Marc Gasol (95.4) allowed fewer points per 100 possessions than Hibbert (95.6.)]
For now, the jury is ruling in favor of Hibbert. However, Lopez' importance to this team is undeniable, especially if Kevin Garnett can teach him a thing or two about team defense.
3. Paul Pierce 
Honestly, the three-hole is a coin toss between Pierce and Garnett. Either one works. However, since Pierce is the one who will most likely be asked to relieve Johnson during those pesky clutch moments, he gets the nod. And it doesn't hurt that he's working with an expiring contract (not to mention a step-back jumper that's the equivalent of whatever the next Happy Madison flick is. You know it's coming, but you still can't stop it.)
4. Kevin Garnett
Remember when Brooklyn's D was completely eviscerated by (among others) Carlos Boozer, who averaged 10.5 RPG and scored just over 107 points per 100 possessions in the first round of the playoffs? Let's just say KG is a bit of an upgrade over Gerald Wallace.
5. Joe Johnson
Listen, we all know about the elephant in the room. And sure, that contract might be horrid, but it's not like Johnson is to blame for accepting a mega-offer that keeps him set for life. It's like expecting Tebow to live up to first-round expectations; he's not the one who drafted himself that early. And the fact remains that, in a league sparse of significant two-guards, Johnson still stands out.
6. Reggie Evans
Watch out, Ilyasova, because Evans is coming for the Sneaky-Good Box Score Guy title! Just check out those numbers from when his playing time was upped towards the end of the season.
First 60 Games:  22.7 MPG, 3.4 PPG, 9.3 RPG, 44 FG%, 35.9 DefReb%, 25.3 Reb%
Final 20 Games:  29.8 MPG, 7.8 PPG, 16.2 RPG, 53 FG%, 44.4 DefReb%, 31 Reb%
And if that doesn't sell you, I should also note that he's on the books for a total of $3.4 million over the next two seasons. Is there stock left? Where can I get it?
7. Andrei Kirilenko 
Before I proceed any further, you should stop down and read Scott Olstad's piece on Kirilenko. Go ahead. I'll wait.
(twiddling thumbs…)
Done? Ok, let's continue.
I could tell you that Kirilenko scored 101.3 points per 100 possessions last year, but what does that really matter considering—due to a plethora of injuries—the four-man combo of Love-Rubio-Pek-Kirilenko were never on the court together for more than five minutes. Luckily, since we already know the caliber of Kirilenko's play, we can consider him a shoe-in off the bench, and continue to drool over that measly $3.1 million he'll be making this upcoming season.
8. Jason Terry 
If the Nets get even 50% of this, I will gladly get the Larry O'Brien tattooed somewhere uncomfortable on my body.
Did you know he shot 52% during the Carlesimo era? And he's making the veteran's minimum next year? (Every Wizards fan began shaking their head.)
10. Mason Plumlee
Unfortunately, Plumlee will probably fall victim to a loaded roster. I can't imagine a scenario—barring a situation where he plays himself into a significant role following someone's injury—where he logs more than 12 minutes per night, if that. So, for now, just enjoy this.
And, lest we forget, he'll most likely have to fight for his fair share of minutes with…
11. Shaun Livingston 
This bench is deep. Seriously
12. The Rest… 
I'll let you group Teletovic, Shengelia, and Taylor however you'd like to. We're not that short on ideas.