Analysis
BK's Finest 2015-16 Season Predictions
At least according to our staff predictions entering the 2015-16 NBA season, the Brooklyn Nets may be in for some trouble. We polled the staff of writers here at Brooklyn's Finest, in the hopes of gaining some insight into the Nets' variance of outcomes, and every response resulted in a record rather significantly below the .500 mark. Read our rationales, add your predictions in the comments below, and enjoy another season of Brooklyn Nets basketball!
Paul Mitchell: 30-52
This might be the season that the Kevin Garnett/Paul Pierce trade finally catches up to the Brooklyn Nets and general manager Billy King. After swapping draft picks with the East-leading Hawks this summer, King targeted young, high-upside talent (and also Andrea Bargnani) in the draft and in free agency to supplement the re-signed Brook Lopez and Thaddeus Young, in the hopes that the team can remain competitive in the weak Eastern Conference and in a transition year. The waiving of former-franchise point guard Deron Williams should improve team chemistry and the books going forward, but while Jarrett Jack might be the team's best remaining point guard option, his shoot-first mentality and inability to get to the rim might relegate him again to sixth man status. Joe Johnson will need to play with another ball-handler to find good looks within the half-court offense, just as Lopez will need a legitimate pick-and-roll point guard to get him the ball on his dives down the lane. Trading Mason Plumlee for Rondae Hollis-Jefferson on draft night should pay off in the long-term, but it'll put even more pressure on Lopez to stay healthy and carry the Nets on a nightly basis. If his health holds up he's a second-tier MVP candidate and the Nets might be able to reclaim their eighth seed in the East, but expecting Brook Lopez to avoid injury over the course of a full season is entirely too unrealistic to count on, and the Nets will be a lock to lose 50 games if/once he misses time.
Drew Schulte: 28-54
This team ranked 24th in defensive efficiency last season, then added Andrea Bargnani to their frontcourt rotation. When Brook Lopez isn't on the floor, they will struggle to score. The only reason the Nets won't be a bottom-5 team in the league is because they have no incentive to be that bad. These are dark days in Brooklyn.
Chris St. Jean: 34-48
Lionel Hollins has never won less than 38 games (last season) in any of the five full seasons he has spent as a head coach in the NBA, although this may be one of the more depleted rosters he's coached (if not the most). But the expectations are so low for the Nets, I am beginning to get the feeling they'll be better than we think. 36 wins is hardly good, but much better than most are expecting. Remember, this team has NBA players. Sure, Brook Lopez is an injury risk, as is his backup, Bargnani, but other NBA veterans such as Joe Johnson and Thaddeus Young are consistent and solid.
There's also upside with some of the youth and athleticism on the roster. Rondae Hollis-Jefferson should get the opportunity to contribute by playing defense and running the floor. I am intrigued by Shane Larkin, and some improvement by him and maybe his insertion into the starting lineup could bolster both the starting five and bench unit. Again, the Nets have no incentive to dump half of their NBA-level talent and supplement it with D-League level talent like the Knicks did last year.
The Nets will play hard under Hollins with NBA talent. They will not be a good offensive club, but they should be at least decent defensively. In the inept Eastern Conference, that could carry them to a few more wins than horrendous.
Matthew Dirzulaitis: 27-55
Brooklyn management is in a bind as the Nets look to rebuild without a whole lot of assets. Veterans Jarrett Jack and 34-year old Joe Johnson will now be forced into carrying an even bigger burden for a team that has virtually no depth in the backcourt. Shane Larkin, Donald Sloan, and Wayne Ellington will enter the mix off the bench, but none of those guys offer much upside long-term.
The frontcourt's offensive ability may be the team's biggest strength. Brook Lopez is a bonafide go-to option, and Thaddeus Young is a versatile creator. Defensively, though, Lopez isn't a great rim protector for his size and Young is certainly undersized at 6'8'' to play the 4 spot. Coach Lionel Hollins may be forced early on to throw 1st rounder Rondae-Hollis Jefferson into the fire as this starting lineup struggles to keep teams from attacking the rim.
Ronald Agers: 24-58
Lionel Hollins might have to adjust his offensive system a little bit or the ghost of Deron Williams could show.
Okay, maybe a lot. The Brooklyn Nets were actually OUTSCORED overall by over 200 points last year. Considering that scenario, it is absolutely a miracle that this team made the playoffs last year (A Paul George broken leg does help.) with a team with such awful point guard issues that Brooklyn had last year. This year will the year that Lionel Hollins will be under the gun a little bit. There were rumors that Hollins would not be retained last year based on the possible sale of the team. Wisely, the Nets chose to retain Hollins as coach. Here's the challenges Lionel Hollins and the Nets face this year: Deron Williams was down statistically across the board last year, BUT the Nets were still more efficient with Williams on the floor than on the bench. Williams is gone. Lionel Hollins is not.
Lionel Hollins is going to have to speed up the tempo of the offense. Not just for it to be effective, but for anyone to tune in and watch. Lionel Hollins does have a grind-it-out system that worked very well in Memphis. The only issue is that Zach Randolph and Marc Gasol were outstanding two-way players who ate the glass on both ends. Couple that with Mike Conley Jr. and Tony Allen on the defensive wing, the Grizzlies could get away with that type of play.
This Brooklyn Nets team cannot and will not survive under this system.
If you are new to Brooklyn's Finest, you will find out that I am not a fan of Jarrett Jack. He's a journeyman that is not an upgrade at point guard no matter how bad Brooklyn wanted Deron Williams out of town. Jack's plus/minus is awful, abysmal, abhorrent and atrocious (I guess you get the point.) Long story short, Jack is not going to be the point guard to get the ball to the future of the franchise, whether it be Brook Lopez or Thaddeus Young. He has always been a shoot-first point guard. Deron Williams averaged six assists per game last year. Jack had trouble getting to six assists THIS PRESEASON!! What's worse, Shane Larkin is not ready to take his place in the starting lineup no matter how bad I would love to see him there. Larkin's presence will bring more traps than Home Depot and his size will bring so many post ups, the opposing guards will hire DJs for the block parties in the paint.
Lionel Hollins is going to also have to find a role for Joe Johnson. Look, we all know that Johnson and that 24 million dollar contract will be gone next year. But he's here now. Looking through the preseason, Johnson was on and off. Some of it may be preserving legs. I think it is the offense that is moving away from him. He only averaged 14.4 points per game last year. The last time that tally was that low, he was in Phoenix. Hollins is going to have to find a way to get Johnson touches so he really doesn't go "Iso Joe" and start watching the calendar like Deron Williams did last year.
Finally, Lionel Hollins will have to learn to deal with the tendencies of Brook Lopez. Lopez likes to shoot jumpers. He actually shot a three in the preseason. Lionel Hollins will grow to hate this. (This just in…the man is so right!) Hollins wants Lopez on the block to dominate down low. There is maybe two or three centers in the league that can hope to stop this guy in the paint, and they are in the Western Conference. These two will have to figure out a proper medium or there will be trouble, trust me.
The Brooklyn Nets need to speed up the tempo to offset the shortcomings of the offense. If not, this is a 25 win team (if lucky.) with enough drama that the staff of Brooklyn's Finest won't sleep for the next six months covering it all. All eyes will be on Jarrett Jack. If he does not improve, and Deron Williams goes nuts in Dallas, the Nets brass will have a ton of explaining to do.    
Nick Huth: 35-47
I was already burned once by my belief in Lionel Hollins when I predicted Brooklyn would finish 45-37 last season, but that's not nearly as many times as Nets defenders were burned on their way to the 23rd-ranked defense in the league. Replacing Mason Plumlee with Andrea Bargnani will not improve on that ranking. There were definitely flaws in the Deron Williams-era in Brooklyn, but the Nets will still struggle to replace his passing, leading to what could be an even worse offense than last season.
Sam Yip: 25-57
Combined with the aging veterans and the Eastern Conference simply getting better, there will be no surprises with this year's Brooklyn roster. As bad as Deron Williams was for the teams chemistry last year, replacing Williams with Shane Larkin and forcing the inefficient Jarrett Jack to play even more minutes will be a ticking bomb waiting to explode. Do not be surprised if the starting rotation will be drastically different than it will be opening day. The main objective this season should be to focus on developing our youth and helping them build confidence. This will likely be Lionel Hollins worse season as a coach. Temper expectations.
Josh Koebert:  25-30 wins seems like it would be a success, and then focusing on reloading through the dra-…right…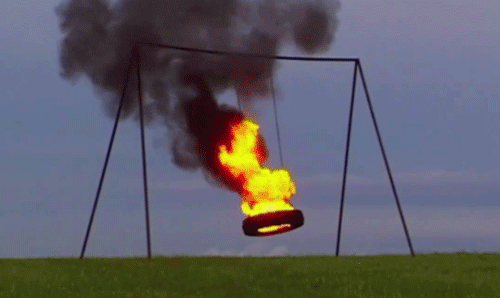 You know what's fun? Hockey. Maybe watch that instead for the next, oh, seven years or so.
Jeremy Briggs: 36-46
I don't see the Nets being as dreadful as many statistical models predict they will be. While age and inefficiency will often plague the first unit, improved depth and an influx of energetic youth will keep the Nets from free-falling to the cellar of the Eastern Conference. Maintaining a (somewhat) respectable record obviously hinges on the health of Brooklyn's resident Star Wars aficionado, as his skill set is one of the most diverse you'll see from a 7-footer. Jarrett Jack and Joe Johnson will heave their share of head-scratching 18-footers, but they both have a propensity for making winning plays when the game is on the line. If Lionel Hollins is able to mix and match this flawed but intriguing roster into passable lineups, the Nets will surprise some people.
Tim Oakes: 22-60
Ladies and gentlemen, we are entering a dark age in the Brooklyn Nets history. They have a great defensive coach and yet no one on their starting unit is known for their defensive skills. Depth is a major issue as Brook Lopez and Andrea Bargnani are two of their big men who can have been very injury prone throughout their careers. Even if healthy this team does not have a vast offensive arsenal to overshadow their defensive deficiencies. With the East appearing to only get deep and stronger and Brooklyn getting weaker I expect the only team the Nets to vie for (But likely come up just short) the worst record in the East. Sadly, with no draft pick to look forward too.
Liam Doyle: 27-55 is the most probable scenario.
Looking at this team last year they were 24th in defensive efficiency and 18th in offensive efficiency. Offensively I think they will assuredly get worse because Larkin and Jack will be absorbing all of Deron William's minutes last year. Considering that they were the 73rd and 65th rated point guards in the league last year according to ESPN's RPM metric (out of 77), that position is sure to take a nosedive from what was already not a particularly lofty perch. I actually like this team's wing depth with Bogdanovic, Johnson, Ellington, and Hollis-Jefferson forming a solid foursome. Thaddeus Young does not space the floor sufficiently at the four position, though. Brook Lopez is a poor passer when forced to make quick decisions in traffic, and teams will crowd the paint for him regularly. Andrea Bargnani can provide some spacing for Brook, but that spacing comes with a STEEP, inhumane cost on the other end. This team would probably thrive most offensively with playing Joe Johnson at the four, but they don't have the wing depth to play this way for long stretches.
Defensively it's hard to point to too many plus defenders. Brook has made improvements in his rim protection, but still remains very slow and makes too many mental errors. Joe Johnson is solid and puts in good effort. Rondae Hollis-Jefferson was an outstanding defender in college and has the physical tools to thrive in the NBA as a shutdown defender, but he will need some time to learn the game at a graduate level to truly be a huge factor on that end. Everyone else on the roster projects to be a significant minus on the defensive end of the floor. What will drag their win total up will be their lack of incentive to bottom out, considering they don't own their 1st round pick this year. I have a hard time seeing this team escaping the bottom three of the East. Hopefully I'm wrong, for the sake of the Nets fans everywhere
Brian McNichols: 64-18
Sure, Brooklyn will struggle out of the gate, starting a meager 13-18, but all of my colleagues are missing the catalyst. Super comic fan Brook Lopez, playing in the same city as his brother, Robin, will look to outdo him by any means necessary. Therefore, he will embark on gamma radiation experiments that will undoubtedly go wrong, turning Brook into an Incredible Hulk-like center.