Player Season Reviews
2014-15 in Review: Thaddeus Young
Prior to this season's February 19th trade deadline, the Brooklyn Nets were an inconsistent, unathletic mess. Their 21-31 record was buoyed only by the Eastern Conference, with the team ranking at the time as bottom-ten in offensive and defensive rating, true shooting percentage, pace, assist-to-turnover ratio, and offensive rebounding percentage (just missing the cut at 19th in the league in defensive rebounding). A playoff spot always appeared attainable thanks to the East, but with a 5-15 record in their previous 20 games and the team in the middle of an eight-game road trip as they entered the trade deadline, a significant shakeup seemed not only necessary but imminent.
After months of speculation surrounding Brooklyn's core of high-priced talent, it was surprising to see Brook Lopez, Deron Williams, and Joe Johnson remain with the organization post-trade deadline, and Kevin Garnett as the sole Net traded. Perhaps even more surprising was the return for the 38-year old, 15-time All Star, as the Minnesota Timberwolves were in the market for veteran leadership and had lanky, young forwards to spare as they continued to rebuild their team after the Kevin Love trade last summer. Thaddeus Young's advanced age and salary relative to some of his peers deemed him expendable to the Wolves, while the Nets eagerly swapped the effective (if limited) KG for another power forward 12 years his junior, who possessed some of the qualities the Nets needed to break out of their season-long malaise.
It took eight games before Thaddeus Young cracked the Brooklyn starting lineup and played 30+ minutes for the first time, but his presence in place of Garnett began opening up the Nets' offense and adding new dimensions to their lineups. From February 20th until the end of the regular season on April 15th, the Nets finished 17-13 and saw large jumps in their offensive rating (from 24th in the league at 100 points per 100 possessions to ninth at 105.1 points per 100), pace (over two extra possessions per game), offensive rebounding percentage (from 25th to 11th), and assist-to-turnover ratio (22nd to eighth). Young would eventually seize the starting power forward spot permanently, and the Nets' starting five of Williams, Markel Brown, Johnson, Young, and Lopez would finish as the 18th-best lineup in the league, by net rating and of lineups that played at least 200 minutes.
After consecutive seasons playing for two of the worst teams in their respective leagues, Young acclimated well to the Nets' infrastructure and in playing with better teammates. His per-game minutes, shots, scoring, and assists numbers all declined in his transition to Brooklyn, but he countered by taking an extra three-point field goal attempt every couple of games and increasing his efficiency numbers (true shooting, PER, free throw rate) to his highest in three or four seasons, per Basketball Reference.
While not an incredible athlete at the NBA level, Thaddeus Young's more casual bouts of speed and agility were legitimate assets to a Nets team starved for youth and upside. Young didn't exactly have the quick-twitch reflexes of Markel Brown, for example, or the pogo-stick hops of Cory Jefferson, but he's carved out a career by crashing the offensive boards and beating bigger power forwards up the court, and offers a solid set of skills while not excelling in any particular area. He increased his accuracy from beyond the arc to 38% of his 50 three-point attempts while with the Nets, and can similarly put it on the floor once the defense rushes him off the line. For an offense that's often clogged in the middle by Brook Lopez's mammoth presence, Young's combo-forward game and ability to contribute from all spots on the floor help to open up the Nets' spacing, as well as Lopez's game, per NBA Wowy.
On the defensive end, however, not so much. The offense had a healthy jump once Thaddeus Young joined, but the team's defense surrendered an additional point per 100 possessions and was slightly worse on a rate and efficiency basis, also. His individual defensive rating was considerably better once he left Minnesota, and while his 106 DRtg with the Nets wasn't great, it was outpaced by his contributions on offense, according to NBA.com's numbers. Young's physical tools allow him to coast on inconsistent effort and he'll lose his man after over-helping on occasion, although he's just a few seasons removed from being an effective defender while under Doug Collins in Philadelphia.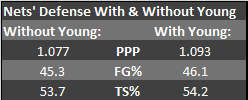 Assuming Thaddeus picks up his player option this summer at just under ten million dollars and runs it back with the Nets again next season, it'll be up to head coach Lionel Hollins to work on improving the defense and utilizing his talent on hand. The Nets will be well over the league's salary cap in 2015-16, and even if Brook Lopez and Thaddeus Young opt out and enter free agency this offseason, the team won't have substantial cap room with which to replace them. Lopez's situation is entirely different due to injury issues throughout his career, but Young might be better served to play on a one-year deal (as a starting power forward in the East) and then enter free agency (for the first time in his career) in summer '16, when teams should have an extra $20+ million or so to spend to reach the salary cap.
Given the team's tenuous cap situation next season and Brook's decision this summer, the Nets should look largely the same in '15-16, barring any major trades. If so, any improvements over their eighth-place finish in the Eastern Conference will rely primarily on the team's under-30 options to take a step forward in development, and to particularly play better on the defensive end. Players like Markel Brown, Bojan Bogdanovic, Sergey Karasev, Cory Jefferson, and Mason Plumlee could form the core to the next great Nets team, but a full season out of Thaddeus Young in 2015-16 could help the Brooklyn Nets bridge the gap and remain competitive along the way, as well as make him a bunch of money next summer.