Player Season Reviews
2014-15 In Review: Mason Plumlee
It was a bizarre season for the former Duke Blue Devil.  After a rookie year where he outperformed expectations and played a big part in the Nets' emergence as a legitimate playoff team, the hopes were high for an even better sophomore campaign. He miraculously survived the wrath of Demarcus Cousins during the FIBA World Cup and seemed primed for a breakout season after winning a gold medal with that talented squad.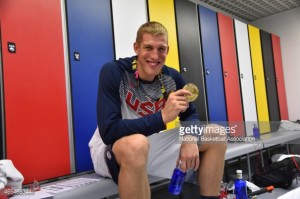 While he showed sporadic flashes of brilliance this season, Plumlee failed to make a steady impact. His season was mired with inconsistency; benched for Jerome Jordan one game, ready to be the successor to Brook Lopez the next.
His athletic ability continued to be tantalizing. With his 36 inch vertical and impressive foot speed, there are few shots that he can't contest and fewer lob passes that he can't reign in. Right now, though, Plumlee is the owner of a Bugatti Super Sport, but has never driven a car.
On offense he would often make a spectacular pirouetting move towards the basket, only to end his heroic effort with a turnover or a poor shot. On the few occasions where his athleticism blended seamlessly with his skill, Plumlee was able to make plays that few bigs in the NBA can make; such as this Horford-esque pass-on-the-move and this spin-move into a dunk that would have Tommy Heinsohn paralleling him with Dwight Howard.
Mason Plumlee putting Zach Randolph through the spin cycle. #Nets #SLHighlights. https://t.co/2kNea7LiXN

— SideLeague (@SideLeague) January 15, 2015
Mason's shot is an even larger area of concern within his offensive game. He shot below 50 percent from the free throw line, making him a prime candidate for "Hack-a" - if it isn't abolished in the offseason. He also has zero confidence in a mid-range jumper, as he attempted just 2 percent of his shots outside of 10 feet, connecting on only 16% of them.
On defense Plumlee's largest issue seemed to be with his positioning. Often times he would find himself a few steps from where he should be, which led to him committing 4.3 fouls per 36 minutes during the regular season and over 7 fouls per 36 minutes in the playoffs. Mason lacks the elite wingspan of the NBA's premier rim protectors but is still able to make spectacular plays on the ball thanks to the springs in his feet. Gaining an eye for noticing popular NBA sets and having a better understanding for defensive schemes will hopefully allow plays like this one to become more commonplace.
BIG Mason Plumlee BLOCK! #HawksvNets #NBAPlayoffs https://t.co/pzaSfH2MeS

— NBA On Def Pen (@NBAOnDefPen) April 23, 2015
The Good?
-14.6 points, 10.6 rebounds per 36 minutes
-12 double-doubles
-Top-20 in offensive rebound percentage (11.3%) and just outside the top-20 in total rebound percentage (16.5%)
-Chosen to participate in the All-Star Weekend Slam Dunk Contest and Rising Stars Challenge
The Bad?
 -Large drop-off in true shooting percentage from his rookie to sophomore season (.670 to .570)
-High foul rate (4.3/36 mins.)
-Free throw percentage of just 49.5% (Ewwwwww)
-98% of shots came from within 10 feet
-Struggled to play alongside Brook Lopez, as the team had a net rating of -13.7 when the two shared the court
The Verdict?
Mason has boatloads of talent. He can compete athletically with almost any big-man in the league. But he also has a ton of room for improvement. Adding strength, developing a go-to post move, mastering defensive schemes and improving his shooting mechanics are all areas for Plumlee to focus on before next season.
The Nets have a big decision to make this offseason. If Brook Lopez declines his player option, will the Nets keep their starting center around? If not, do they pursue another starter, or will they roll with an in-house option in Plumlee? If Mason dedicates himself to his craft and spends hours in the film room, he can make the decision easier for the Nets. His cap hit is significantly less than Lopez's would be and he has proven his durability, playing in all 82 games this past season. A giant third-year leap should be an aspiration for the gangly, energetic Plumlee; can he do what it takes to make it a reality?