March was a solid month in Nets kicks. Jarrett Jack rocked a variety of "Kyrie 1″ color ways, Joe Johnson continued to do his thing, and Cory Jefferson even pulled out a few retro Jordans to wear while he boosted his plus/minus numbers.
However, there was one pair that stood out above the others. Not for its colors, or its style, or its brand. But for its message.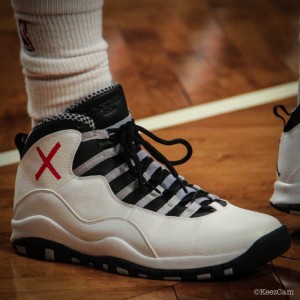 NBA athletes commonly use their shoes as more than just a means of support and traction. Their sneakers have become a personal canvas, a convenient and harmless way to get a message across. A way to show support, to pay tribute, or even to mourn. And all it takes is the flourish of a marker.
I could go on and on about all the incredible stories behind what NiceKicks has dubbed "Sharpie Salutes", but for now let's focus on the message from Brooklyn's own, Deron Williams.
On March 6th in a game against the Phoenix Suns, Deron adorned his pair of Jordan 10′s with a large red X. TheBrooklynGame's Devin Kharpertian had an interesting post that touches on the meaning behind D-Will's message that can be found here.
It turns out that the red X logo is the mark of the "End It" movement, an organization looking to bring awareness and an end to the modern day slavery of forced labor and human trafficking. Deron was introduced to the organization by former teammate Kyle Korver, and has been in constant support since.
In Kharpertian's post, he quotes D-Will as saying,
"It's really sad to think [slavery] is happening here, moreso in other countries. To think about a parent losing their kid at an early age and never seeing them again. Never knowing where they are, but they're over there drugged up in a camp, and really have no control over their life, their body. It was just kind of to raise awareness for that cause. To bring light to it."
In a time where the focus is often on statistics and analytics, something as simple as a message on a sneaker allows players to remind us that they are human. Their lives extend beyond a leather sphere and a 10 foot goal. The desire to use their platform for something positive should be embraced. If even just one life is changed because of Deron's willingness to show support, then he has done his job.
End It Movement official website: https://secure.enditmovement.com/about
Thanks to KeezOnSports for any images.