Game Recaps
Nets 100, Knicks 98: What's next for the rivalry?
That was a bit too close for comfort.
Against the 14-win New York Knicks, it took a follow with two ticks remaining for the Brooklyn Nets to squeak ahead and win 100-98. The game-winner by Lopez was a fitting end to a 18-point, 7-rebound and 5-block outing from the big who has carried the Nets as of late. Despite those numbers, it wasn't Lopez who deserves the lion's share of the praise tonight. That belongs to the guy that missed the shot Lopez recovered in the closing seconds.
"Deron Williams really likes playing at Madison Square Garden" is what I typed before finding this:

Nevertheless, he loved playing there tonight. In one of his better outings all season, Williams was aggressively looking for his shot and attacked the paint at every opportunity, leading to 26 points on 11-21 shooting from the field. He also grabbed seven rebounds and dished out seven assists with a +20.
Markel Brown, despite taking a hard fall on one of the game's opening plays, finished with 14 points on 5-8 shooting.
The game went as one would expect with the Nets dominating the first quarter thoroughly, letting the Knicks get back in it with another putrid second quarter, taking back control in the third before ultimately nearly blowing it in the final period. Andrea Bargnani could not be stopped for whatever reason, scoring 22 points on 9-16 shooting. I'm already anticipating a $10 million per year contract being offered to him by Billy King this summer.
But enough about the game, which was mostly a testament to how much New York basketball has fallen in the past few years. Let's have a look at the Nets-Knicks "rivalry" at large.
I put rivalry in quotes because despite all the talks of it being a rivalry, it's hard to take seriously with how both teams have played this season. The Nets might miss the Playoffs in this putrid Eastern Conference and the Knicks have won 14 games. But when both squads are legitimate teams, there's definitely something there between the two. With that in mind, the Knicks in rebuilding mode and the Nets likely nearing that point - how about we delve into what the rivalry will look like down the line.
Teams
It's tough to compare the teams' futures considering the Knicks are in (albeit accidental) rebuilding mode and the Nets are trying to make the postseason every year. Brooklyn has looked to get younger, but there hasn't been talking of blowing up its core despite Williams and Joe Johnson getting way up there in age. New York is essentially gunning for a top pick to pair with Carmelo Anthony and hordes of cap space. Both teams' front offices have histories of being… call it laissez-faire with their spending. Just for the sake of comparison, though, here are both teams' futures in a nutshell (with salary data courtesy of HoopsHype and draft info courtesy of RealGM:)
Brooklyn Nets:
Draft picks -
2015 - First round pick (ATL can swap), second round pick
2016 - Second round pick (LAC can swap if pick falls from 31-55)
2017 - First round pick (BOS can swap), Second round pick (from BOS if BOS swaps first and pick falls from 46-60)
2018 - Second round pick (Nets receive least favorable of their own second rounder and Cleveland's)
New York Knicks: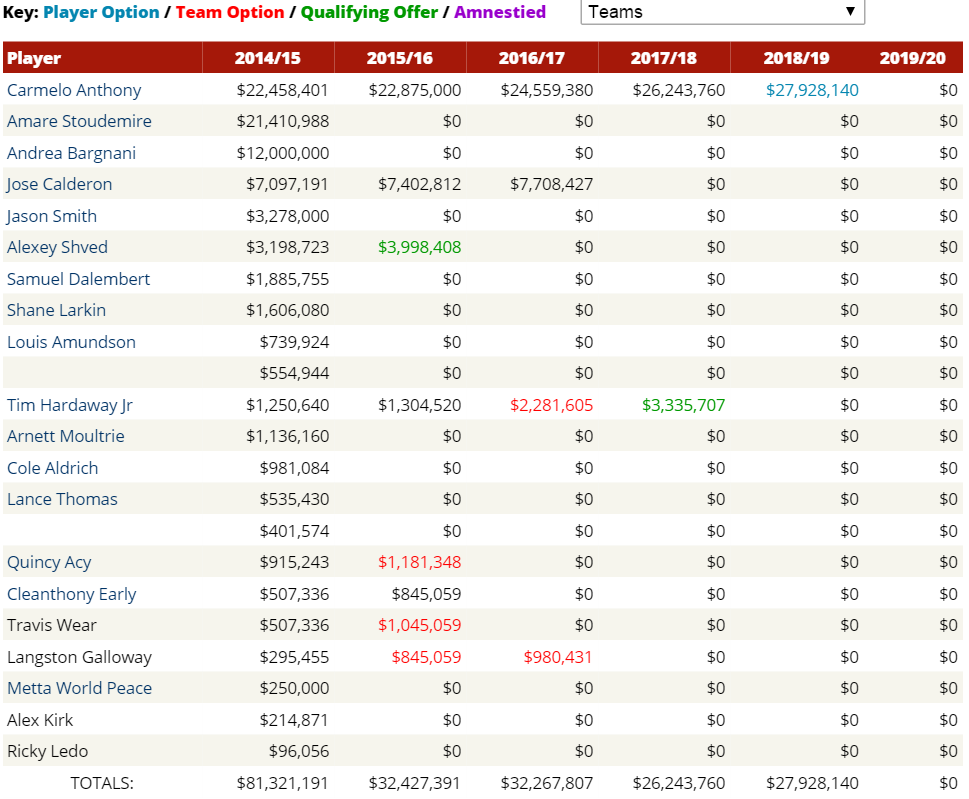 Draft picks -
2015 - First round pick
2016 - None
2017 - First round pick, second round pick (from Houston)
2018 - First round pick, second round pick (Knicks receive less favorable of their own second rounder and LAC's)
You can all make your own judgments, but it's looking like the Knicks have a big edge in the cap room and draft departments while the Nets are going to be relying on aging stars for some time. Now, to the off-court battle.
Everything else
It's long been known that the Nets want to rule the city of New York, claiming the Knicks' long-held throne. It's not just about being better on the hardwood - it's about being the cooler brand and stealing away fans from the blue-and-orange. Here's the problem: it doesn't seem to be happening.
In the Nets' first season in Brooklyn, they ranked 12th in attendance percentage while the Knicks were only slightly ahead at 10th. Boom! The Nets are ready to steal the show! Except, in 2014 the Knicks jumped up to sixth and the Nets dropped to 14th. This season, the Nets are at 19th and the Knicks, in all their 14-win glory, are in 7th. The honeymoon seems to be over for Brooklyn, as Barclays has become a relatively quiet building unless Stephen Curry rolls into town. Madison Square Garden is somehow still selling out without a hitch and this is literally the worst Knicks team in history. Ever.
On top of this, Carmelo's jersey is still the seventh-most popular in the league and the Knicks as a whole are the league's seventh-most popular team when it comes to selling merchandise. The Nets aren't at this level, and it's no telling if they'll ever be.
To put it simply though, all the Nets really have to do is win, and win big. One of the least cool teams of this past decade have been the Atlanta Hawks, but this season they've been the rage of the league by winning a ton of games. So until the Nets solve the whole "basketball" thing, they won't be challenging New York for the keys to the city.