Analysis
Brooklyn's Finest Nets-Hawks Predictions
A long time ago, when we here at Brooklyn's Finest were still full of optimism and promise for this Nets team, we made our pre-season predictions for the Nets. Hope invaded our silly heads, and of the 12 writers questioned, 10 thought the Nets would finish with at least 40 wins (including David Vertsberger's 82 win prediction). After a season full of up-and-downs, the Brooklyn's Finest team is not so optimistic. Here are our predictions for the round one series against the Atlanta Hawks.
Jack Moore: Hawks in four. Danny Ferry yells "F*** BROOKLYN", Atlanta tramples Brooklyn in the first three games and then Budenholzer plays Mike Muscala 48 minutes in game four. *mic drop*
John Mazlish: Hawks in five. The Hawks are a significantly better team than the Nets, and despite their post-All-Star downturn they still look like huge favorites over this Nets team. Brook Lopez's lack of mobility is sure to be exposed against the Hawks ball movement, and things will probably get ugly in a game or two. However, the Nets have been one of the most wildly inconsistent teams all year so I'm banking on one unexpectedly good performance, probably Game 3. In the end the Nets just haven't shown enough this season for me to be any more optimistic than that.
Jonah Jordan: Atlanta in four. There's going to be a point in this series where it finally clicks in Lionel Hollins head that he shouldn't be playing Plumlee/Bropez. Unfortunately, that'll be after he starts them in the fourth quarter in position to win the game.
Brian McNichols: Hawks in three. I predict two close losses in Atlanta followed by a trouncing in Brooklyn. Then a majority of the Nets will decide not to keep playing as Paul Pierce nods contemplatively.
Josh Koebert: I have Atlanta in five games. Iso Joe will go off against his old team in one game early in the series to the tune of 30+ to steal the lone Brooklyn victory. Aside from that, it shall be death by a thousand cuts (aka extra passes to get a better look for the Hawks because the Brooklyn defense is going to be too danged antsy to stay disciplined (looking at you whoever is going to fail at locking down Korver off the ball)). Graffiti starts popping up around the city proclaiming "Paul Pierce Was Right". Jason Kidd leaves a bag of flaming dog poop on Billy King's porch. Everyone gets fired.
Jeremy Briggs: This is my official prediction: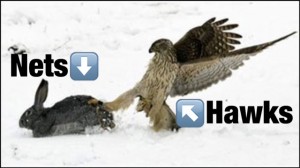 Note: Jeremy left no further comments on the matter.
Austin Reynolds: Hawks in four, but I think one of them might even be close. Maybe. Like, not too close, but a little close.
Paul Mitchell: Hawks sweep. Both Brooklyn and Atlanta finished three games over-.500 in the last two months to the season, but if Paul Millsap is relatively healthy after his April 4th shoulder injury, the Nets will again be on the wrong side of some lopsided losses (Hawks +69 points in four meetings).
Nick Huth: Hawks in Five. I'm predicting a Game 3 win for the Nets when they return to Brooklyn, fueled by Joe Johnson hitting outside shots off of some successful drive-and-kicks from Deron Williams. If the Nets can shoot 40 percent from beyond the arc in one of the games at home it might be enough to avoid the sweep. The playoff format will be kind to Brooklyn with Teletovic possibly returning, but it will only be enough of a boost to take one game off the Hawks.