Analysis, Game Recaps
Nets 91, Hornets 88: Brook Lopez Is Locked In
The Brooklyn Nets needed a win in Charlotte last night if they hoped to remain in the Eastern Conference's playoff conversation, particularly after losing to the Boston Celtics at home earlier in the week. Brooklyn entered the night in 11th place in the East - a game and a half behind the Boston Celtics and Indiana Pacers, and a game back of the Hornets in the race for the eighth seed - with key opportunities remaining on the team's East-heavy schedule over their last 13 games. The Hornets and Nets split their two meetings earlier in the season, and a win in Charlotte would determine the tie-breaker between two rivals for the East's last playoff spot. And so, in a must-win matchup against the Charlotte Hornets, the Nets went to Brook Lopez early and often, as he dominated on both sides of the ball in Brooklyn's 91-88 victory.
Lopez stepped up and led the Nets in minutes, points, rebounds, blocks, and more than doubled his next-closest teammate in shot attempts, on a night when Deron Williams, Joe Johnson, and Thaddeus Young combined to shoot 9/30 from the field. He played the first 13 minutes of the game and scored six points with six rebounds in his first shift, and the offense managed just a single basket (a Mason Plumlee layup) over the next four minutes in the second quarter, while the Hornets' lead grew to double digits. Brook re-entered the game next to Plumlee in a rare front-court pairing that hasn't been seen in a few games, and scored the team's last six points heading into the half, giving him 12 points and trimming the deficit to four.
He would match his 12-point output in the third quarter alone, as the Nets outscored their opposition by eight points in the third period. Outside of Alan Anderson's 10 second-half points and a late Joe Johnson three-pointer, Brook Lopez was the Nets' primary source of offense, with another 10 points in the fourth quarter. The Hornets tied it up at 85 with 36.5 seconds left in the game on an Al Jefferson layup, but Brook Lopez went right back at him with the runner out of the pick-and-roll and put the Nets back on top. Four free throws from Deron Williams would close out the 91-88 road win, after Kemba Walker missed a potential game-tying layup with 18 seconds remaining.
Lopez finished with 34 points (on 16/26 shooting and two free throws), 10 rebounds, two steals, three blocks, and a +4 in a three-point victory. Anderson chipped in with 13 points while Deron added 10 points, seven rebounds, and 14 assists (mostly to Brook), and Thaddeus Young scored 11 before leaving the game after suffering a knee injury late in the third quarter (see below).
The Nets' win, combined with a Boston loss against Miami, puts them just a half-game out of the eighth seed in the East, with the Celtics, Heat, Nets, and Hornets all tied with 40 losses on the season. They'll play Cleveland next, at home Friday, and then the lottery-bound Los Angeles Lakers Sunday afternoon, but Tuesday's home meeting with the Indiana Pacers could represent the Brooklyn Nets' next must-win game, in their push to the 2015 playoffs.
Deron Williams said it best after the game, in that Brook Lopez is "doing everything on both ends. He's asserting himself, being aggressive. Just playing so well right now."
Last night, he flashed every move in his arsenal as he dropped 34 points on the league's seventh-strongest defense. The jump shot was working, whether of the face-up variety or on ridiculous fade-aways from the low-post. He took seven shots around the rim, and beat his defender off the dribble for a couple of layup attempts when they stepped up to play his jumper. Even on a missed shot, Lopez's burst of speed when he explodes to the basket is a nice sign for a player who had been hampered by foot and back issues to begin the season.
When not attacking from the post, or with his catch-and-shoot game, or by beating his man off the dribble, Brook Lopez broke out the teardrop jump-hook that he would later exhibit on his game-winner. With his size and touch around the basket, Lopez could simply flick his wrist and launch his runner whether from the pick-and-roll or catching on the fast break. Particulary in that second clip, where he catches Deron's bounce pass, gathers, and throws up an almost-push shot from just below the free-throw line, he's able to keep the ball high and away from the help defender (the pesky Michael Kidd-Gilchrist) and get a shot off in almost any situation. It's no wonder Mike Fratello and Ian Eagle had such a hard time describing the shot on the telecast.
But we already know about Brook Lopez's offensive exploits, and his ability to take over a game through his scoring skills. Against the Charlotte Hornets and their dynamic scoring threat from the center spot, in Al Jefferson, Lopez stepped up his play on the defensive end in leading the Nets to a much-needed win. Jefferson still scored 23 points on 11/19 shooting, with 10 boards and two blocks, but Brook generally did a good job of staying on his shooting hand and not falling for his (infinite) up-fakes.
Jeff was still able to use his agility and craftiness to keep Brook off-balance on a number of made baskets, including the game-tying layup linked to above. The Hornets began working him into more high-pick-and-rolls in the second half with Kemba Walker, where Jefferson could catch on the roll and pull out his own version of the teardrop jump-hook. Brook kept up with him in the post and on his cuts, making him work for his shots by sliding his feet and challenging almost every shot attempt. On this made basket below, Jefferson extracted the extra second- or step-advantage he needed to somehow score, despite Brook being all over the shot.
Brook Lopez was also active in defending off the ball and in space, with his three blocked shots mostly of the weak-side variety and coming from help defense. After Jefferson flashed a couple of early jump shots he was forced to step up and extend his man-defense, as well as chase him through cross-screens along the baseline and the increased screen-and-rolls in the second half. For the most part, and especially when guarding Jefferson, Lopez played up on any high screens and tried to stay with the guard penetration, but got caught on a couple of occasions without any teammates helping on the big-man rotation.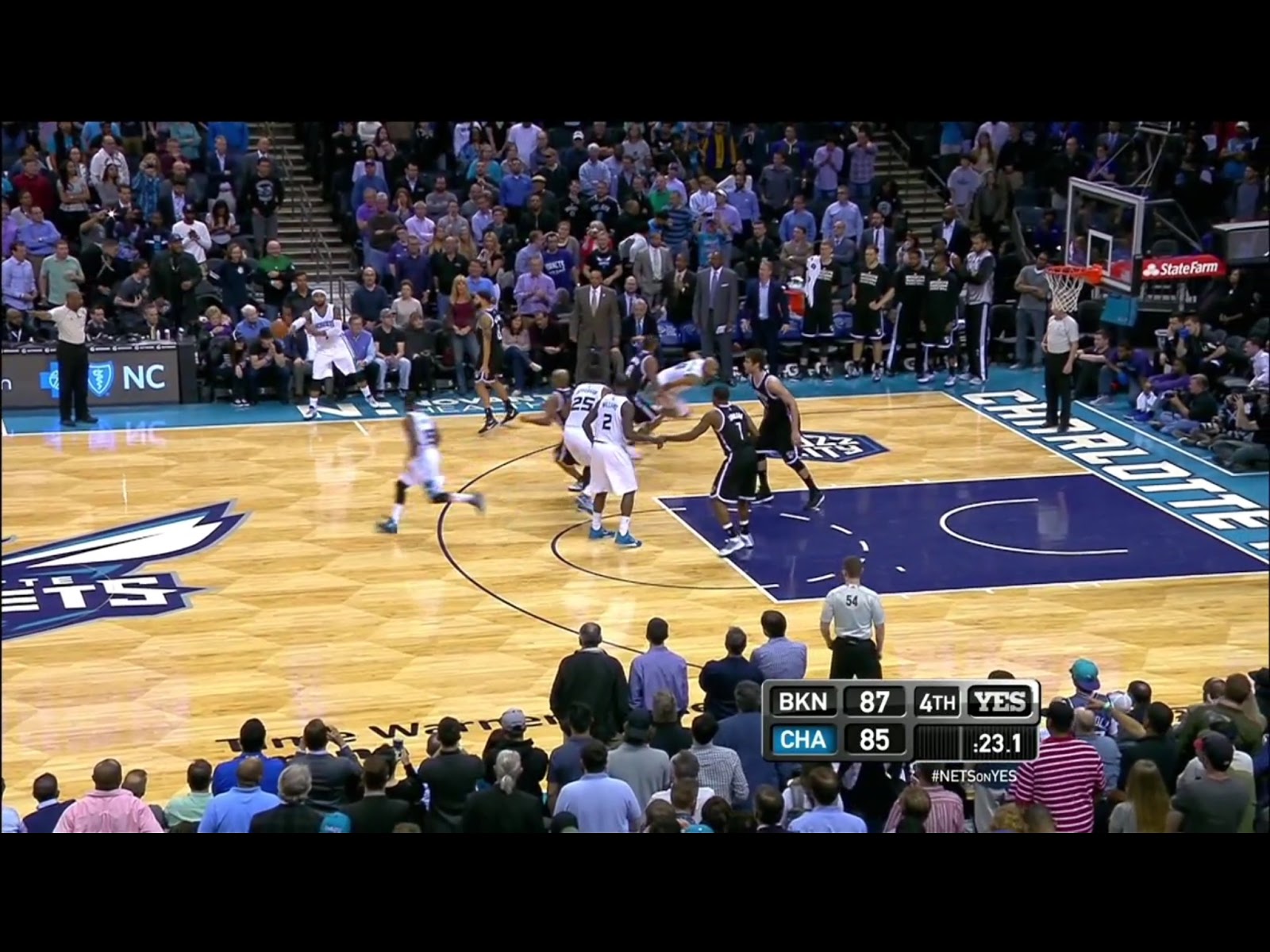 In Charlotte's potential game-tying basket with 23.1 seconds left, Brook was again engaged in his pick-and-roll coverage. He begins by playing back and guarding against a Gerald Henderson back-cut as Mo Williams inbounds up top to Kemba Walker.
Jefferson again sets up for a high screen after freeing Kemba with a pin-down on the inbounds. He shows a screen but then tries to flip it to the left side, as Kemba takes a hand check from Jarrett Jack and accelerates to the right side of the basket. Lopez initially rushes out on Jeff's attempted screen to near the three-point line and is a step slow in recovering on Kemba's layup, but is still able to get involved with the play and show Kemba the threat of a shot blocker.
Jarrett Jack stays with Walker as he turns the corner and enters the paint, and nudges him enough with his hip to send him flailing out of bounds as he throws up an awkward shot attempt. Let's give Jack a lot of credit for the physical defense and forcing Kemba into a shot as he's going away from the basket, but also some credit to Lopez for crashing back into the play and giving Kemba another obstacle in his potential game-tying field goal attempt.
Kemba Walker's missed layup with 19 seconds left lowered the Hornets' win probability by almost 9%, after Brook Lopez's mid-post floater gave Charlotte just a 20.3% chance of pulling out a victory. By Inpredictable's numbers, Brook Lopez added 60% to the Nets' win probability over the course of the game and 48.2% in clutch situations alone, and was the most important player on the court for either team.
For the Nets, he's been their most important player over at least the last two weeks of their playoff push, if not to the team's entire season. Over the last four games, against the Hornets, Celtics, Pacers, and Milwaukee Bucks, he's been able to almost single-handedly carry the team to victory, averaging 36.8 minutes per game and 31.5 points (on 66% and 19/20 free throws), 9 rebounds, and 3.5 blocks. It'll be a tough last 12 games for the Brooklyn Nets, but if the team can sneak into the Eastern Conference playoffs, it'll be largely because of Brook Lopez's rejuvenated play.
Other game notes (as if this isn't long enough already…):
Thaddeus Young's injury in the third quarter was unfortunate and tough to watch, and obviously all of our thoughts and well wishes are with him as he waits to be re-evaluated by the team, after a reported hyper-extended knee. He either slipped on the court or got his foot caught up with a Hornets player coming down on the break and went right to the floor immediately in pain. He was able to eventually put pressure on the knee and walk/limp off the court with minimal assistance, which will hopefully mean positive news as to his long-term health and diagnosis, after a scary situation in an otherwise entertaining and back-and-forth game.
Alan Anderson is pretty handily the most underrated Net, so let's make sure to spotlight his positive contributions against the Charlotte Hornets. His 13 points were the second-highest output behind Brook Lopez's 34, but his +18 in 25 minutes played was easily the highest mark on the team. Anderson is also the Nets' best player this season according to Win Probability Added, ranking 32nd in the NBA.
For the second-consecutive game Deron Williams struggled shooting the ball and instead focused on filling the box score, notching another near-triple double. Against Boston he was 2/6 shooting but totalled 10 points, nine rebounds, and 10 assists. Wednesday in Charlotte he couldn't buy a bucket (2/9) and again scored 10 points, but with seven rebounds and 14 assists. Brook Lopez certainly helped pad Deron's assist totals, with his ability to quickly toss up his flip shot off of the pick-and-roll, but Deron saved his prettiest pass for Alan Anderson in the last two minutes of a close game. Beautiful. Great off-ball cut by Anderson to stay aggressive with Kemba Walker guarding him.
Do we still want "Born Ready" in Brooklyn? Lance Stephenson had been a bit better off the Hornets bench of late, but really struggled against the Nets and shot 1/8 from the field. A big performance over these last 10+ games of the season (or in the first round of the playoffs) could certainly help change the perception, but it's been a really disappointing first season for Lance in Charlotte.
No Noah Vonleh tonight is also disappointing, as I have yet to see him play this season. Considering the stakes (tie breaker) and the importance of these games to the Hornets' playoff chances, it's not a surprise to see head coach Steve Clifford shorten his bench and rely on a veteran big like Jason Maxiell for 12 minutes over a 19-year old rookie, even with Cody Zeller out for his third straight with a shoulder injury.
This was a much different matchup from Brooklyn's perspective than their last game two weeks ago, with Lionel Hollins completely shelving small ball and even resurrecting the Brook Lopez/Mason Plumlee front court. In that game the Nets lost by 24 and trailed by double digits minutes into the first quarter. Whereas Charlotte's starting power forward, Marvin Williams, scored 18 points against Joe Johnson in Brooklyn's former small-ball lineup, the presence of Thaddeus Young and then Plumlee and Cory Jefferson limited Williams to just 8 points in their third meeting of the season.