Trending in Brooklyn
Trending in Brooklyn: Even More Starting Lineup Changes
Everything was going so well for the Brooklyn Nets since the All-Star break… and then everything turned terrible again. Here's what's trending in Brooklyn:
Hello Darkness My Old Friend
Everything was looking so good after returning from the All-Star break. The Nets went 4-2 in the first six games back, with wins over Golden State and on the road on the second night of a back-to-back in Dallas. The two losses were both on the road to good teams at New Orleans and at Houston.
But of course, it was all too good to be true.
The Nets followed up that huge victory over Golden State with a 24-point home loss to Charlotte (24!), an overtime loss to Phoenix, a home loss to Utah, a blowout loss to New Orleans, and last but certainly not least, a six-point loss to Miami that probably wasn't even really that close.
The recent skid combined with other middling East teams such as Boston and Indiana going on winning streaks has seen Brooklyn slide all the way to 11th in the conference, three and a half games behind Miami for the eighth seed. It was already doubtful that the Nets would be able to do any damage in the postseason, but unless they can turn things around quickly they won't even get the opportunity to try.
ANOTHER Starting Lineup Change
Brooklyn has used a total of 17 different starting lineups through 63 games this season, and made another change during the recent slide. In the March 8th loss to the Jazz head coach Lionel Hollins moved Alan Anderson and Mason Plumlee to the bench in favor of Thaddeus Young and Brook Lopez, and decided to stick with it for the next two games. The results have… not been great.
The lineup of Williams, Brown, Johnson, Young and Lopez has played a total of 55 minutes across six games this season, and is a net -0.9. In the last four games (since it was changed to the starting lineup), it's a net -8.4. For reference, the previous starting lineup of Williams, Brown, Anderson, Johnson and Plumlee has been a net +1.3 in 74 minutes.
Part of Brooklyn's problems this year can probably be stemmed from a total lack of continuity. A team is better when players are used to playing with one another, and the Nets' most played lineup has only been on the floor for 179 minutes. Only one other lineup has played more than 100 minutes, and both of those most frequent lineups contain one player (Kevin Garnett) that isn't even on the team anymore.
#FREEBOJAN
On this week's episode of MAN ON FIRE: BOJAN BOGDANOVIC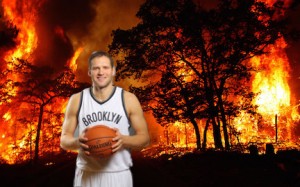 In the Nets' last 10 games Bogdanovic has played seven times, averaging 21 minutes per game. In those seven games? 8.7 points, 49 percent from the field, almost 48(!!!) percent from three.
Bojan Bogdanovic has the terrible misfortune of not having any "E"s in his name that can be easily changed to "3"s, and that's a real shame. Bojan needs a nickname. Bojan the Bowman? Because he attacks from long range? Or maybe he should change his Twitter handle to @Bojan_NoSnowman, because he's never cold. Or maybe I should stop coming up with nicknames, because I'm terrible at it. Yeah… let's go with that one.