Trending in Brooklyn
Trending in Brooklyn: The Point Guards are on Fire
The Brooklyn Nets had a busy All-Star break, co-hosting the festivities and taking part in the trade deadline mania by sending Kevin Garnett back to Minnesota in a swap for Thaddeus Young. Brooklyn's been off to a solid start since the busy break, going 2-1 in the last three games with all contests coming on the road. Let's take a look at the recent trends:
Deron Williams is Back (Kind of)
Deron Williams has flipped the switch after not scoring a single point in 22 minutes in a February 9th loss to Milwaukee, scoring in double figures in each of his last four contests. In the four-game stretch he's also had his two biggest assist games of the season, racking up 15 dimes in a win against the Lakers and 12 in the blowout victory at Denver. It was the first time Williams has recorded 15 or more assists in a game since March of 2012 when he dished out 15 against Sacramento with the New Jersey Nets.
In these last four games the Nets are 2-2 and with all four games coming on the road, and Williams is averaging 12 points and 9.3 assists, although he is still shooting a hair under 40 percent. It's sad that D-Will's career has come to the point where this is what's considered "good" for him now, but it represents a noticeable improvement from his recent play and it was good enough for him to win the starting point guard back from Jarrett Jack. Williams started at New Orleans Wednesday night, totaling 10 points and six assists in 34 minutes while Jack came off the bench to score 15 points and dish out three assists in 28 minutes of playing time.
Thad Young Debuts
One of the big stories from the trade deadline frenzy was Kevin Garnett's return to Minnesota, but what's been overshadowed is that the Nets got themselves a pretty solid player in Thaddeus Young. Young's already appeared in three games for Brooklyn, averaging 14 points, 4.7 rebounds and shooting 58 percent from the floor in 21.3 minutes per game, and with Garnett gone he could find himself in the starting lineup sooner rather than later if he keeps up his current level of play.
As you can see from his shot chart, he's done nearly all of his work in the paint, and is finishing at a solid rate of 63.6 percent. He's been acting as the roll man in several of Brooklyn's pick-and-rolls with him on the floor in order to get several of his looks near the bucket, and he's also done damage when posting up smaller forwards and through second chance opportunities. Young's pulling down 2.3 offensive rebounds per game in his time as a Net so far, a number that would rank tied with Mason Plumlee and Brook Lopez for best on Brooklyn's roster.
Jarrett Jack is Melting People's Faces Off
Jarrett Jack's last eight games: 36.3 minutes, 18.6 points, 4.1 rebounds, 6.5 assists, 48.3 FG%, 39.1 3FG%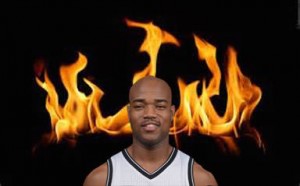 Jack missed two games due to a hamstring injury and as a result loss his starting job to Deron Williams against New Orleans, so he came off the bench and still dropped 15 points in 28 minutes. I took a look at his shot chart in those last eight games to see exactly where he's hot from and…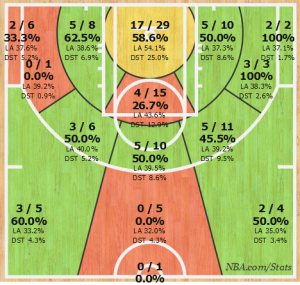 …everywhere. Jarrett Jack is hot from almost everywhere.