Analysis
How Brook Lopez hurts the Nets offense
The Nets have way too much talent to be such a crummy offensive team, that much is a given. Brooklyn ranks 23rd in the league in offensive efficiency, their worst mark since the 2011-12 season. What gives?
Fans may point to Brook Lopez missing seven (eight counting yesterday's Raptors game) games for the Nets this season, however Brooklyn's 100.2 points per 100 possessions with Lopez on the court still leaves them with the seventh-worst offense in basketball. Although the Nets score ever-so-slightly better with Lopez on the floor for them, the idea that the seven-footer is hurting the team's offense can be true at the same time.
For beginners, Lopez's once dominant post game has been shaky thus far. He's posting a career-low PER and true-shooting percentage if you discount his five-game season in 2012. He gets to the line at the lowest rate since his rookie year and he's shooting under 50% from the field.
This isn't really the problem though. Lopez has been troubled with injuries all season long and if there's one thing he's great at, it's scoring. Expecting him to bounce back to his regular numbers isn't overly optimistic whatsoever, and doing so will definitely help boost Brooklyn's offense. What won't however, is this: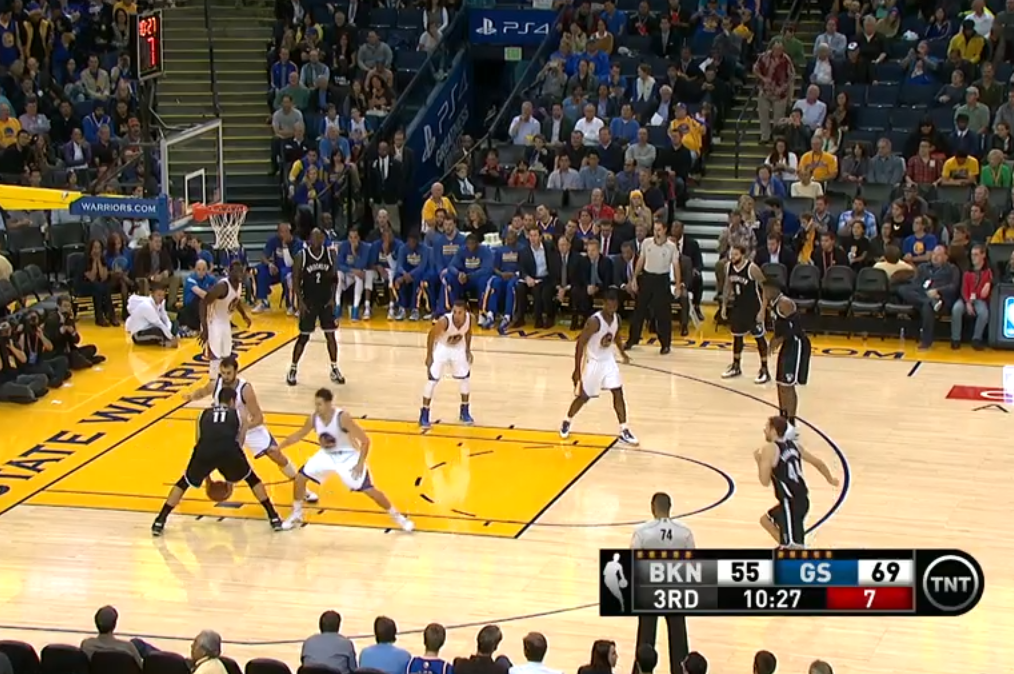 The right move here is obviously swinging the ball to a cutting Bogdanovic, or even risking a pass over to Williams, who's being relatively left alone by Steph Curry. Lopez instead ops to try and split Bogut and Thompson with a dribble-drive - doing so successfully, somehow - but then gets swatted at the rim by a helping Draymond Green. Here lies the core issue: Lopez doesn't pass the ball.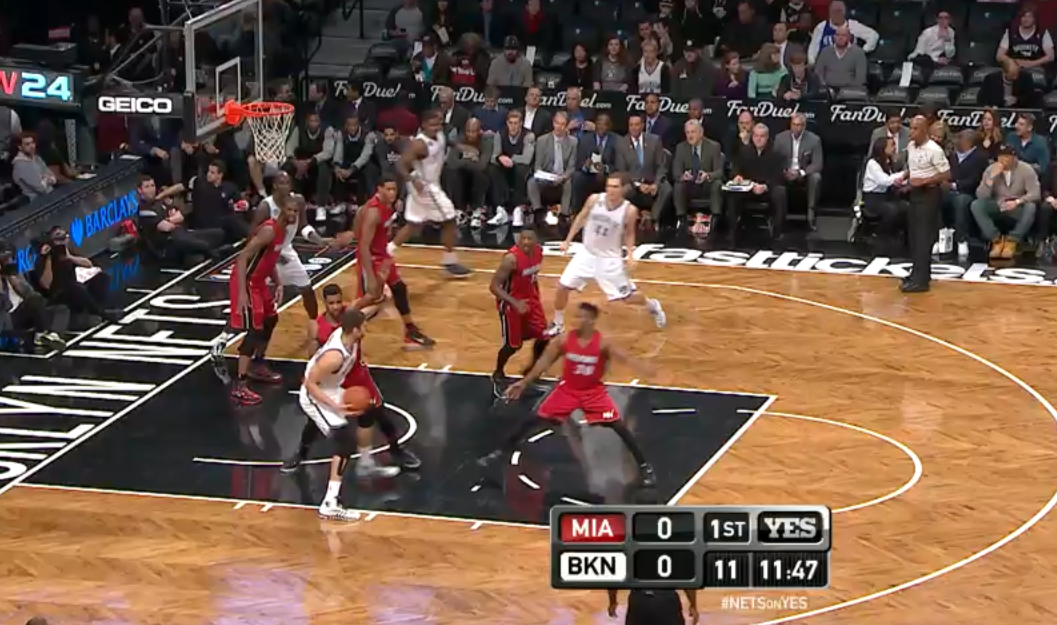 With 11 seconds remaining in the shot clock, Lopez is about to be doubled by Norris Cole, who is leaving Deron Williams open at top of the arc. Williams shoots 45% from that spot this season. Once Lopez makes his move, Chalmers helps as well, leaving Bogdanovic open. No pass is made.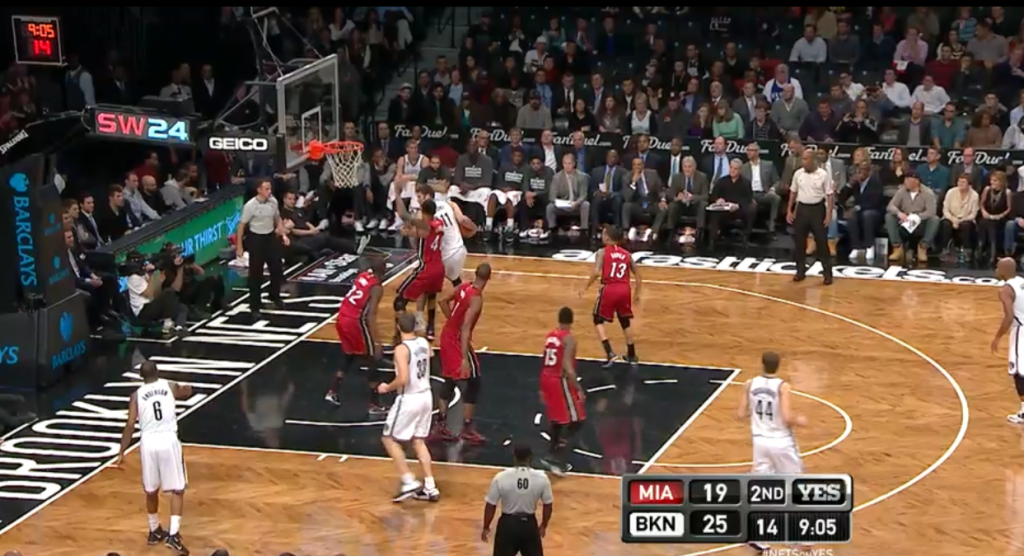 All five Heat players are in the paint. Notice Alan Anderson, who's backing up to the corner. Once again, Lopez looks for his own instead of finding the open shooter.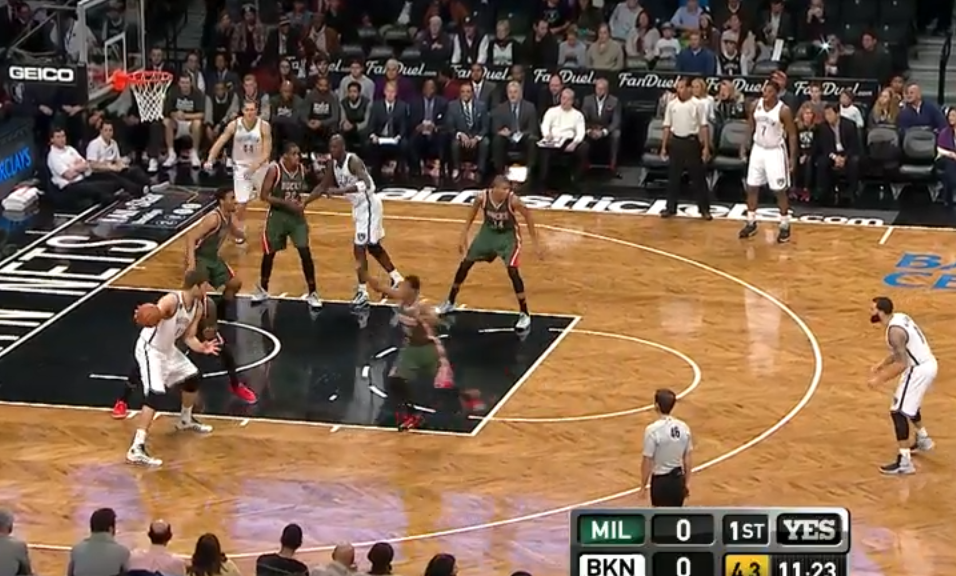 Shouldn't be any easier than this. Knight is coming at Lopez hard. Williams is in his spot yet again. Lopez decides to call his own number.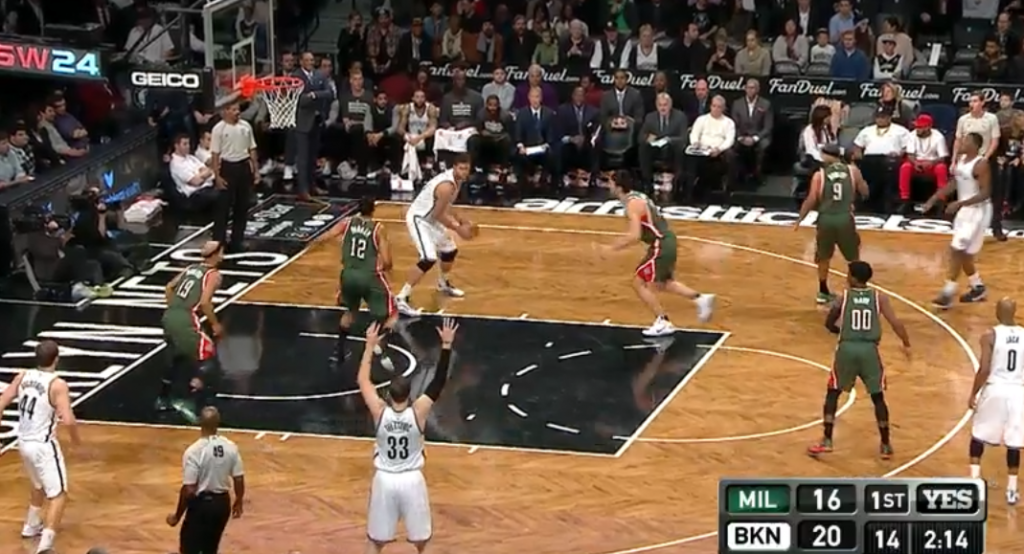 Lopez is looking at Teletovic. He is looking at him. Directly. Zaza Pachulia swats this shot out of bounds. Lopez was looking right at Teletovic.
At least Lopez didn't get blocked by a Buck on this play, just the bottom of the rim.
These images may come off as isolated incidents, but the numbers beg to differ. Lopez ranks sixth in the league in Nylon Calculus's shots-per-touch percentage and holds the fourth-lowest assist rate among players who are averaging over 30 minutes a night.
Need more? The Nets are at their slowest pace with Lopez on the court, which combined with his porous defense sets back their already lacking transition game. The Nets are more inclined to shoot from deep with Lopez on the bench, a crucial note in a league where threes reign and Brooklyn sits in the bottom third of teams at attempting them.
Lopez has long been a gifted low-post scorer, but in today's NBA that skill is best capitalized by using it to open up opportunities for others. Lopez's disdain for passing the ball and his general stagnation effect on the team may not be killing Brooklyn's offense, but it's not doing it any favors either.
All stats according to NBA.com/stats and Basketball-Reference unless credited otherwise. Valid as of 12/17/14, prior to Raptors game.