Uncategorized
3-7: What Gives?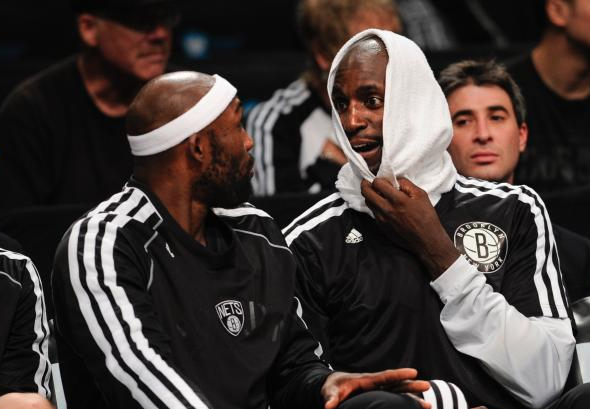 Ten games in, this season has been a bit of a roller coaster, to say the least. On one hand, you have the highs. (No, literally. I can count them on one hand.)
And on the other, all those lows. The good news, however, is that we're currently ten games into an 82 game marathon. Whatever's happened over the course of these last two weeks, good and bad, will eventually regress to the means. Unfortunately, a few signs point to a couple of particular issues not heading in the right direction.
But first, the good.
Whether it's due to development or KG-osmosis, the difference in Lopez's defense from then to now is highly noticeable. He's essentially done a 180 in the paint, going from being bullied on a nightly basis to actually giving a damn. He's limited opponents to 31.5% shooting at the rim, second in the league among players who have played in as many games this season (per SportsVU Player Tracking.) Furthermore, the Nets are giving up only 98.7 points per 100 possessions when he's on the court as opposed to 111.8 when he's not (per NBA.com Stats.) His offense has always been there (as shown in the schooling of Miles Plumlee the other night), so that's no shock. It's just good to see he's added a little something-extra to the arsenal.
Last season, Shaun Livingston was a nice little player given his limited time with the Wizards and Cavs, shooting an unsustainable 109 points per 100 possessions. This season, he's been more of a godsend, relieving the ankles of D-Will whenever needed (which, if we're being honest, has been quite a bit.) His offense has been much better than expected, as shown in his 47% shooting and +11 rating over the course of the last three games. And quite frankly, his current defensive efficiency of 105 is a bit harsh considering he's one of the more active players in that area night in and night out. I don't expect him to become a superstar anytime soon, but his worth to this team is undeniable.
Then there's the bad. And boy, is there a lot of it.
That Schedule
With the Pacers and Suns mixed in, you would think the Nets had fallen victim to a few tough weeks out of the gates. Unfortunately, that's not the case as they've played teams who, on average, have allowed 102.2 points per 100 possessions, equivalent to a rate slightly below league average. Their opponents have also averaged a rebound percentage of 50.8%, which would rank them somewhere around the bottom-third percentile. The good news is that their slate for the rest of November is allowing an average of 101.9 points per 100 possessions, so they'll probably win a few more games (if only because of the sheer regression to the means.)
Shaun Livingston
When your $190 million dollar roster depends on the minimum salary of an offseason acquisition, that's a problem.
OH GOD DON'T FOLLOW THE YELLOW BRICK ROAD
In the penultimate small-sample-size crunching, the Nets are currently 1-5 on the road; 2-2 at home. It's a bit of a worry, though, that they're averaging eight less points per 100 possessions away from the Barclays Center than they are at home (according to NBA.com Stats.) And, to exaggerate those six games a bit further, their effective field goal percentage shrinks nearly 5% on the road even after you account for…well, see for yourself.
Maybe Kidd Can't Coach
Just throwing it out there…
What's a Blatche?
Andray Blatche is currently averaging nearly three less points per game than he did last season, but it's not yet an issue considering the Nets have only played ten games. The real cause for concern, however, comes in the form of his minutes. With the addition of KG and the recent usage of Plumlee, it's almost as if Blatche has been designated to this odd role that lacks a specific purpose (which I guess is an analogy for the entire roster.) Sure, he's a feature in Brooklyn's second-most used lineup with Johnson, Lopez, Pierce, and Williams, but it still seems like the Nets are playing with too many pieces. It should also come as some sort of testament that the five-man-lineup previously mentioned is allowing nearly 13 less points per 100 possessions than the exact lineup substituted with KG.
Which brings me to my final point…
KG
Where to begin. It's typical for a player in his 19th season to decline, but decline overnight? Just take a look at his numbers from last season.
KG 2012-13: 14.8 PPG, 7.8 RPG, 2.3 APG, 49% FG, 104 OffRtg
KG 2013-14: 6.9 PPG, 7.8 RPG, 1.6 APG, 32.6% FG, 93.3 OffRtg
Not only that, but he's looked noticeably slower, which may explain his career-high foul rate of 4.7 per 36 minutes.
And the shooting. My god. I know we received a vote of confidence during the first 12 minutes last night, but following that 6-6 first quarter, he proceeded to throw up a 2-13 effort the rest of the way (or, as it's referred to now, a normal night.) Even if we take into consideration his sweet spot – you know, that little section at the top of the key that he built his career around – he's shooting 27% from that 5-19 feet range. And did I mention he's scored 86 points on 65 shots (per Synergy)? Either way, it's not pretty, and the early signs are troubling.
Where Brooklyn chooses to go from here, however, is still up in the air. I would think a possible Plumlee/Lopez lineup might be in the cards (if only to experiment with the constant Blatche/Lopez combo), but there's really no way to tell considering those two have only shared the court for NEVER.
But, as previously stated, we're only ten games into a long season. Let's sit back and see how this unfolds.