Uncategorized
Weekly wrap-up: Kidd's coaching debut, KG's knees, Kirilenko's hair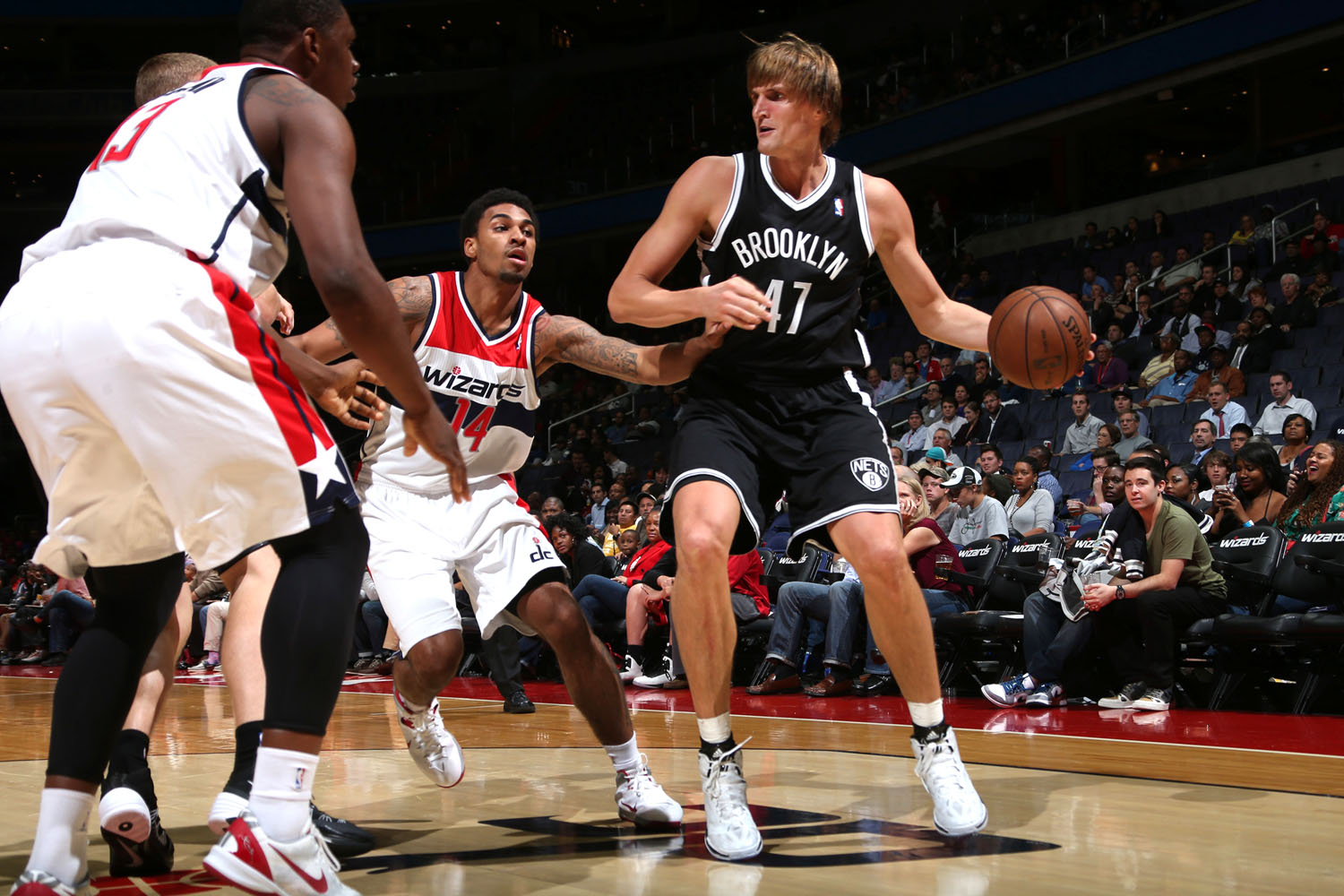 A tale of two cities
By Brian Faith

The first two games of Jason Kidd's coaching career were complete opposites. On Sunday the Nets traveled to the Magic Kingdom and were sawed in half by Victor Oladipo. Then back in Brooklyn on Tuesday, Brook Lopez tuned down the Utah Jazz, earning Coach Kidd his first victory.
A first-time head coach, plus a roster full of new players is destined to struggle with consistency early in the season. The shocking part of Sunday's loss was that the Magic beat up the Nets on the boards — one of the areas that was supposed to a strength all season long. Nikola Vucevic and Andrew Nicholson had 12 and 11 rebounds respectively, as the Magic swiped 54 total boards to just 42 for Brooklyn. Paul Pierce should not be leading the Nets in rebounding, but that's what happened.
Victor Oladipo has played well in his rookie season thus far, but against the Nets he was the best player on the court. He brought intensity, a non-stop motor, defense, and play-making to the game — attributes usually reserved for Kevin Garnett. Oladipo finished with 19 points, six rebounds, four assists, two steals, and he also did this.
The Nets limped home to Brooklyn on Tuesday to face the winless Jazz. From the get go you could feel a different sense of urgency from the Nets. The game was a laugher by halftime and the starters played sparingly in the second half. Brook Lopez destroyed the Jazz frontline to the tune of 27 points and seven rebounds in only 25 minutes. Deron Williams and Andrei Kirilenko were able to extract some revenge against their old team. Williams said after the game, "Yeah, it definitely does (matter)," when asked about the importance of beating his former team. Williams scored ten points and dished out eight assists, with Kirilenko chipping in six points and five rebounds in 16 minutes.
The difference between the two games was fairly obvious. The Nets did not look prepared to play Sunday night and may have been expecting an easier game from the Magic, especially after dispatching the Heat on Friday night. On the plane ride home Garnett delivered one of his trademark messages to his new team. He summarized for reporters on Tuesday before the Utah game.
"We're trying to form something here," he said. "I think Paul reiterated some of what I was talking about, and it's just consistency. You can't play a passionate game against Miami and then go out and play the way we did against Orlando."
Garnett continued, "I was just letting them know that consistency is the difference between great teams and okay teams… that was the message." When pressed by reporters for the details of his plane ride rant, Garnett coyly replied, "Nothing I'd like to share nor repeat."
The good news here is that the leader of the team understands the issues the team is facing. The bad news is that this is already a veteran-laden roster that should not have trouble bringing it every night. They know what's at stake. They know they are chasing a championship and trying to dethrone the Miami Heat. Dropping games against inferior opponents will happen from time to time during an 82 game season, but effort should not be the reason for this group. Hopefully, the Nets bring some intensity and consistency to a tough back-to-back this weekend against the Washington Wizards and Indiana Pacers.
The real culprit
By John Daigle

Late into the third quarter of their match with the Heat, THIS happened.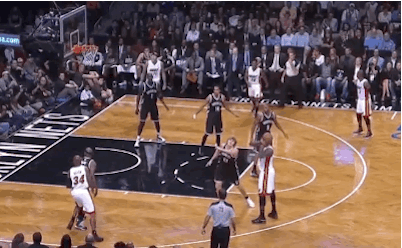 Which begs the question: What the hell? Why hasn't anyone thought of this before? Like, if there were an easy way to wear KG's knees out before seasons' end, isn't this it? And, most importantly, does Sports VU track "Years lost from meaningless blocked shots…well, sort-of-shots?"
Wait…do other GM's occasionally read this site? CTRLALTDELETE.
Hello, my floppy-haired friend
By Jeremy Gordon

The early data on Andrei Kirilenko tells us nothing real. His offensive and defensive rating are essentially the same; his eFG% is at a perfectly unspectacular 50%; his SportsVU data adds up to a big "incomplete," especially since he's only played in three games at 13.3 minutes per contest. I don't care about any of that, at least not for the moment. All I need to know about Kirilenko's early play is that he looks like he knows what he's supposed to do. This is a bigger deal than you'd think, because basketball is a sport that encourages individuality—it encourages Andray Blatche Euro stepping to the rim from 30 feet out, because why not? There'll always be another possession. But Kirilenko fits into the rare breed of role player whose ego has been totally subsumed by the needs of the team, which is excellent because he's still on the tail end of his best self.
Watching him, you don't feel like you're seeing someone who's reluctantly downsized his abilities because of age, but the leader of a basketball Voltron, the congealing agent to make sure everything is alright. Want some advanced statistics? The Nets are 2-1 with Kirilenko—projected over a full season, that would make them a 55-win team, good enough for a top 4 seed. (That's how stats work; you can't convince me any differently.) We'll wait for the data to support the eye test, but for the moment, things look good. Even the hair, which I'm getting used to.