Uncategorized
A Plumlee grows in Brooklyn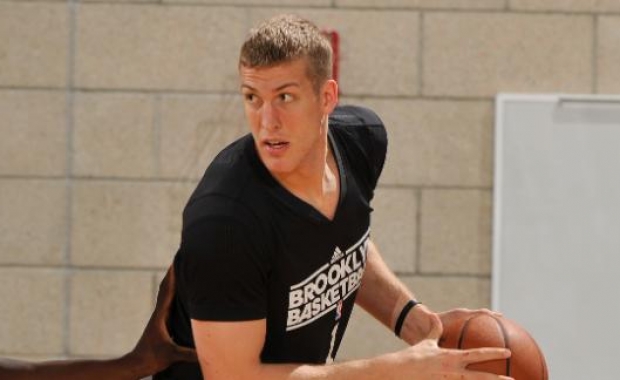 NBA teams are increasingly utilizing D-League affiliates to develop young players, get them familiar with team systems and concepts, and provide them with live game experience that's not available on the pro club. Currently 14 D-League teams have direct relationships with single NBA teams, while the remaining three D-League squads split the other 16 NBA teams.
This year, the Brooklyn Nets are one of the teams with a single affiliate; that being the Springfield Armor. Last year, the Nets called up Damion Jones and Kris Joseph from their respective D-League clubs, the Bakersfield Jam and the Armor. (The Nets previously had relationships with multiple D-League affiliates). Prior to last season, the New Jersey Nets had called up 13 D-League players over the course of the previous 11 seasons.
One current Nets player whose name has been discussed for a possible D-League stint is first round draft pick, Mason Plumlee. With the addition of Kevin Garnett, a healthy Brook Lopez, a resigned Andray Blatche, and Reggie Evans on board, the Nets have a crowded, veteran front court. Those four are ready to chase a championship and win now, whereas Plumlee will need time to develop from project big man to steady rotation player.
"I think Mason has done a good job being a rookie and not getting in the way of the veterans and listening to them," Nets General Manager, Billy King told GoDuke.com during training camp. "For him to have Kevin Garnett and Paul Pierce, Brook Lopez, those guys can show him the right way to be a pro. It's going to help him for his long-term career. It's a great upside and the foundation for him will continue. This year, he'll have a chance. we're deep. But I think he'll play a lot of time in the D-League. If the opportunity arises, I'm sure he'll play for us as well."
I can understand the reasons for sending Plumlee to Springfield: to get familiar with the complex systems of NBA offenses and defenses, to refine his skills around the basket, to build up the confidence required to play against NBA veterans on a night-to-night basis. I just happen to think that Plumlee will get more valuable experience with the Nets given the specific roster and situation he was drafted into.
I'm not sure there's a better roster in the league for a big man to have joined than this Nets group. It all starts with Kevin Garnett, whose trade, oddly enough, was being discussed when the Nets selected Plumlee 22nd overall. If you could pick one player in the entire league for a rookie to learn from, who better than KG? He's seen it all. Drafted right out of school, becoming an MVP in a small market, staying loyal to that market, then moving on to a fabled franchise and winning a championship. His last ride, however it long it lasts, will be with the Brooklyn Nets. I won't drone on about Garnett — we all know what he brings to the table night in and night out — but I will delve into how Mason Plumlee can benefit from being around KG.
"@PandazPrince: @masonplumlee Do you and KG talk? (about what)?" He talks I listen

— Mason Plumlee (@masonplumlee) October 21, 2013
The first thing Plumlee can learn from Garnett is how to be a professional. He can learn what it takes to make it in the league; how to bring it every day, in every practice, in every drill.
"You cheat the drill, you cheat yourself!"
That was Garnett imploring his teammates to bring it… during the first day of training camp. The sense of urgency that Garnett plays with is nearly unmatched in the history of the league. What better attribute for a rookie to learn than to sweat the small stuff and focus on getting better every single day, drill-by-drill?
Kevin Garnett may very well be the best pick and roll defender the league has ever seen. His preternatural sense of when to show hard, when to back off, and when to retreat back to his man is the standard every defensive coach uses when teaching pick and roll defense. With more teams relying heavily on the pick and roll to initiate their offense, and more cat-quick point guards entering the league, it's imperative for a big man to understand and be able to execute the nuance of this coverage. Plumlee will have the opportunity of a lifetime to learn what's becoming the most important trait for a defensive big man from one of the greatest to ever do it.
On the other side of the ball, the Nets have All-Star Brook Lopez. He's come a long way since being drafted 10th overall by the Nets in the 2008 draft. Lopez battled injuries early in his career before emerging as an All-Star last season. He finished fifth in John Hollinger's PER rankings, and was far and away the best center by this measure a season ago. He's developed an excellent post game, mixing in a variety of hook shots, drop steps, flips, and short jumpers over the years. Simply put, Brook Lopez is exactly the kind of offensive player Plumlee could look at and say, "That's what I can become if I work hard enough."
On the other end of the spectrum, the Nets have veteran journeyman, Reggie Evans. In his 12-year NBA career, Evans has played for six different teams (Sonics, Nuggets, Sixers, Raptors, Clippers, Nets), and made the playoffs in half of those seasons. He's survived the NBA landscape by doing all the dirty work—going after every rebound, defending in the post, and using his scrappy style to get put backs and easy baskets. Last season, Evans led the league in rebounding rate and defensive rebounding rate, per NBA.com/stats, and it wasn't particularly close in either case.
Plumlee can learn how to all the little things necessary to carve out a long NBA career from Evans. Things like rebounding positioning, diving on the floor for loose balls, contributing offensively without having plays run for him, and how to form an identity for himself on the court, are all key attributes Plumlee can learn from the seasoned veteran.
Mason Plumlee will likely not become an MVP one day like Kevin Garnett. He may never even make an All-Star team like Brook Lopez. But he can absolutely learn from them, and if he can sprinkle in a little bit of Reggie Evans' grit and toughness, Plumlee will have a long and successful NBA career. I know game experience and building confidence are important for young players. I just think Mason Plumlee has been given a remarkable atmosphere and the right mix of veteran teammates at the NBA level to learn on the fly in Brooklyn, instead of in Springfield.