Uncategorized
Why a meaningless preseason game meant a lot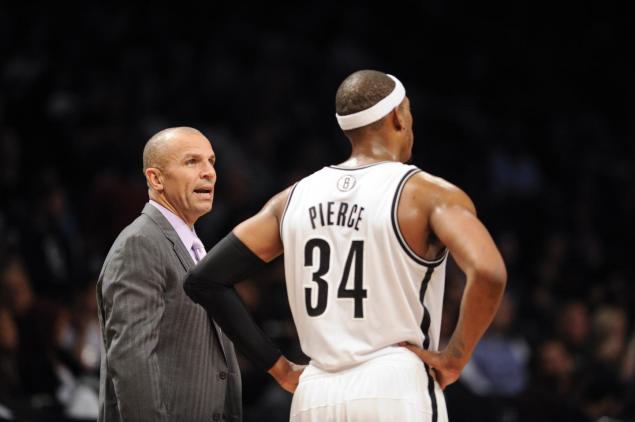 "This isn't possible if I don't have my teammates. When I go up there today, I take my teammates with me. I've only known one way to play the game, and that's hard, but I could never play by myself. I would like to thank my teammates and I hope you guys understand… when we go up, we all go up together."
- Nets Head Coach, Jason Kidd, during his jersey retirement ceremony last night
Sounds like a full length version of 'All In' doesn't it? Jason Kidd, the consummate professional, the guy everyone wanted to play with, the coach on the court turned Head Coach, was honored Thursday night in front of his family, friends, and former colleagues in a pregame ceremony before the Nets' preseason game against the Miami Heat.
One of the biggest contrasts between last year's Nets squad and Kidd's team is the ball movement. The ball zips across all corners of the court, into the post and back out, at a pace few teams in the NBA can match. The Nets used crisp passes to go over, under, and around the aggressive trapping style of the Heat, garnering 22 assists on 32 made field goals in an 86-62 whitewashing of the two-time champs.
This wasn't just a blip on the radar though. Over their five preseason games the Nets have shown a special inclination for sharing the rock. The Nets have assisted on 67.1% of their made baskets this season, a figure that's more than 10% higher than their 56.7% average just a season ago when they ranked 25th in the league. Assist percentage does not always equate to winning — the Thunder, Knicks, Pacers, and Grizzlies were all in the bottom ten — but it is an important factor for this group of veterans.
Jason Kidd is best known and beloved for making his teammates better. In a special video tribute Vince Carter even pointed out that Kidd "got a lot of guys paid" during his playing days. In astonishingly quick fashion the Nets have already taken on the personality and playing style of their new leader. All the new pieces have fit seamlessly together, and the entire team appears to be pulling in the same direction. Yes, it's only the preseason, and their starting point guard has yet to step on the court, but these are the kind of trends to be gleaned from these games. This is when little tidbits and nuances of teams can begin to be put together, all with the goal of completing a championship puzzle.
Paul Pierce and Kevin Garnett know what it's like to see that puzzle put together. They know what it means for a team to come together and compete for a championship. They, along with Doc Rivers, established the Ubuntu credo in Boston. This sense of togetherness united a newly assembled team full of hungry veterans. Now, The Truth and the Big Ticket are in Brooklyn trying to establish those same traits with different teammates and a first-time head coach.
"That's going to be our identity," Pierce warned, following the game when asked about his tough first quarter foul against a streaking LeBron James. "That's a message for the league," he continued.
A keen sense of identity is one of the most important attributes a championship team can possess, but it can take multiple seasons for a coach to instill this kind of collectiveness in a team. Kidd, his veteran coaching staff, and the Nets offseason acquisitions have all helped form a team-first culture in only a few weeks. The Nets mantra for the season, All In, captures the sentiment perfectly. Even the Nets holdovers are singing a different tune than in the past.
"It stems from each and every player; it's part of our identity now," Brook Lopez preached after the game. "We know we have guys out there at times; where each and every guy can score the ball and it's just a matter of getting it to the guy that's open. So as long as we keep that ball popping and keep trusting each other, we'll be alright."
Again, this group has played a mere five preseason games, but already a clear set of traits can be assigned to them: Toughness. Sharing. Togetherness. Strong-willed. Determined. All in.
Simply put, this team looks like a Jason Kidd-coached team should look like. The opportune fast breaks, crafty finishes at the rim, a flare for alley-oops, expert entry passes, cross-court skips, gorgeous behind the back wrap arounds; all hitting the recipient in stride. Six different Nets players have tallied five assists thus far. That includes Shaun Livingston, who's averaging 8.4 assists per 36 minutes filling in for Deron Williams as the starting point guard. Livingston's outstanding play has looked eerily Kidd-ish, especially during his near triple-double effort against the Philadelphia 76ers. Here's hoping Coach Kidd finds a way to overlap Livingston and Garnett's minutes once D-Will rightfully claims his starting spot back. The pick and roll chemistry between S-Dot and KG is a thing of absolute beauty. They're both masters at knowing when to take that extra half step and when to pause just enough to create a better passing angle.
We won't know until next June if the Nets made all the right decisions this past offseason. What we know now, in late October, is that this team is going to leave everything on the floor for each other every single night. And they're going to trust and believe in their first-year head coach.
When we go up, we all go up together. It's quite possible that one day, if a current Nets player has his jersey retired, him and his teammates will truly all go up together… in the form of a championship banner.