Uncategorized
A championship window that hinges on depth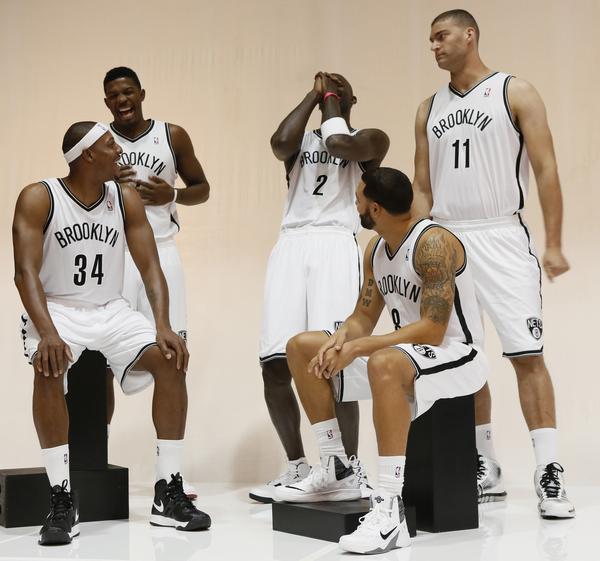 "We all understand what our goal is."
- Dwight Howard, 2012 Lakers Media Day
"It's the next challenge. It means everything."
- Kobe Bryant, 2012 Lakers Media Day
The NBA has always been about superstars carrying their teams to rings. Magic and Kareem, Bird, McHale and Parish, Jordan and Pippen, Shaq and Kobe, and now James and Wade. Think back to last year's Lakers team that trotted out one of the most talent-laden teams in league history. Kobe and Pau Gasol teaming up with Dwight Howard and Steve Nash?! Everyone was convinced they'd run away with the West and meet Miami in a 'Clash of the Superpowers' Finals.
We all know how that turned out. The Lakers struggled with injuries, a coaching change, and an incredible lack of depth all season before Bryant tore his Achilles down the stretch. They bowed out of the playoffs in four games to a vastly superior San Antonio team, and now the rebuilding process is on in LaLa Land.
"We're here to get another ring. That's the only reason we came to Brooklyn. The only reason."
- Kevin Garnett, 2013 Nets Media Day
"I don't remember getting a hat, t-shirt, a call for winning the Atlantic Division. I came here to win a championship. I don't even want to see a banner if we win the division."
- Paul Pierce, 2013 Nets Media Day
It all sounds a little too familiar doesn't it? Respected veterans joining forces in an effort to make one last title run before Father Time shuts the championship window? Ring-adorned former stars mixing with the NBA's next wave of championship-caliber talent to try and take down the LeBrons?
When Kevin Garnett and Ray Allen united with Paul Pierce in Boston a new standard for NBA team building was set. It was no longer good enough to land a superstar in his prime and surround him with the right complimentary pieces. Nowadays, you need three superstars to win it all. The Thunder, Spurs, Knicks, Pacers, and Bulls have learned this the hard way in their battles with the Celtics and Heat recently.*
*Yes, the Mavericks managed to squeeze out a championship during this time. Keep in mind that was in a year when the number one seed Spurs lost in the first round and the Heat failed to come together in the Finals. Let's just say I don't think we'll be seeing a magical run like that again anytime soon.
The Brooklyn Nets have certainly set themselves up for a deep playoff run. The additions of Garnett and Pierce to a core of Deron Williams, Joe Johnson, and Brook Lopez make the Nets one of the most intriguing teams in the NBA this season. They have a coach everyone is excited about and an owner hungry for a parade.
So what will keep them from fizzling out the way the Lakers did in 2012? One word… depth.
Andrei Kirilenko was brought in at a bargain to fortify the Nets wing depth. Shaun Livingston was signed to give Deron Williams a reliable back up. The resigned Andray Blatche and holdover Reggie Evans will help bolster the front court. Add in Jason Terry - acquired as part of the trade with Boston - and the 22nd overall pick from this year's draft, Mason Plumlee, and the Nets are without a doubt one of the deepest teams in the league.
If the Nets are going to steal the crown from King James in the East, then take down the best of the West, they'll need their bench to play a significant role. Let's take a look at some of the ways Coach Kidd can utilize his reserves, and make sure the 2013-14 Nets don't end up like the 2012-13 Lakers.
All stats courtesy of NBA.com/stats unless otherwise noted.
Weapon X
Andrei Kirilenko won't get to have AK-47 on the back of his jersey, but that won't stop him from being Coach Kidd's biggest weapon off the bench. Kirilenko may be Russian, but on the court he's a Swiss Army Knife of versatility. He split his time at the forward positions last season in Minnesota, and excelled defensively at the three, per 82games.com. Opposing small forwards had a below league average PER of 13.9 against Kirilenko last year, and that was without Kevin Garnett or Brook Lopez protecting the rim behind him.
Kirilenko should fit right in with this defensively-focused Nets team. He'll check both forward spots and allow Coach Kidd to get creative with his matchups. Kirilenko will most likely back up Paul Pierce at the small forward spot, but don't be surprised to see him soaking up minutes at the four to help keep Kevin Garnett fresh. His length and athleticism will be used to bother the Lebrons and Carmelos of the league, but he's also shown the ability to frustrate bigger foes on the block. Last year, Kirilenko averaged 2.8 stocks (Bill Simmons' pet stat measuring blocks plus steals) per 36 minutes. On a defensive-minded team like the Nets with other great defenders around him, expect Kirilenko to shine even brighter on that side of the floor this season.
On offense Kirilenko uses his wiry frame and shiftiness to get to the rim. Of the 560 attempts Kirilenko had last year, a staggering 327 were within five feet of the rim (64.5%). And of those 327, a whopping 161 were lay-up or dunk attempts! He has the ability to put the ball on the floor when needed, but his specialty his moving away from the ball. There are no shortage of players that need the ball in their hands to be effective on this Nets squad, but Kirilenko is the exception. Expect to see him hovering along the baseline waiting for the exact moment to dart to the rim behind his defender for an easy basket.
Kirilenko also gives Coach Kidd the option of playing big or small depending on the situation and opponent. This kind of shape shifting comes in most handy during the playoffs, when teams try to take away your number one option. The Heat have utilized this strategy to perfection the past two years, going small when the moment strikes, but being big enough to compete with the bangers in Indiana and Chicago. You may not see it much in the regular season, but don't be surprised if Kidd unleashes a small ball lineup featuring Kirilenko at the four to catch an opponent off guard in a crucial playoff game.
Backcourt Makeover
With Deron Williams off the court last year the Nets offense slipped from sixth in offensive rating (106.7 points per 100 possessions) to the bottom third of the league (100.6). As a result C.J. Watson is out and Shaun Livingston is in. S-Dot, as he's affectionately known, revitalized his career last year in Cleveland. After being waived by the Rockets and Wizards, Livingston signed with the Cavs on Christmas Day last season. He spent the next 49 games admirably backing up Kyrie Irving.
S-Dot played 23.2 minutes per game for Cleveland, and even started 12 games when Irving went down with injuries. In this limited role he shot over 50% from the field and showed a knack for getting his teammates involved, averaging 3.6 assists. The numbers may not seem flashy, but that's the point. The Nets were desperate for a reliable ball handler last year behind D-Will. They have plenty of scoring options, and now they have two capable point guards to get guys the ball where they need it. Williams is already nursing a right ankle injury and may miss time early in the season, making it that much more important that Livingston is on the roster.
Jason Terry will fill in at the other guard spot, bringing his spot up shooting and championship experience to Brooklyn. Terry was Coach Kidd's backcourt running mate in Dallas and he'll be able to help convey Kidd's particular nuances to his teammates. If pressed into duty, Terry can also help bring the ball up, further relieving pressure on Deron Williams.
Frontcourt Holdovers
The arrival of Kevin Garnett stabilized a Brooklyn frontcourt that was in a shambles at times last season. Gerald Wallace was pressed into playing the four and when that didn't work out Reggie Evans began starting and playing big minutes down low. KG single-handedly solves all of the Nets frontcourt issues from a year ago, but his time on the court might be limited throughout the regular season. As the debate rages on as to whether the Big Ticket will sit out the second half of back-to-backs, one thing remains clear, there will be some sort of rules in place to help monitor his wear and tear.
Knowing that Garnett would not have waived his no trade clause without the Nets first agreeing to control his playing time, the Nets addressed their depth in the frontcourt. Andray Blatche, who progressed nicely last season, was resigned, and the Nets used their only draft choice on Duke's 6'10" Mason Plumlee. Reggie Evans will still see time as an agitator and rebounder extraordinaire, but he'll be more effective in a reserve role.
Continued development from Blatche will allow Coach Kidd plenty of freedom when it comes to resting Garnett and Brook Lopez. Last year, Blatche trailed only Tim Duncan and Lopez at the center position with a 21.98 PER. A fully healthy Lopez may be the biggest beneficiary of the Nets new found frontcourt depth. Expect Blatche to see time behind KG and Brook as he works out the remaining kinks in his game.
Plumlee will be counted on to run the floor and finish in the paint. He has an array of hook shots and flips that he uses from the post. It remains to be scene how often he'll be used in his rookie season, but he'll get the opportunity to learn from a Hall of Famer and the best center in the game today in the meantime.
Reggie Evans will bring his junkyard dog attitude to the court every night. He does all the dirty work, cleans up the glass, chases down loose balls, and gets under the skin of opponents. Think of him as a lesser skilled Garnett. One can only imagine the torture opposing big men will have to go through if Coach Kidd puts KG and Evans on the court at the same time.
All of the new additions, big and small, have positioned the Nets as one of the primary threats to the Miami Heat. Injuries play a part in every team's season, but the Nets seem poised to weather any storm that comes their way. With a healthy starting five, contributions up and down the bench, and a little luck, this edition of the Brooklyn Nets may make good on all those quotes from Media Day.
"This is the window."
- Nets General Manager, Billy King, Wednesday