Uncategorized
Sharpshooting & small ball: Thinking about Jason Kidd's offense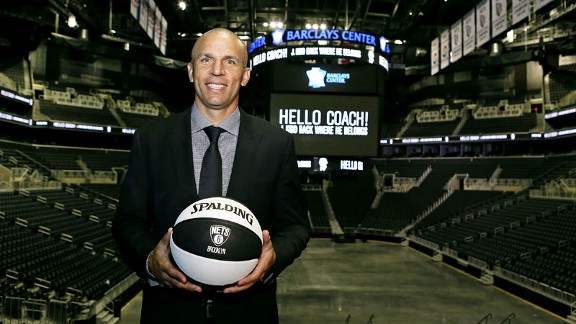 The dog days of August are here and they bring the slowest point of the NBA calendar. The free agent signings have dried to a trickle, and next season still feels light years away. It is, however, an important transition period for teams, coaches, and players. Game plans are being developed, lineup combinations are bandied about, and coaches are beginning to formulate their teams' style of play for the upcoming season. This may, in fact, be one of the most important times of the year for a team like the Brooklyn Nets.
First-year coach Jason Kidd, Kevin Garnett, Paul Pierce, Andrei Kirilenko, and Jason Terry were brought in to bring owner Mikhail Prokhorov a title within his stated five-year window. But how will this team go from first round disappointment to NBA champions? How will the team look on offense and defense this season under Coach Kidd?
To begin answering these questions, we first must look to the past. With no prior coaching experience of any kind, the only thing we have to go on are Kidd's most important influences during his playing days. Back when Kidd helped lift the New Jersey Nets from NBA also-ran to Eastern Conference champions, he was coached by Byron Scott and later Lawrence Frank. He then linked up with Rick Carlisle, and along with Dirk Nowitzki, delivered a championship to another larger-than-life NBA owner, Mark Cuban. Kidd's last year as a player was of course spent across the East River with the New York Knicks and Coach Mike Woodson. All of these men will contribute to Kidd's coaching style, how he handles adversity, and what his team will look like on the court.
Let's start by looking at the offensive influences in Kidd's career and what that means for the 2013-14 edition of the Brooklyn Nets. All stats courtesy of NBA.com/stats.
Offensive Influences
Jason Kidd played on a few of the league's best offenses in the later stages of his career with the Mavericks and Knicks. Both of them featured heavy pick-and-roll attacks, plenty of three point shooting, and superstars in their prime. In Dallas, Kidd had the pleasure of playing alongside Dirk Nowitzki, but he was also fortunate to have one of the league's best offensive minds manning the helm. Rick Carlisle was known for his hands-on approach to play calling during his stints with the Pacers and Pistons. Once armed with an elite point guard in Jason Kidd, he instituted a flowing style of basketball that stressed ball movement and finding the open man along the perimeter.
Of course, the pick-and-roll was also an important part of Carlisle's offense. The Mavs ran a steady diet of pick-and-rolls designed to free up their superstar seven-footer near the elbow area. The Knicks have run similar action featuring Carmelo Anthony. With no shortage of scorers available, expect Coach Kidd to toggle through a variety of pick-and-roll combinations.
As teams have relied more on advanced statistics to help guide their decision-making, the three point shot has become more and more important. During Kidd's four full seasons in Dallas, the Mavericks finished no lower than 13th in three point attempts and finished in the top seven three times. Mike Woodson's Knicks team of a year ago took that a step further, setting the all-time record for three point attempts in a season. There is no doubt the three pointers will be flying inside the Barclay's Center this season.
The addition of former Nuggets assistant coach John Welch as de facto offensive coordinator will also help shape what the Nets look like on offense, in terms of Brooklyn's desired pace. Last year, the Nets ranked 28th in pace factor (team possessions per game), something expected to continue with the veteran acquisitions. This is where Welch's impact will be felt the most. The Nuggets ran at all costs, pushing the tempo after makes and misses to try and get easy shots early in the shot clock. They used a 'no-stars' system, putting pressure on the defense to adjust to whoever was having the best night. While much of this can be attributed to head coach George Karl's system and the high-altitude environment in Denver, expect to see the Nets try and run more this season, especially off of misses when young, athletic players like Mason Plumlee and Tyshawn Taylor have crawled off the bench.
What It Means
Coach Kidd's Nets may up the tempo a bit but their bread will still be buttered in the half court. With KG operating near the elbows and Lopez on the block, the Nets will be able to keep both big men on the floor without creating spacing issues. In addition to the standard Deron Williams-Brook Lopez pick-and-rolls, KG's pick-and-pop ability unlocks an entirely new set of possibilities. Williams, Pierce, and Johnson should all be involved in high screen action with Garnett. The floor will be spaced with perimeter shooters as Lopez lurks near the basket for dump off passes and putbacks. The Nets may also pick up on the trend among some of the NBA's best pick-and-roll teams (Spurs, Heat, etc.) involving a series of decoy actions designed to get the defense shifting ahead of the primary action.
Look for the Nets to continue launching three pointers with regularity (they were 8th in the league last year in attempts), but with an increase in conversion (17th in 3PT% last season). Opposing defenders won't be able to leave their man to clog up the lane and provide help as often as they could last season. With a small ball lineup of Williams, Pierce, Johnson, and Terry all stationed along the perimeter it will be much tougher for defenders to close out and contest shots. Even with KG and Lopez on the court together a defender will have to think twice about his help assignment.
Another important element to look for from Kidd's Nets will be the implementation of some pet plays for Pierce. Expect to see some familiar Celtics sets involving getting him the ball near the elbows. Pierce loves to operate from the wing and use his array of pump fakes and side steps to get to the free throw line. In big lineups with Pierce playing the two (Williams-Pierce-Kirilenko-Garnett-Lopez for example), Pierce will use his size advantage to rise up over smaller defenders and knock down mid-range jumpers.
Conclusion
Jason Kidd has no shortage of incredible offensive minds to mold his own game plan from. Given the win-now mentality of the franchise, and the veterans they've added, expect Kidd to emphasize crisp ball movement, with the focus on finding the open man - whoever that may be. While the roster is chock full of stars, expect these veterans to put their egos to the side in their pursuit of a championship. Whoever is hot that night will be given the ball down the stretch of a tight game, either to score themselves or draw a double team. Needless to say, the stodgy, predictable offense from a year ago should be long forgotten as this version of the Brooklyn Nets chases a title.