Uncategorized
NBA Draft Preview: Sizing up the small forwards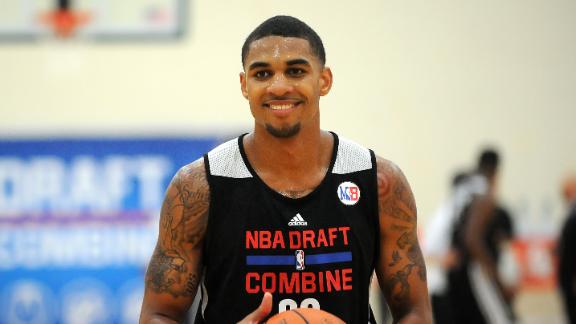 Though Bojan Bogdanovic's contract situation hasn't been resolved—he still has a year left on his European deal—it's expected that the Nets would bring him over as their backup small forward if they're able to. That would work out well, since this year's SF crop seems a little uninspiring outside of Georgetown's Otto Porter and they lack a natural reserve to spot Gerald Wallace outside of shifting Joe Johnson down a spot.
It remains to be seen how Bogdanovic fits into Coach Kidd's vision for the team. Heading into last week's press conference, we knew only that Billy King wanted to add shooting—Bogdanovic helps—and athleticism to the roster. Kidd, however, brought the small forward position to the forefront, singling out Gerald Wallace as someone he'd like to see play some point forward. Can the Nets find a small forward in the draft who can fill the team's evolving needs? Here are some options:
Giannis Adetokunbo, Greece (18) - 6'9, 215
Positives:
Good size and great length (7'3" wingspan) for the position
Point forward type. Can handle and distribute.
High upside in a weak draft
Negatives:
Played predominantly against lower-tiered competition
Shaky jumper from the perimeter
How he fits:
If Adetokunbo weren't a few years away from contributing, he'd be exactly the kind of player Kidd was talking about during his press conference. He's versatile enough to handle point forward duties—being by far the best player on his team, he often went ahead and acted as the point guard—and makes a habit of grabbing the rebound and pushing the ball in transition. As it is, though, he's a draft and stash candidate. By the time he's ready, the Nets could be close to a major roster overhaul. (Which isn't a bad option if you're a glass half full kind of guy.)
Sergey Karasev, Russia (19) - 6'7, 197
Positives:
High basketball IQ
Good shooter
Good passer
Experienced. Was a go-to guy on Triumph Moscow and made the Russian Olympic team
Negatives:
Limited athleticism
Is he strong enough to deal with bigger wings in the NBA?
How he fits:
Having played at higher levels of competition, Karasev is in a much better position than Adetokunbo to impact the Nets right out of the gate. He, too, has the skill to play in the transition game, having the ability to handle both ends of a hit-ahead pass and has the intelligence to make good decisions in the open floor. In the half court, Karasev can stretch the floor as a catch-and-shoot wing, and take advantage of the attention Deron, Joe and Brook command with his off the ball movement.
Glen Rice Jr, Rio Grande Valley (22) - 6'6, 211
Positives:
Good size and athleticism
Thrives in transition
Vastly improved as a shooter
Negatives:
Was kicked off of Georgia Tech's team during his junior season
Struggled to defend in the D-League
How he fits:
Rice acquitted himself well playing against professionals last year with a sterling performance in the D-League. His jumper has improved to the point where he can be a reliable if not potent catch-and-shoot weapon alongside Deron and Joe. Despite an inconsistent college career, Rice proved adept as a shooter from beyond the arc and coming off screens last season. Where he could prove even more intriguing to the Nets is in the transition game: Rice loves to get out and run, and will come up with blocks and steals on defense, the kind of game that allow a team to play uptempo.
Tony Snell, New Mexico (Jr) - 6'7, 200
Positives:
Above average size and athleticism for the position
Very good shooter
Decent passer
Negatives:
Bit of a one trick pony thus far
Inconsistent effort
How he fits:
At this stage in his development, Snell's role with the Nets would be pretty clear: stretch the floor. Although streaky, he's effective both coming off screens and as a stand-still catch-and-shoot wing. Snell also showed flashes of being the type of player who can get hot and carry his team offensively for stretches, knocking down seven three-pointers against Air Force and five apiece against San Diego St and UNLV. While it's true he doesn't do much else, Snell has the speed and athleticism to fill the lane in transition.
Previously: Point Guards, Shooting Guards