Uncategorized
Nets 95, Bulls 92: Toward a Game 7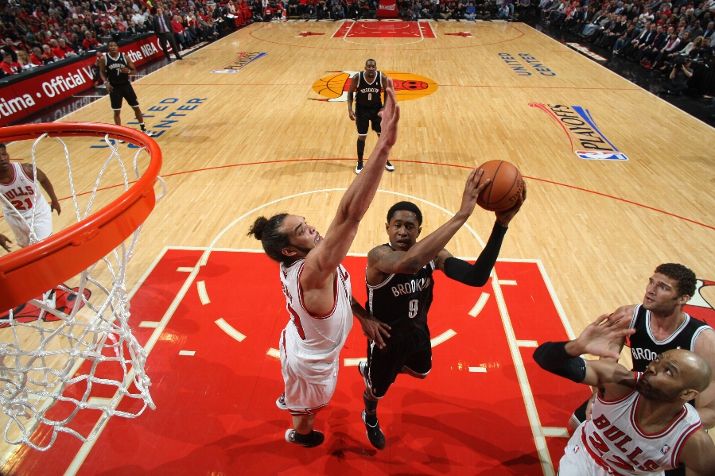 The gist of it
When a team goes down by 3-1 in a series they're supposed to win, do they finally get over their problem and pull it together? The Nets are more talented than this injury-depleted Bulls roster, but they hadn't shown the same militaristic temerity before falling into the series deficit. Now, they've evened things up after two games in which they clawed and pulled toward the very end, riding rises and slumps in play toward narrow victories in which unlikely heroes have reared their heads and superstars in repose have justified their contracts.
This series wasn't supposed to be fun—the offenses were too stagnant, everyone said, the paces too slow. That's sort of true, but it's still been a blast to watch as the Nets have managed to rise to Chicago's locked in level, the quickening of playoff pulse that makes a team more than one that's just happy to be there. Yes, that's vague, but Brooklyn was on life support after slogging their way to that deficit; now, they're the presumably favorite going into a win-or-stay-at-home game that could set up a truer test against Miami… a test they wouldn't be at all favored to pass, but might be able to work out their kinks for a game or two and flash a glimpse of what might be if and when they get it together. Which should be now, given all the talent on the roster, and it's nice to see it beginning to happen.
Observations
° Whose heart didn't stop as they realized the game was coming down to Andray Blatche of all players? I don't know what to make of his career and suspect no one ever will. He drove on Joakim Noah with time on the clock, pulled off, and got the ball a second later to push the lead to four off a ridiculous bank shot that kissed the top of the backboard. A possession later, he hesitated a moment too long on shooting a wide open jumper before launching a brick. He then missed a free throw after getting intentionally fouled to inspire terrors of "Oh no, this is where Andray Blatche lets us down," but then made his final three to seal the game. When JaVale McGee missed his own late-game free throws in Denver-Golden State, I imagined that Blatche must've used up all the remaining karma on behalf of former Wizards castoffs—that the universe would only allow one at a time to make a worthwhile contribution.
° In-game observations, in order, during the Blatche sequence mentioned above: "Blatche!!" "Blatche??? NoOOoo" "Blatche?!" An emotionally taut moment.
° Do you realize how close the Nets came to getting burned on the Nate Robinson Flu Game? Robinson, as personified of an id as there is in the NBA outside of J.R. Smith, was visibly vomiting on the bench when he wasn't holding his head in a towel; on the court, he attempted the same nonsensical shots he rode toward the Game 4 come back, but nothing was falling. He's only allowed one of those per lifetime, I hope. At the same time, he was still spirited enough to launch at C.J. Watson like an attack dog for a loose ball in the fourth quarter—and, in an even funnier sequence, attempted to fool the ref on a jump ball by dashing toward where the ball fell rather than leaping for it, which he'd already done once before in this series and been penalized for it. It doesn't work, Nate. And yet he tried again! Unreal. No conscience at all.
° There were 13 lead changes in the first quarter, the most all series, but only two the rest of the way as the Nets settled in.
° Tom Thibodeau nearly won a playoff game missing two of his starters while carring a handful of sick players. Yes, the Nets are banged up on their own end but the Bulls have it even worse, and that Thibs nearly made lemonade from soggy garbage should cement the truth of his system in any observer's mind.
° C.J. Watson took a layup on a wide open fast break in the third quarter rather than dunking it; of course, you remember the last time he ignored the sensible move for the hubristic one. Life is all about learning.
° Brook Lopez missed a dunk at the end of the third quarter that might've detonated the universe, but we can all sit for a moment and appreciate what might've been. Feels like he's been lacking a signature power play in this series, not that he necessarily needs one, but it'd be nice.
° Luol Deng missed the game because he was supposedly given a spinal tap while being tested for viral meningitis. I've had a spinal tap and it is the worst pain ever—that Barkley and the bros were giving him that "pull it together" garbage before the game, even if they only thought he had the flu, was some real nonsense. Deng's been playing with a wrist injury for like two years; if he was out, it's because he really couldn't play.

° Joakim Noah said the Bulls will win Game 7. Prove him wrong!
No way
I can't believe this was the dagger shot of the game. I'd say more, but my heart still hasn't turned on.
Up next
Game 7, Saturday night at Barclays Center. See you there.