Uncategorized
Nets 110, Bulls 91: The Gerald Wallace confidence game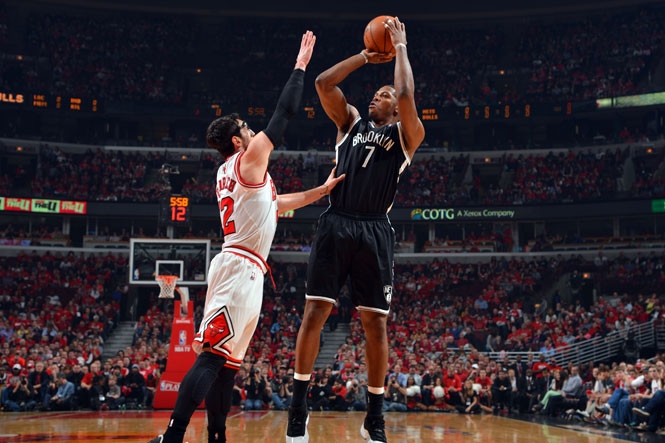 The gist of it.
Okay, I stand corrected. Not only did I not think the Nets were going to win tonight's game, part of me was hoping they wouldn't. I was sick of seeing this team get beat up, thrown around, grinded out. The Nets won in Game 1 fashion and here I am, back to Game 1-level optimism. The playoff beard remains unshaven.
The Nets referred back to their "semi-transition" offense that Devin and I talked about in our podcast from Friday, the offense that was successful in Games 1 and 4. They weren't stuck all night playing to the Bulls' tempo, didn't get sucked into the force that is Joakim Noah, and didn't rely on the heavy Joe Johnson iso, even though it did make a few pleasant cameos throughout the evening.
Other things the Nets didn't do: let Nate Robinson go bananas in the fourth quarter. He did have his flashes, but overall, the guards played him tight and contained him from leading the comeback.
And did everyone enjoy the resurging confidence of Mr. Crash Wallace? 12 points on 5-8 shooting with a +20. He was all over the floor, hitting clutch three's and dunking in transition. I think he has his confidence back, and that is absolutely key if the Nets want to take this to a Game 7. They can't be playing three-on-five all series.
Brook Lopez was his usual playoff self, scoring 28 points and grabbing 10 boards. If the Nets want to hang with the Bulls, they have to keep up with them on the glass and when you have Reggie Evans, that shouldn't be as hard as you may think. It has been, but the Nets definitely came through on their end tonight.
All in all, it was a solid, solid win for Brooklyn. Looking forward to Game 6.
Observations
I'm going to lead with my favorite stat of the night: Nets 17 offensive boards vs. Bulls 22 defensive boards. Yes. That, in my opinion, was the difference in the game. The Nets have to hang with Chicago in the paint, and they have to get their second chance shot opportunities, especially playing against Joakim Noah who has been an absolute beast this series. They did that. Brook grabbed six of his 10 boards offensively, Reggie three of his 12, and Hump's three of his six. That's what you need to do to take down Chicago.
The Nets experimented much more tonight with the Lopez-Blatche front court we've been wanting to see and it was a fun gig. Coach PJ went with Blatche instead of Evans down the stretch and he responded by scoring 10 points in the fourth. We all know Andray has been a revelation blah blah blah, but it's games like this and moments like these where he really shows what he can now do. Proud of you, Dray.
Nets were outscored 29-25 in the third quarter which… isn't bad at all! In fact, that was the only quarter they were outscored in, including a 33-18 fourth. Yes! This sounds like a silly observation: You mean the Nets need to score more points to win a game of basketball?!?! But, it's been a pattern of the playoff series' so far that the Nets play badly in at least one quarter and it costs them. Take a look at these: Nets outscored 22-11 in the third quarter of Game 2, outscored 22-17 in the second quarter of Game 3, and outscored 35-27 in the fourth quarter of Game 4. In close games like two and three, that's your ballgame. In Game 4, there's your fall-apart moment. Nets kept a lead or kept it close all game, and they wound up with the win.
Has there been a more frustrating player this postseason than Joe Johnson? I'll admit, going in, I thought he had the most "big game" potential, just because he goes every single year. His isolation plays have mostly not worked, and he hasn't had any stand out performances, other than the game-tier in Game 4. I'm not sure how much of this you can blame on his foot, I'm guessing some, but I'm still looking for that big playoff performance that we've seen from four of the other starting five in Nets land.
Up next
Nets at Bulls. Game 6. 8:00. Bulls lead 3-2… can Brooklyn tie it up?