Uncategorized
Bulls 79, Nets 76: A minor debacle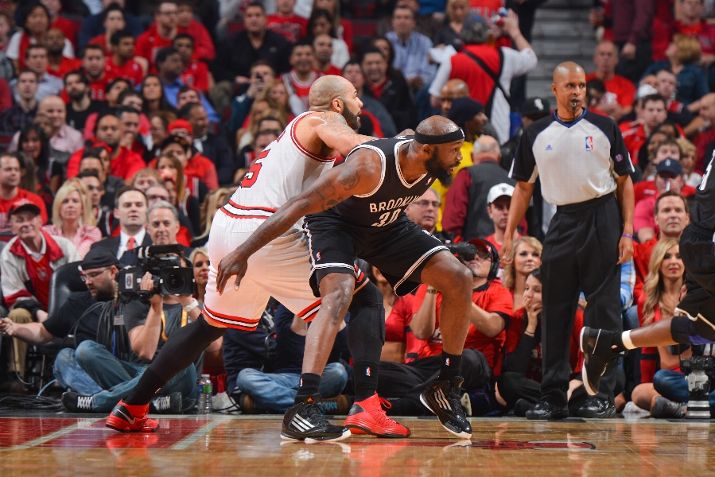 The gist of it
Since we're a night of sleep's removed from the end of that dreary loss, I won't belabor the point too much; the weather is nice, it's a Friday, and there's no reason to linger on a nightmare. But boy, what a crummy game of basketball that was. Save for a flare-up at the end where the Nets were somehow close to sending the game into overtime after three-and-a-half quarters of cellar-deep offensive efficiency, it was a deeply abysmal thing to watch; at one point, the Nets missed 25 out of 26 shots en route to shooting 22% in the first half, and at some point it stopped being about what they weren't doing to get open shots—they had them—but how and why this team is out of mental sorts half the time, lobbing lazy passes and whiffing air balls as everyone on Twitter switches to the other game. They didn't break the record for fewest points scored in the first half, at least. Small victories!
It was nice that they got a puncher's chance at the end, and even an open look, but three-and-a-half quarters of dreck are enough to raise real doubt over their ability to get it together against a Chicago team that clearly has it together, and does not needing any extra gear pushing them toward being more together. With maybe just eight quarters left in the season, if things go wrong, there isn't much time.
Observations
° As a dude, P.J. Carlesimo is perfectly alright: He's quick-witted, congenial with the media and doing the best with an interim tag that's probably never going to come off, especially if the Nets don't pull out of the first round. But the disparity between what the Nets have done with their talent and what the Bulls have done with their betrays the night-and-day effect between him and Chicago coach Tom Thibodeau, who might've been an army general in another life and has mentally maximized his broken, beaten team into a force that can't be counted out no matter how many minutes Nazr Mohammed plays.
Here they are, scrapping toward another improbable victory even though they can barely generate a shot while the Nets miss 25 out of 26 despite being loaded with offense-heavy players, completely out of sync for reasons unknown. They're not locked in? They don't trust P.J.'s direction? There is no direction, God forbid, but a laissez-faire edict to do what you want and hope for the best? Taking over without a proper training camp to instill a proper ethos was never the best situation for Carlesimo to fall into, but the inconsistency of performance measured against potential isn't a great argument for the Nets keeping him past the offseason.
° The Bulls are mean, too: Did you see how they kept on beating up Brook Lopez around the paint, knocking him out of position and frequently bumping into him after the rebound? I stopped keeping track after a while, but in lieu of having a proper big man to impede his presence, the Bulls are content to cheap shot him into mental discordance—worse, it seems to be working. Brook didn't get going until the fourth quarter—including an awesome sequence where he dunked the ball, blocked the Bulls on the other end, then laid it in to further cut the lead—and lacked the chippy enforcer to lay a few shots of his own on Chicago's post players, probably because they don't have any (enforcers for the Nets, post players for the Bulls—their big men do most of their scoring away from the rim). Eventually, Brook's going to pull out a chainsaw and get messy if the Bulls don't let up.
° For a brief, shining moment, MarShon Brooks was on the verge of redefining himself as a playoff savior, dropping in a runner to get the lead down to five with 2 minutes left. Two straight bungles ruined that: he bled too much time off the clock trying to force an awkward hiccup of an isolated shot with under half a minute left (thankfully, Lopez got the rebound and dunked it in), and a sloppy inbounds pass on the final play meant Joe Johnson needed an extra second to recover and set up a shot, which was all the Bulls needed to attack him. But what a world that would've been!
° C.J. Watson's would-be overtime-sending three at the buzzer was an air ball off a wide open look, which is too painful to think about. Here's the NBA's media site describing that sequence: "CJ Watson Missed -> CJ Watson 3 Pointer -> CJ Watson Woes." Woes, indeed.
° What a pair of a blue collar icons the Bulls have in Luol Deng and Thibodeau, both of whom show up every day and grind it out until there's nothing left but sawdust. There will be bars in Chicago named after them before their careers are over, or at least there would've been 30 years ago when the city wasn't clogged with trendy hot spots. (Suggestions I got for the Thibodeau bar: "Hoarse" and "Plantar Fascia," which just rolls off the tongue.)
The only look in the world
This was a nice set to feed an easy dunk to Lopez. There's more to the world than isolation!
Up next
Saturday's Game 4 at 2 o'clock, with the Nets facing a 2-1 series deficit. They're the only lower seed to trail in the playoffs thus far; let's hope it changes.