Uncategorized
Bulls 90, Nets 82: Where Brooklyn at?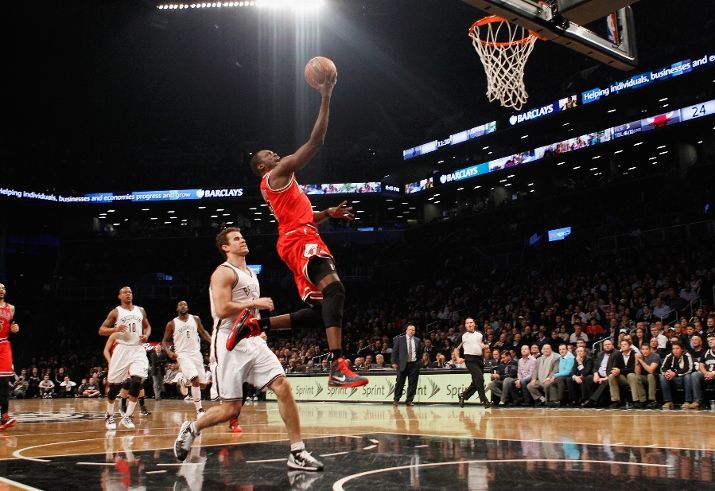 The gist of it
We should be terrified, yes? The Brooklyn Nets had a chance to seal a homecourt advantage against a vulnerable Bulls team they'd laid out in the last game, but instead crapped the bed: their offense was unsettled, their defense gave up made jumpers to Nazr Mohammed, their stars were temperamental and could never find a rhythm nor plausible comeback after getting as close as four toward the end of the fourth quarter, when the Bulls had let their 14-point lead lapse and expand and lapse again. They could've gotten within one score, but Joe Johnson couldn't hit a third straight three-pointer in the game's final minutes—the nerve!—and the Bulls ground it out from there.
After the game, the mood in the locker room was absolutely terse. But sue me for taking a decidedly laid-back approach to the outcome, since I'm not really sure anything betrayed a fundamentally wrong approach. In the post-game conference, P.J. Carlesimo  wasn't quick to say the team did anything wrong in particular—just that it was a matter of execution, that Chicago's defense was expectedly good and that they failed to capitalize off their opportunities. (One example: They kept on getting open looks by rotating away from Chicago's pick and roll trap, but missed too many of them.)
Observations
° After seeing how stuffed with Brooklyn sympathizers Barclays was for Game 1, it was a little dismaying to note the audible audio equivalence between Nets and Bulls fans for the second contest, which all-too-often heard loud cheers whenever any Chicago player made a shot. Making the enemy infiltration even more obvious was a lack of commitment to the widely publicized "Blackout in Brooklyn" monochromatic uniformity pledged in the promotional material—a difficult thing to maintain across the board when the "HELLO PLAYOFFS" T-shirts made free in the first game were nowhere to be found the second time around, instead replaced with a playoff towel that the Jumbotron encouraged fans to whip around their heads and yell really loudly, instead of just yelling really loudly.
This did not work. That, coupled with the patches of red amongst the crowd, meant that this didn't entirely feel like a home game, especially as the crowd dwindled with time running out leaving only the Chicagoans behind to applaud their team for a job well done. Depending on how the upcoming Chicago games go, the Nets could head back to Barclays in a 3-1 hole—and if the opposition can make its presence heard once again, things could be over quicker than Avery Johnson's season.
° What type of drugs is Joakim Noah on? How many synonyms for "grit" and "hustle" can be used to describe his effort just two days after he looked sick to be out on the court? He was everywhere last night, filling the stat sheet and leaping higher on his bum leg than Brook Lopez usually leaps on two healthy ones while logging his most effective minutes since late March. He generated five straight points in the fourth quarter by dunking and somehow saving a ball falling out of bounds so that it could eventually end up in Nate Robinson's hands for a three-pointer that pushed the lead back to 10 after Brooklyn was contesting—utterly demoralizing to watch, considering how out of it he was in Game 1.
° The Bulls are content to give up the long shot to Brook Lopez, which he drained four straight times in the second quarter to push the Nets back from the deficit. But he attempted just one more after that, instead choosing to ply his trade inside—and the Bulls were quick to load the paint to force him off-rhythm, meaning he finished with just 21 points after scoring 14 in the first half. Lopez might be the biggest guy on the court, but the Bulls are too stoked to knock him around on the inside. It goes against conventional wisdom, but he might be better used in stretching the floor.
° In general, the Bulls were much more locked-in this time around, a testament to Tom Thibodeau's cultish preparation and the fact that regardless of who's there to implement it, his defensive principles remain consistent in their ability to pressure the ball and force its opponents into jacking up bad shots or be frazzled enough to miss the open ones. Kirk Hinrich and Jimmy Butler don't provide the offense that Deron Williams and Joe Johnson do, but they were effective in bottling them up with and without the ball. Deron finished with just one field goal, as he was largely forced to pass whenever he looked to go inside.
° Nazr Mohammed took and made four midrange shots. Again, "regardless of who's there to implement it."
° Not sure if cheerleaders doing dunks off trampolines is the way to get the crowd rustled up during the break; the Barclays planning team should just play movie clips of fictional Brooklynites getting irrevocably buck, as they did in the pre-game video showing Mookie from Do The Right Thing whipping a trash can through the window of Sal's as an example of how not to behave. Are you kidding me? We could've used a little more raucous, uncontrollable anger as the team suffered through a turgid third quarter.
Momentum shifting
A foul? Maybe. But after Crash came out strong to start the game, his momentum was derailed by the call on what might've been a chasedown block—instead, he was forced to go to the bench and played only 9 minutes after that, as P.J. decided to go with C.J. Watson's scoring as the offense began to stall. (Afterward, he called the foul "bull—-.")
Up next
The series heads to Chicago on Thursday for Game 3.