Breaking It Down
Another Side of Joe Johnson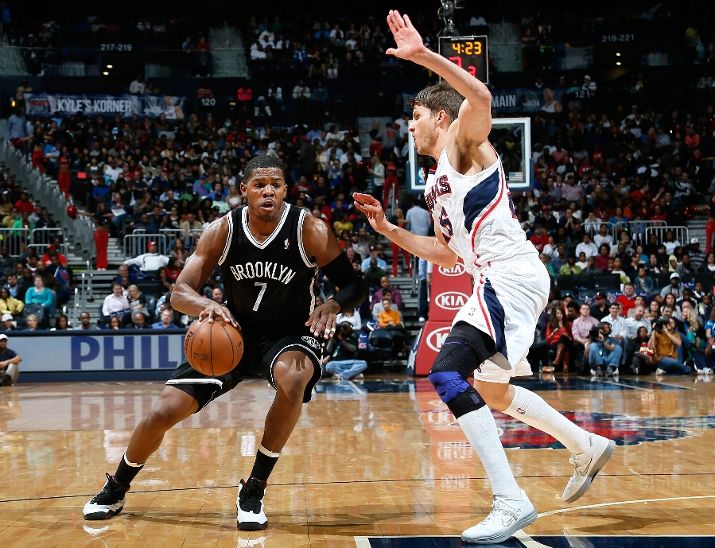 by Buddy Grizzard
It wouldn't be very chivalrous for Nets fans to cheer the unlucky ailments confronting the New York Knicks in recent weeks, but there's undeniable opportunity for Brooklyn to vault past their inter-borough rivals to the top of the Atlantic Division—thereby giving them a top three seed, and a far easier path to the conference finals. (Where they'd likely have to play the currently unstoppable Miami Heat, but hey, conference finals!) As Nets fans have enjoyed the rejuvenating effect of a German blood doctor on Deron Williams' legs, the Knicks faithful have lamented the variety of debilitating injuries to hit their players: ambiguous ones to Carmelo Anthony, terrifying ones to Tyson Chandler, and recurring ones with Amar'e Stoudemire. Stoudemire, in particular, seems the most worrisome: Apart from the fact that the wear and tear on his knees can't be easily solved, there's the uncomfortable fact that his financially gracious contract is on the books for another couple of seasons—money that begins to look especially onerous the longer he's off the court.
Nets fans can empathize with the hopes of wanting a max deal player to perform well, as there's an interesting parallel between how the two teams were constructed. While Stoudemire is limping now, Knicks fans will recall the joy of watching that first season when the Phoenix explosiveness was still there. ESPNNewYork.com's Ian O'Connor wrote on Wednesday that while Stoudemire's contract may look bad, his immediate success paved the way for the Knicks to land Carmelo Anthony and Tyson Chandler, thus enabling the team to spend much of this season in 2nd place in the East. While the Knicks have gotten a bad roll of dice on the injury front this year, there's little doubt they've been more enjoyable to follow during Stoudemire's time in town.
Similarly, Joe Johnson's signing was cited by Deron Williams as a factor in his own decision to re-sign with Brooklyn rather than bolt for his hometown Mavericks. Whereas Johnson's contract has been pilloried since the moment he re-signed with the Hawks, it now seems like a bargain relative to Stoudemire's when you consider this factor: Joe Johnson can still play basketball. While this has turned into yet another lost season for Stoudemire, Johnson has been called upon to carry the offense at times as Williams has struggled with injuries. Surely, the average 14.19 player efficiency rating smarts. But a look at Johnson's clutch shooting statistics will show just how much of a difference maker he's been in close games: Among players with at least 25 shot attempts when tied or behind by five points in the last five minutes of games, Johnson has the 3rd-best shooting percentage in the NBA (55.2%).
Take a look at those games by a single possession this season, Johnson had a 6-footer with 1:10 to play against the Knicks Dec. 11th to tie the game before Jason Kidd's 3-pointer decided the first meeting of Brooklyn and New York. Then on Dec. 14th, Johnson hit a 23-footer with one second remaining in double overtime to lift his team to a win over the visiting Pistons. Johnson hit a pair of free throws to draw the Nets within 92-90 with 22 seconds remaining in the Dec. 18th loss to the Jazz before sealing a win over the Cavaliers on Dec. 29th with a pair of free throws.
Johnson really began to heat up in the clutch in the new year as his 18-footer at the end of double overtime provided the winning margin at the Wizards on Jan. 18th. In the rematch with the Knicks at Madison Square Garden Jan. 21st, Johnson's 16-footer gave his team an 85-84 lead with 22 seconds remaining before Williams sealed it at the free throw line. Then on Feb. 19th vs. the Bucks, Johnson again came up huge. He sent the game into overtime with a 3-pointer at the end of regulation, then sealed the 113-111 victory with a jumper as time expired. That's a 5-2 record, which we can't complain about.
As a writer for ESPN TrueHoop Network affiliate Hoopinionblog.com last season, I covered Johnson as he led the Hawks to a 5th consecutive playoff appearance and was selected to a 6th consecutive All-Star team. Among the few writers to speculate that a Johnson trade was even possible, I actively encouraged the Hawks to make a lopsided trade talent-wise to prepare the roster to be built around Josh Smith.
What I didn't suspect at the time was the struggles Smith would face this season as a primary offensive option in the absence of Johnson. Smith is shooting a career-low 49.6% from the free throw line, a 13% drop from last season. Smith is also tied with DeMarcus Cousins for worst shooting percentage (30%) from 16-23 feet among the top 75 players in attempts according to Hoopdata. He's shooting less from that range, which Hawks fans will enjoy—last season, Smith's 411 attempts from this distance were second only to Kobe Bryant's 448—but back then, he was shooting a more respectable 37%. Meanwhile, Al Horford is also shooting a career-low 60.5% from the free throw line, also a near 13% drop from last year. (Interestingly, Horford has the highest shooting percentage—60.6%—among players with at least 25 attempts while tied or behind as much as five points in the last 5 minutes of games this season, ahead of Dwayne Wade and Johnson.) We can speculate what's driving any of these percentage changes—perhaps the pressure of becoming the team's primary scorer?—but Atlanta's offensive efficiency hasn't improved despite the initial belief that removing the iso-heavy Johnson would free things up.
Apart from that, the perception that Johnson is overpaid is a consequence of the collective bargaining agreement capping the salaries of players such as LeBron James, who would make several times his current $17.5 million salary without a salary cap. Another issue fueling the perception that Johnson is not worth his contract has been his performance in elimination playoff games. According to the Elias Sports Bureau, Johnson has the fifth lowest career shooting percentage in win-or-go-home playoff games amongst players with a minimum of 100 field goal attempts. In elimination games for playoff series' that went at least six games since Johnson's arrival in Atlanta, Johnson shot a combined 9-for-30 in the final two games against Boston in 2008, shot 7-for-18 in a Game 6 loss to Chicago in 2011 and shot a combined 13-for-34 in the final two games of last year's series against the Celtics.
Which means the ultimate test of Johnson's value for the Nets will be his performance in the playoffs when he has an opportunity to extend Brooklyn's season—considering Deron Williams hasn't especially excelled in the clutch this year. (In fact, his numbers from this year strongly suggest he might easily be the worst "clutch" player on a max deal.) Like Stoudemire, Johnson's already provided a few big moments for the his new team. Hopefully, he'll get a few more opportunities to do so.
Buddy Grizzard covers the Hawks for TrueHoop Hawks affiliate HawksHoop.com. Please follow @BuddyGrizzard on Twitter. ESPN's Keith Hawkins contributed research to this article.