Game Recaps
Nets 106, Wizards 101: Fun with the bench, haikus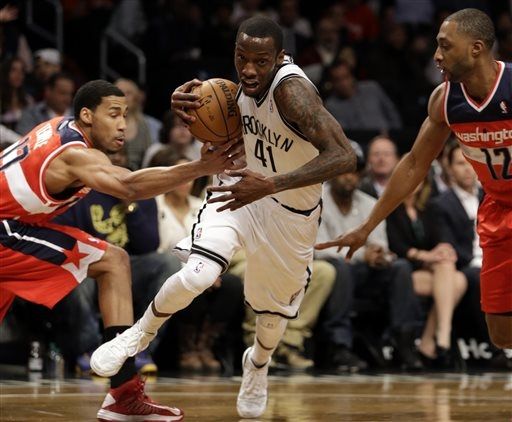 The gist of it
There were plenty of explanations why tonight's game was inconsequential, only some of which have to do with basketball. Lest I over-repeat the necessarily beaten drum that this is just a sport and that there are certainly bigger and more important things under the sky to worry about than resting for the playoffs, I'll keep it to those hoop-related reasons. The Nets were locked into the fourth seed regardless of how the rest of their final two games played out, which is why they benched all of their starters from last night and gave their victory cigars some time to burn. Tyshawn Taylor played a lot, as did Mirza Teletovic, Tornike Shengeila, and Kris Joseph. The game looked like it would be a wash in the first quarter, when the Wizards raced out to an early lead and exploited the fact that Brooklyn's second unit isn't great for long stretches at a time. And that was okay, because if you buy tickets to an April contest then this is what you've got to expect.
But then the Nets made something of it, riding their Euro-stars in the second half and eventually digging their way to a comeback win in the game's final moments, taking the lead on an Andray Blatche And-1 and sealing things with Tyshawn Taylor hero ball, of course. It was purely a confidence-building lesson, since most of these guys won't get any serious play when the playoffs begin on Saturday—but that was enough, even if it came against the Wizards. Because there isn't much to read into the state of affairs, I decided to finish out the rest of the recap in haiku form. Enjoy!
Observations
° Second unit time!
Defense shaky, offense there.
Still, it's the Wizards.
° Andray Blatche And-1?
Tyshawn Taylor hero ball?
Hey, why not? More fun!
° 1: How soon is now?
2: When does potential start?
3: Tyshawn Taylor…?
° Telegraphed pump fake,
Rebound corralled, brought up court
Andray Blatche, I guess.
° Iso-Andray Blatche
Iso MarShon Brooks; this is
what I want, always.
° Watson's made his threes
More than half the time since the
Break; fear him, playoffs.
° TOKO TAKES THE LEAD
For one shining moment? Yes.
But what a moment!
° Mirza & Toko,
Given the green light to go,
Future: Still unknown.
° Not to critique, but:
How many Vesely lobs
Before fast break drills?
° Who will pay John Wall?
Fast guard to whom court unfolds?
Answer: Everyone.
° Crash unconfident?
Say it ain't so, but no first
half shots were taken.
° This is happening
LCD Soundsystem? Nah,
This game. Really! Still!
Fulfill your destiny
This is Andray Blatche scoring the game's go-ahead points, actualizing what must be a frequent fantasy when he's shooting by himself in practice.
Up next
Detroit in the final game of the regular season, and then the playoffs. Exciting!