Game Recaps
Raptors 93, Nets 87: (waving goodbye to the third seed)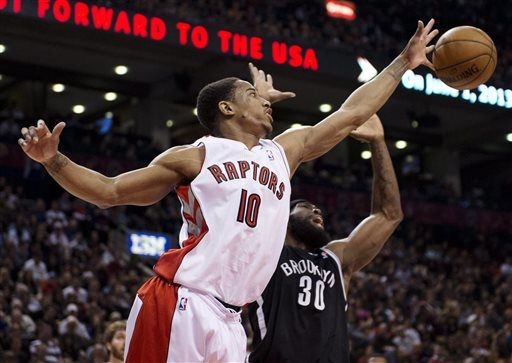 The gist of it
Surprisingly, there isn't much fun to be said about a 93-87 loss in which the Nets creep perilously close at the end only to see things fall away on a pair of Joe Johnson airballs. They were straight out listless for the entire game—to borrow a phrase from Knickerblogger's Robert Silverman, they were lacking their list—and stuck us with a drearier-than-dreary second quarter in which they didn't hit double digits until the period's final minutes. These are the Raptors, not the Thunder, and yet the Nets were getting blown out for most of the first half. Toronto rode a bunch of seemingly unsustainable mid-range shots to success, taking advantage of a steadily collapsing interior defense that kept on giving open looks to Aaron Gray and Rudy Gay, among others. Brooklyn got within two with four minutes left, but couldn't push it any farther past that.
So, it wasn't much fun to watch. But the bigger downer is that the Nets passed up a sterling chance to move up to the third seed, which they could've done if they'd won out and Indiana had lost their remaining games. The Pacers fell to the Knicks today, which means the dream might've been kept alive if they'd been able to pull it together… but they did not, which means we're due for Atlanta or Chicago in the first round, followed by Miami in the second (assuming they win). Maybe Indiana would've won one of their remaining games against Boston and Philadelphia, but it's mildly disappointing that the Nets couldn't take control of their readily available destiny.
Observations
° Whose stomach didn't throb when they saw Deron Williams limping around after getting knocked in the fourth quarter? His leg has absorbed a bunch of aggressive contact in the last few games (thanks Indiana!) and with the rest of the season more or less a wash now that they're locked into the fourth seed, maybe Carlesimo should give him a break to avoid reaggravating the problem. Big picture thinking, right?
° Which means they should definitely sit Gerald Wallace out for the rest of their games, too.
° Aaron Gray is basically just a big dude, seven feet of unimaginative space that's figured out how to strut around the basketball court without offending anyone. And yet he's… kind of effective? No one pays attention to him because he should theoretically be kind of worthless, but he's a body in the paint and has a nimble enough touch to keep the ball moving when he gets it. I don't know, I'm just generally amazed he's been able to stay in the league for this long, because he looks like an overgrown version of a guy who should be offering you homemade granola at a D&D meetup. Notes I took two separate times: "Aaron Gray's existence??"
° Attention, game photographers: Want to get ahead? Make a compendium of the best Andray Blatche struggle faces, whether he's complaining about being called for a foul or yelling at he was tagged on his shot attempt. The retweets will be endless!
° Speaking of Blatche, there's something giddy and goofy about how he's constantly able to get defenders to bite on his pump fake when he's got a foot on the arc—because opponents know he's willing to shoot from there, and because they know he can make it.
° Deron Williams dunked for just the second time all season, which we should appreciate for its possibility.
May it live in infamy
Nice to see he's still got his hops.
Up next
Washington, tomorrow. Expect a lot of rest now that the playoff seeding is set in stone.