Game Recaps
Nets 117, Pacers 109: FOUR SEED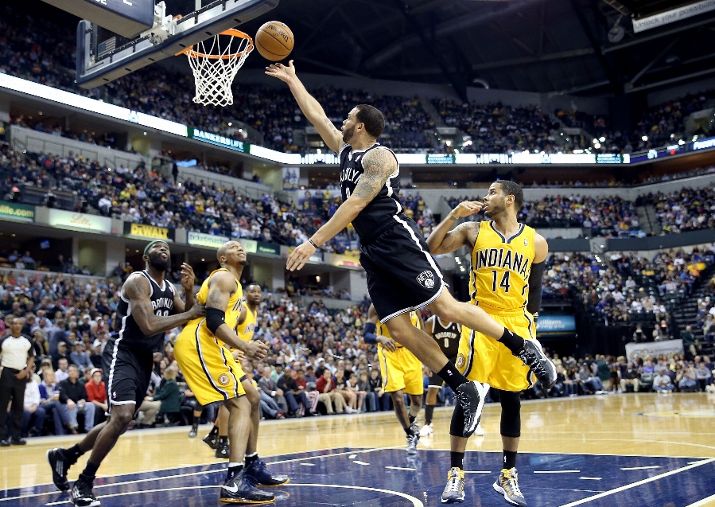 The gist of it
You, the tortured Nets fans, were ready to roll over and pass out after the Indiana Pacers managed to wipe away a 24-point deficit to take the lead in the fourth quarter's final stretch. The Nets had bulked up their lead by shooting at unsustainable levels, but they hit a dry well as Indiana began pushing them with trademark annoyance, forcing turnovers, getting out in transition and getting enough of a rise that Reggie Evans was ejected in the third quarter for growing increasingly frustrated with how the game was being called. They even instigated a fight, sort of, when Lance Stephenson jutted his elbow out as he was being fouled by Keith Bogans in transition, leading to a little bit of a slap fight before cooler assistants prevailed. So if the Nets were going to blow this, that's how it was going to happen: by allowing their opponent to annoy them to death, which seemed a probable outcome when Stephenson hit a go-ahead three.
And then… that didn't happen. The Nets hung in there, helped by Indiana's own cold hand, and broke their drought by making three field goals in the final three minutes along with six of eight free throws. They didn't completely devolve against an aggro Pacers defense, and clinched the four seed with a chance to hit 50 wins on the season if they win out. Not bad against a team as good as Indiana, who'd never given up this many points on the season, and certainly inspiring as we roll into the season's final stretch.
Observations
° What's important to remember is that the Nets have been at this for less than a year—most of the roster has rolled over since leaving New Jersey, and they haven't spent enough time with a single coach to galvanize them into one of those high-chemistry groups of BFFs—your Celtics, Bulls, Spurs, Heat, etc—with a clear-stated identity. The Nets play like a collection of individual actors; the way they share the ball is more democratic than socialist, with every player (besides Keith Bogans) trying to assert their game one play at a time. That's fine when you've got Deron Williams, Brook Lopez, and Joe Johnson, but the freedom to play also leads to Reggie Evans awkwardly backing his ass into the post more than once, and finishing with a breathlessly ugly hiccuping arm jerk of a shot… more than once.
On the other hand, you have the Pacers: a collection of medium-talent rude boys who've sipped the Kool-Aid telling them that they need to play like such colossal jerks that nobody could like them other than each other. They've given Tyler Hansbrough a career by allowing him to whip elbows and weird out opponents by never blinking; they've retooled probable washout Lance Stephenson into a Most Improved weapon; they've instilled a team ethos of banging the hell out of the other team to send a message that you've got to bang back if you want to get out. It's annoying but it works, and the Pacers are about to ride the league's second best defense to a three seed and a solid chance to get to the conference finals. It took a few years to congeal for the Pacers, so there's still time for the Nets to establish a team-wide commitment to being rude.
° Example: The way they kept not-so innocuously bumping into Deron Williams, eventually hobbling him in the fourth quarter with a nervous knee tweak that had him sit out the final thirty seconds. Not that trying to hurt players is a good thing, but there's a psychological edge gained by playing without abandon—without regard for whether or not the other party is going to walk away from the collision. Rude, yes, but it's why Indiana is a great sum.
° Infinite shoutouts to Jerry Stackhouse, who made all four of his free throws despite never really being given the time to get in his rhythm. Nice to see that's one skill that doesn't seem to depart the user as time goes on. He hit the go-ahead three in the final moments, too, which was just lovely.
° Yeah, the Nets were a little lucky: They shot well all over the floor, which mean it didn't matter that Indiana's packed paint often stopped them from finishing inside. (They were 11-of-28 near the rim.) They won't usually go 6-of-6 from the right elbow, or 7-of-11 from the right wing along the perimeter. But hey, whatever. #analysis
° One habit I've noticed is that Brook Lopez will have a big first quarter—14 points last night—only to fall in a rut as defenses start hitting him harder and denying the ball. He ended up with 24 points, and though some of that is because the Nets went on such an overall shooting tear, it'd be nice to see him do what he wants for the full four quarters.
° Seriously, I am pretty sure no one like Tyler Hansbrough, not even his barber.
Ball hawk
C.J. Watson had a pair of these, ball pokes followed by an end-to-end layup/layup attempt. That this one happened when he caught Hansbrough off-guard is even sweeter.
Up next
Toronto, tomorrow afternoon. The third seed is technically still in play, so we'll see if Deron comes back or rests his leg.