Game Recaps
Nets 104, 76ers 83: The Reggie Evans Experience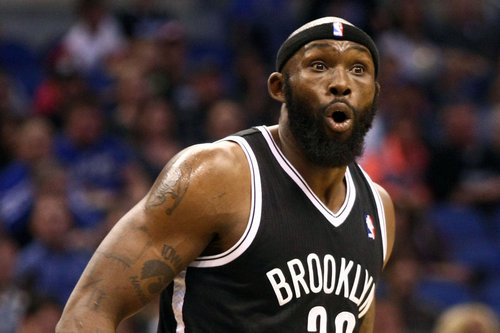 The gist of it. 
REG-GIE EV-ANS. Clap clap clapclapclap.
REG-GIE EV-ANS. Clap clap clapclapclap.
Do I have to say more? Okay, I'll keep going.
First and foremost, it was nice to see the Nets get a convincing home win as they roll into the playoffs. Not a ten point back and forth win against Charlotte, but a game in which their victory was never in doubt. They dominated all ends of the floor and beat the Sixers in phenomenal fashion. Well done, guys.
Now on to what really matters.
Reggie Evans was incredible. Started off with 10-10 in the first quarter, he finished with a disappointing 17-24, just short of the franchise record 29 rebounds. Too bad. Except, Reggie never played in the fourth quarter. But his contributions weren't just in those two stats. Reggie also had two very good assists into the paint in the first half and played pretty good defense for his standards. He got some good swipes and blocks and just played with an impressive tenacity. I mean, you have to love this dude.
Brook Lopez had a fairly quiet 29-11 game, and by quiet, I mean he wasn't Reggie Evans. He was hitting jumpers from all over the floor and displayed some impressive range yet again.
All in all, this was a pure offensive show from the Nets. Exactly the kind of show you want to see from this team at this point.
Observations
° The Nets finished with 58 points in the paint compared to Philly's 30. The Nets also had 67 rebounds to Philly's 34. Clearly this was a game dominated down low for Brooklyn. The two big men took care of business under the basket and that was the clear advantage for Brooklyn. The Sixers could really use Andrew Bynum right now.
° Deron Williams was largely ineffective tonight, finishing with 11 points and four assists, even held scoreless until the opening play of the third quarter. I'm not worried about him, considering he is coming off back-to-back 30 point outings, but I do think it is great to see this team succeed in this kind of fashion without him. Good depth, especially at one of the Nets' stronger positions is great to see.
° The same could be said about Joe Johnson, who I am more worried about. 11 points for him, coming off a shaky few weeks injury-wise isn't exactly what you'd like to see. I almost wonder if he should even be playing, given the postseason coming up. But, I suppose holding Joe to 23 minutes isn't the worst of ideas if he is willing to go.
° Deron Williams tied Kerry Kittles for most three-pointers in a Nets season, which kind of surprised me. Although D-Will has been a good three point shooter this season, I'ver really thought of him in that role like I did Kittles. He still has nine games to go so I'll definitely be looking to see how far out of reach he stretches that record.
° Kris Joseph got some minutes tonight, though he didn't do much of anything.
° If it is indeed the Bulls who the Nets play in round one, I have to say I like their chances. You never really know which Nets team is going to show up, but in nights like tonight, where everything just seems to be clicking, when they are really on top of things down low, it's tough not to see them with a round one advance. Now, Chicago has Noah, not Spencer Hawes. I am aware of this. Tim Bontemps pointed out that the Nets need to win out, and Pacers need to go 1-3 for a seed-switch to happen, though I'm not sure if this is still true after Indiana won.
Get in there!
http://youtu.be/t0ZITfISbZ8
Loving the push off Hump gives so he can get in position for the putback. Sometimes you've just got to slip in there, etiquette be damned.
Up next: Boston, on Wednesday, on the road. 8pm.