Game Recaps
Clippers 101, Nets 95: Chris Paul, I guess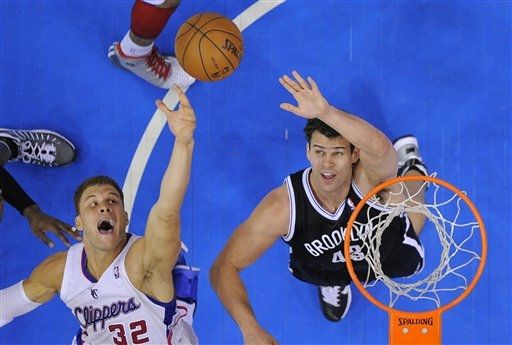 The gist of it: Apologies for how late this recap is coming. The game ended at like 1:30 AM local time and I was conscripted into a never-ending Google Hangout with the fellows from ClipperBlog, who did a very nice job asking me questions I was only sort of prepared to answer. (My favorite response: "I don't know, man. What do you think about Lamar Odom?" Which meant waking up fairly late this morning and lounging about in a Sunday stupor until pulling it together to bring you the tale of how the Nets… almost pulled off a big win against a great team, and why that should be a little bit exciting.
They were in it for three quarters, pacing themselves with solid three-point shooting from their non-stars and somewhat limiting the Clippers's ability to break things open in transition. They fell apart at the end because they don't have Chris Paul, who scored a bunch of points in the fourth quarter and sped along the comeback in a way Brooklyn wasn't capable of stopping, because their own shots weren't falling and because Paul controls the dark magics. The numbers actually broke down along similar lines: Both teams had 15 turnovers, went 18-for-24 from the line, shot about the same percentages… but the Clippers took five more shots, crucial in a six-point game. The Nets were still in it until Jamal Crawford stole and slammed the ball with under a minute left as Brooklyn was looking to close a two-point deficit; after that, it was just a matter of managing the clock, which the Clippers are unparalleled at. (Like, what are you going to do about this?) So it goes, I guess; I'm having a hard time being upset by this, even if it's a bummer the Nets couldn't close it out. Second best after winning is proving you can hang with the big guys.
Observations
° The Nets really didn't want to give anything exciting up to the Clippers; they constantly played conservative transition defense, bunching their bigs at the rim to prevent the chance of a lob even if it meant surrendering a wide open look in the lane or on the wing. It worked, sort of: They only gave up one third quarter alley oop but were scorched otherwise as the Clippers scored 10 times on 19 transition plays, according to mySynergySports. But considering the Nets held tough for three quarters, it seems like they succeeded poking the Clippers out of their comfort zone for a little bit.
° No, that was not a mirage: Kris Humphries made his first appearance in weeks as Mirza Teletovic was relegated to the bench, though he was as fresh as you might expect, missing the only shot he attempted. But he did play in the night's second most successful lineup (Blatche-Bogans-Humphries-Johnson-Watson, which was a +3 in eight minutes), and he did enable a nice duality of mildly regressed forwards jilted by reality stardom when he and Lamar Odom were forced to guard each other. He also snagged a chasedown block to start a fast break sequence that made me sob with relevant excitement.
° Lots of air balls in this one. Just so many air balls of all kinds.
° We won't forget Gerald Wallace's best game in like a month: he hit a pair of three-pointers,  made us believe he might be able to guard Chris Paul for a second, and helped the Nets stay ahead by hitting the shots he was supposed to hit. That sounds like circular logic, but really, Wallace hadn't been making anything in the last month, and maybe this is a bit of a turning point.
° Chris Paul got his fifth win against a Deron Williams team, beating back an otherwise consistent trend. (Deron held the 14-4 lifetime advantage before the game.)
° The Clippers fouled Reggie Evans at the end of the first half so they could get the ball back, a decent strategy considering he went just one-of-two and that their offense is stunningly competent in those last-second situations. They didn't get a score, fortunately.
Cue the Benny Hill theme music
What a lovely fast break. This is the small magic in a long season, guys.
Up next: Phoenix, tonight. Come on, we can do that.