Game Recaps
Nets 113, Mavericks 96: Deron makes Mark Cuban eat it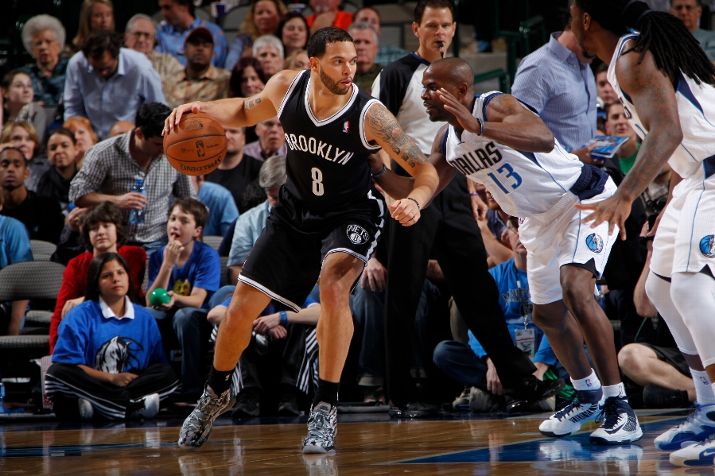 The gist of it: The Nets could've fallen down on this one: They've been up and down against good teams and should-be good teams, and though Dallas isn't having the best go of it this year they've still got loads of talent and a fading chance to make the playoffs. But after trading shots in the first half, the Nets broke away in the third quarter—a rarity for them—and turned this thing into a blowout, paced by an unstoppable Brook Lopez (38 points on 22 shots) and a vengeful Deron Williams (31 points, playing against a team he almost signed with last summer). Dallas's soggy defense allowed the Nets to score in a multitude of ways, and what was tense became not that big of a deal by game's end. They're now 2-0 on this circus trip and only two wins away from the franchise road record of 20, a number that seems… dark in context of how long they've been around in the NBA. It happens, I guess.
Observations
° Mark Cuban's face after Deron caught fire, culminating with a splashed baseline jumper right in front of the Dallas bench. Mark Cuban's face. This is why we watch sports, you know?
° Gerald Wallace's post-break shooting numbers haven't just fallen below the bottom of the barrel into some dripping, disease-ridden plague chamber—defenses are beginning to pick up on the scouting reports and leave him completely alone on the perimeter to double up more pressing threats like Johnson or Lopez, betting that Wallace won't hit the mark even if he gets an open look. O.J. Mayo more or less abandoned Wallace on the wing on a first quarter possession to help out on Lopez, and didn't even rush that hard to contest when Wallace got the ball back and rose to shoot—which he missed, of course, ending the night 0-3 from three-point range to lower his post-break line to 12.9% even as he's taking two of those shots per game. Wallace is still there on defense and in transition, but boy, that offense is not getting any better to watch.
° There was an interesting tidbit from a Zach Lowe Grantland article about how the Nets aren't particularly good at getting their pick and rolls to conclude with something productive:
Golden State, for instance, runs relatively few pick-and-rolls in raw terms, but a whopping 67 percent of those pick-and-rolls start a cascade of events that lead to the end of a possession — the highest "conversion" rate in the league. Brooklyn ranks at the bottom of that list, meaning Nets' pick-and-rolls are more likely than those of any other team to go nowhere and lead to the resetting of the offense. That's not necessarily a bad thing; Miami's way down there, as well. But unlike the Nets, the Heat are ridiculously efficient on possessions where a pick-and-roll does lead to a conclusive event.
They had some success with this last night, running Johnson-Lopez and Deron-Lopez pick and rolls to a few nice scores. But the Nets do like to isolate the ball a lot, despite what the evidence might say about the best way to play basketball, and I can't help but wonder whether the full integration of analytical suggestion with player instinct isn't something we're going to see for another basketball generation, as the statistical models trickle down to the amateur level so that players are more familiar with this kind of data and what it portends at an earlier age.
Telling Joe Johnson, an 11 year veteran to change the way he plays because of what a computer says? Not entirely easy. But some enterprising high school coach should see if SportVU—the high-level tracking system Lowe writes about—is willing to sponsor his team for a season in order to see what impact it has among players who are still figuring out the game, compared to ones who already have a pretty good idea. Player ego is the ultimate variable.
° Brook Lopez's dunks feel predestined; there's rarely an explosive showing of strength or athleticism a la Griffin or old school Stoudemire, but rather Lopez's arm following a linear curve directly to the basket as though drawn by a magnet. I can't explain it, but his dunks rarely seem aggressive; they're just what's going to happen when he gets close enough. Maybe he should scowl more to seem threatening.
° To be completely honest, dear reader, my body shut down for a minute at the end of the first quarter and turned me into a groggy beast not entirely capable of following along. Behold, a note I took after Keith Bogans drilled a corner three at the beginning of the second quarter: "Borgajsc   c0rjer 3." I thought these were words I was typing, really.
° After watching Andray Blatche take seven shots, none of which seemed a good idea at the time, and only miss one, I think we can safely call his style of play a basketball knife game. (But please, don't show him that video and give him any ideas.)
How dare you?
Andray Blatche isn't the player you want fending off a 3-on-1, but he got a hand on the ball and would've broken it down if not for the iffy call on what looked like a clean strip. Just because he's not supposed to do that doesn't mean he can't. Life isn't fair, Andray, but we keep trying.
Up next: The Los Angeles Clippers on Saturday night, in what might be the toughest challenge of the circus trip. One of the stories will be Deron against Chris Paul, whom he's traditionally beaten in head-to-head matchups despite Paul's rightful collection of "best point guard in the game" compliments; they've only met twice since he left Utah for the East, both Nets wins, one of them coming earlier this season.