Game Recaps
Nets 119, Pistons 82: Starting things the right way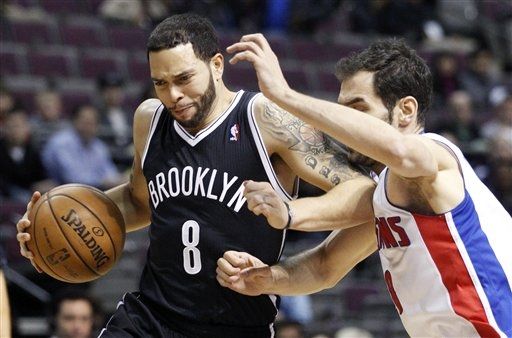 The gist of it: There are worse ways to begin a two-week road trip, even if everyone was justified in switching over to Miami-Boston around the middle of the second quarter when it became clear that the Nets had a blowout in the making and that Detroit wasn't really doing much to challenge that. A 37-point victory, their second largest of the season, comes when one team is making everything and the other isn't making anything—the fun of which comes upon witnessing all those makes go down with any trouble or dramatic impact. You've played those games of videogame basketball where you're winning by a lot and stop running plays, instead choosing to take a bunch of contested threes and drives in traffic, right? And then you keep scoring anyways even though you're not trying to? Yeah, it was a little like that. One city down, seven to go.
Observations
° I'll talk more about this later, but watching the replenished Deron Williams continues to be a joy: He's using his speed to get inside, he's using his strength to muscle down smaller guards, and his accuracy from long distance is increasingly nonpareil (46% on a little over seven attempts per game). In short, he's looking like the $100 million man Nets fans thought they were getting a few years ago. 31 points on 18 shots is efficient stuff, and he didn't play a minute of the fourth quarter.
° There's something that gets me really giddy about Andray Blatche and MarShon Brooks playing together, just a couple of guys trying to take and make the most ridiculous shots possible. Do you think the playful experimentation extends to their personal lives? Like they just sit there, trading implausible feats—eating 100 McNuggets without anything to drink, playing a season of Madden with one's feet, reading War & Peace without stopping—to see who will be the first one to back down. At one point when they were up by like 30, Blatche pump-faked on the perimeter like he was about to shoot a three-pointer and I almost wept with joy.
° Speaking of which, I'm going to make a supercut of every time Blatche or Brooks instinctively call for the ball with 20+ seconds left on the clock. It will be seven hours long.
° At Saturday's practice, I watched Jerry Stackhouse drill something like 15 jumpers in a row during one routine, and his first appearance in nearly two months showed his ability has never been in question during his nearly two-month absence from the team's rotation. With Keith Bogans sitting out because of a bum ankle, Stack provided 10 points off the bench along with a block—in transition, no less. Hey, (almost) 40 is the new 30!
° Gerald Wallace alley-oop! This counts as scoring inside!
° To be honest, I sort of stopped taking notes around the third quarter; my second-to-last observation was "Switch to Heat-Celtics," though of course I stayed until the end to see whether the Nets could set a season-high record for margin of victory. (They didn't, though they lead by 43 with a few minutes left before, I don't know, feeling bad for the Pistons and letting them back into it.) But can you blame me?
° Unfortunately, the Knicks also won—which means the Nets remain a game back for the Atlantic Division lead. Soon, soon.
Just like coach taught us
Hey, we'll take it.
Up next: Dallas on Wednesday… on national TV! Our hearts are beating.