Game Recaps
76ers 106, Nets 97: The classic trap game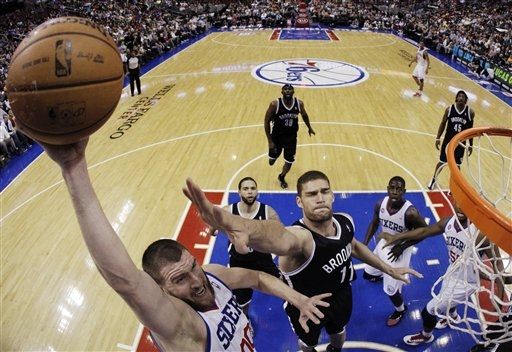 Pardon Hoop76′s Tom Sunnergren's cynicism when, before tonight's game against the Philadelphia 76ers, he appraised his team's abilities by bluntly stating: "First, and most significantly, this is a really bad basketball team." At the time, that certainly seemed true: The 76ers had won just 2 of their last 15 games and were riding a five-game losing streak, while the Nets had taken three in a row to get a little wiggle room in the Eastern Conference's four spot. But consistency has been their enemy all season long and the Nets looked lifeless after a hot start, allowing all five 76ers starters to score in double digits while enabling Spencer Hawes to nearly throw up a triple-double on 66% shooting. Spencer Hawes!
Really, though: What do you do when the opponent shot chart looks like this toward the end of the third quarter? Over and over, the 76ers found pockets of space inside the arc, and over and over they'd knock down the open shot. Brooklyn got within six with possession and a minute left, but Joe Johnson couldn't hit a close-range floater. Doug Collins is rightfully mocked for his analytic averse approach to the game that somehow emphasizes mid range shots over threes, but the law of averages dictates that it's going to work every now and then. The law of averages will also dictate that sometimes one team will shoot 53.3% from beyond the arc while the other shoots 31.6%; it dictates that Spencer Hawes will sometimes look like Arvydas Sabonis; it dictates that Damien Wilkins, of all 33-year old 6'6 journeymen, will end up with 13 points on eight shots and one hellaciously overachieving block of your 7'0 center.
And a team that's 2-13 over the last month will whip one that might end up winning their division when all is said and done, confusing announcers and fans in figuring out how to consider a team that's yet to keep it steady for more than a few weeks at a time. So it goes, and there's not much to do but trust that things will regress to the mean—even if Spencer Hawes shoots 66% along the way. I'm going to lay down for a while.
Observations
° After I mentioned to Tom that Reggie Evans post-ups and effort were recurring troubles for the Nets, they opened things up with… a Reggie Evans post-up followed by a lazy turnover. ALL HAIL THE PREDICATIVE KING.
° The good news is that Deron Williams really does appear to be fully recovered from whatever was ailing him: He absolutely torched Jrue Holiday, who's often feted for his defense, with a transition crossover in the first quarter for an easy layup.
° After starting 7-of-9 for 14 points in the first quarter, Brook Lopez shot just four times in the rest of the game to end up with 19. It was weird, too: The shots he was hitting in the beginning were of such mythical hot hand variety—turnaround long 2s for days—that it seemed odd he didn't get the ball more often. But such is the difficulty of the hot hand argument.
° The darkest timeline was the one where Hawes rebounded his own miss, then drew the foul while making the putback. The second darkest timeline was when Dorrell Wright drilled a three from like three feet behind the top of the key. Things like these happen sometimes, but they're eminently dreadful to experience.
° Mirza Teletovic is still getting a feel for the game; meanwhile, Kris Humphries continues to soak up space on the bench. The experiment continues.
Says it all
"The Nets are a tough team to figure out." — Ian Eagle
It's the small things
Nice to see, if only for a moment.