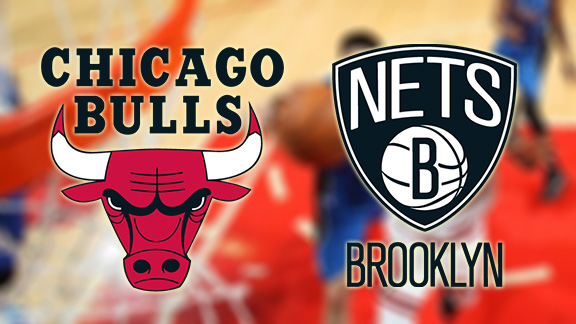 Here are our official predictions for the first round of the playoffs, where the Nets take on the Chicago Bulls in a series that's already been denigrated as "unwatchable" around the Internet by everyone who doesn't like watching Nate Robinson do the basketball equivalent of running into a wall. But how little they know! There's so much to look out for and wonder about as things get underway. These are things that matter to us, and things to wonder about as Brooklyn hosts its inaugural playoff run.
Joe Johnson will make or break this
I like Joe Johnson a lot—his name rolls nicely off the tongue, he never betrays too much emotion until it's absolutely necessary, and his hair is very nice (or so I've read). His first year in Brooklyn has been a bit up and down, though—still capable of flashing the offensive omnipotence that's earned him so much cash over his career, he's been just as likely to fade within the flow of the game and miss a lot of his shots. But the Nets are like 10 games over .500 when he scores 20 or more points—a small enough sample size considering how many times he hasn't done that this year, but better than they've done with Deron or Brook scoring the same. As Buddy Grizzard wrote last month, Joe doesn't have the best performance in win-or-go-home playoff games, but he's also been fairly good in clutch situations this year. Whichever Joe shows up will dictate how the team does.
Which Chicago defense are we getting? 
Tom Thibodeau won't win the Coach of the Year award but there should be some special dispensation to acknowledge what a bum task he had this season, assembling a workable NBA rotation out of what was, by season's end, a roster that awarded considerable minutes to working stiffs like Nazr Mohammed and human gumball machines like Nate Robinson. Despite considerable time missed by their starters, the Bulls still managed a season-long defensive efficiency that ranked in the top five, largely because of Thibodeau's patented man-on-wire defense that apparently works even with non-factors like Robinson and Marco Bellinelli getting out on the court.
But they've fallen off over the last few months as Joakim Noah and Taj Gibson have continued to miss games because while the suffocating philosophy is still there, dudes like Mohammed and Marco Belinelli simply can't move fast enough to have the same impact. Then again, the Bulls still beat the Nets a few weeks ago without Noah and Gibson. The real factor may be Carlos Boozer, who was missing in Brooklyn's only win during their season series. Like all things, we'll have to wait and see.
How will the Barclays crowd respond? 
Yes, we've had a very pricey and public stadium opening, the cultural cachet of watching Jay-Z watch a few games in person while texting on his phone, all the artisinally cured celery relish you could hovel into your maw, etc. But do Brooklyn fans know how to cheer for a playoff team? There's a proper rhythm in rooting for a basketball team—preemptively rising to cheer when someone takes a three, throwing verbal grenades when an opponent is at the line—but sometimes an incessant roar is the most effective motivator. Watch the Oklahoma City crowd, for example, how they work every possession into a collective seizure, and imagine how nice it'll be if the Barclays crowd can rise to the occasion. Those free t-shirts have to inspire some kind of communal rage, right?
(whisper voice) Derrick Rose…?
There's no logical reason to think Rose is coming back—Thibodeau has sounded ambivalent about his recovery process, and the shame-flinging Tweeting hordes probably have no ability to further rejuvenate a bum leg. But gosh, wouldn't that be the most narrative-y of narrative-y events were it to happen? The Nets, struggling to close out a resilient Chicago team dinged and flecked with injuries, when all of a sudden their absent MVP roars through the United Center tunnel to provide a spiritually restorative boost. Sure, Rose hasn't played a meaningful game of basketball in a year and coming back to face a point guard as strong and fast as Deron Williams isn't the easiest test. But what if? Sadly, I think that's all Chicago fans can muster as an argument until further notice.
(Though if you want to risk a small amount of money to make a large amount of money, the Bulls are at 60-to-1 odds to win the championship. What if Rose comes back? I'll stop.)
Gerald Wallace will be back, or he won't
We like Gerald Wallace, too, because he tries hard and means well, and we're sentimental enough to care about that. But if he's trying to break out of a season-long slump and show he's regained some confidence, it's now or never—not as though there's some declarative line between regular season performance and the playoffs, but there's at least anecdotal evidence to show that some players "bring it" on the bigger stage, right? We should hope for that—a perpetual state of "bringing it" that will justify Gerald's contract going forward, and show that he can be more than a defensive wrecking ball.
I will cry no matter who wins, loses
Oh, the problem of being both a Bulls and a Nets fan. Can't they just fuse into a super-team to take on Miami? PG: Deron Williams, SG: Joe Johnson, SF: Luol Deng, PF: Joakim Noah, C: Brook Lopez, Bench: Carlos Boozer, Taj Gibson, Reggie Evans, C.J. Watson, Jimmy Butler, Andray Blatche, Gerald Wallace. Doesn't that work?