Sergey Karasev. Former teenage Russian sensation. First round pick. Womanizer?
There was a clear hype that surrounded the young southpaw when he was drafted 19th overall by the Cavs in 2013. As a Northeast Ohioan I can attest to this. The Karasev jerseys outnumbered the Bennett ones on the streets of Cleveland, despite Big Daddy Canada being the #1 overall pick. Sergey's European descent and left-handed craftiness were enough for fans to envision him as the Manu Ginobili to Kyrie Irving's Tony Parker.
But all the hype quickly faded. After a season in Cleveland where he looked more like the next Yaroslav Korolev than the next Ginobili, Sergey was shipped to Brooklyn as the Cavs cleared cap space for the return of the King. The 30 point EuroBasket outbursts and Ginobili comparisons seemed like a distant memory.
The move to Brooklyn offered the opportunity at a clean slate. Sergey could be a breath of young, fresh air on a team that had quite possibly lead the league in cortisone shots and MRI's. However, in a twisted turn of events, Karasev would be the one needing an MRI, ultimately seeing his season end after just 33 appearances due to a dislocated kneecap and torn MCL.
What most stood out about Sergey's first season in Brooklyn?
His stretch of 16 starts from early December through the beginning of January comes to mind. During that period he averaged about 10 points. per 36 minutes with a true shooting percentage of 51. While these aren't exactly Ginobilian numbers, Karasev showed that he's an NBA-worthy player.
His play during that stretch led me to compare him to Mike Miller. While this comparison may be a bit of a stretch, the young Russian demonstrated many of the tools that have allowed Miller to last 14 seasons in the league; shooting, instincts and secondary playmaking ability.
Sergey has a pure shooting stroke, a southpaw hoist so buttery that it makes me regret ever learning to shoot right-handed. He shot below 30 percent on 3-pointers for the season, but his shooting mechanics are flawless and he will only improve as he builds strength, confidence, and an acclimation to the NBA's further-out arc.
He also has proven to have a legitimate basketball intellect. Karasev lacks the type of quickness and fast-twitch ability that characterizes elite NBA wings, but he uses smarts, timing and length to make up for it. This materializes on offense often in his ability to sink off-ball to open spots on the court. This can create spacing and/or a passing lane that his teams' primary ball-handlers can capitalize on. Additionally he has shown a propensity for making backdoor cuts, becoming a needed outlet on offense when sets become stagnant. Along with his off-ball prowess, Sergey possesses a bit of European playmaking flair. He doesn't have the quickest first step or the tightest handle, but his vision and creativity allow him to occasionally set his teammates up for a score.
While Sergey was mostly ordinary on the court, he was Chamberlain-esque off the court. Before an early season matchup with the Heat, New York Post's "Page Six" reported that Sergey was spotted returning to his hotel at 5 a.m. accompanied by a trio of "hot, busty, strippers". That's a direct quote. He may as well borrow the words of fellow countryman Mikhail Prokhorov: "Frankly speaking, I like women".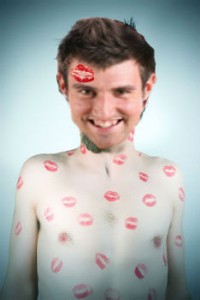 All jokes aside, Karasev is still just 21 years old. He has demonstrated traits that are sought after in today's NBA and he is under team control for 3 more seasons at an affordable rate. Assuming he fully heals from his injuries, the Nets need to continue to let him develop in hope that he can become a significant part of their future.