Analysis
How Thaddeus Young has Fared in Brooklyn
When the Brooklyn Nets traded starting power forward Kevin Garnett at this season's trade deadline, the natural assumption was when - and not if - Thaddeus Young would replace him in the starting lineup. With the Nets in the midst of their season-high eight-game road trip at the time and practice opportunities scarce, including five games in nine days post-All-Star break and trade deadline, head coach Lionel Hollins chose to bring Young off the bench in favor of smaller lineups with Joe Johnson at the power forward and Alan Anderson and rookie Markel Brown at the wing spots. Hollins explained it initially as the Nets embracing their identity as a "small team" in the wake of KG's departure and Mirza Teletovic's season-ending injury, and basically equated Joe Johnson and Thaddeus Young as power forward options, due to their similar size.
That lasted about two weeks. The first cracks in Hollins's Joe Johnson-at-power forward strategy began in Friday's home loss to the Phoenix Suns, when he went to Young to start the second half in place of Markel Brown. By Sunday's tipoff against the Utah Jazz, Young and Brook Lopez were both inserted into the starting lineup alongside Deron, Markel, and Joe; which has thus far lasted the next two games (as of this writing) - in losses against New Orleans and at Miami.
There was a chance that the Young/Lopez starting front court experiment would be purely situational and match-up-based, to combat the bigger lineups of the Jazz (with Derrick Favors and Rudy Gobert) and Pelicans (with Omer Asik and Anthony Davis). However, Hollins's adherence to the Thaddeus Young/Brook Lopez combination against the smaller, injury-ravaged Miami Heat Wednesday could demonstrate a long-term commitment as the Nets hope to make a push into the Eastern Conference playoffs over their last 20 games.
Thaddeus Young has adapted well to the Brooklyn offense, in the 11 games since coming from the Minnesota Timberwolves. He's playing about eight minutes less per game than he did with the Timberwolves, and as a result his counting stats are down (14.3 to 13 points, 5.1 to 4.7 rebounds, and 2.8 to 1.2 assists per game), but his efficiency numbers (20.1 PER, 57.8% true shooting, 22.6 usage) are among the highest of his eight-year career.
In his 275 total minutes with the Nets, Young's made 51.8% of his field goals (59/114) and a probably unsustainable 11/20 from three (55%), while his (19.3%) free-throw rate is slightly below his career average. The Nets have increased their scoring rate (1.06 PPP on-court compared to 1.036 PPP off) with him on the court, in a much smaller sample (275 minutes to 2784 minutes without).
Over two-thirds of his total minutes with the Nets have been in lineups next to Brook Lopez, with the other third spent with Mason Plumlee at the pivot. Lineups with Thaddeus and Brook score a bit better (1.084 PPP in 190 minutes to 1.007 in 69 minutes with Mason), but shoot and move the ball at a lower success rate (see table to right). As to be expected, the Lopez-laden front court plays a bit slower than with Plumlee, but to his credit Thaddeus Young's production is pretty consistent with either Lopez or Plumlee next to him.
Individually, Brook Lopez scores a bit worse with Young on the floor (1.07 PPP in 190 minutes) than without him (1.09 PPP in 1259 minutes without). Plumlee, though, might want to see an increase in his minutes spent with Thaddeus Young, as he gets to play quicker and score a bit easier in sharing the court with a power forward.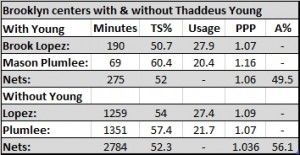 Despite Plumlee's possible preferences, it's easy to see why Lionel Hollins favors the Thaddeus Young/Brook Lopez pairing; at least on offense. Both players are proficient in the post, with the requisite spot-up games that would allow them to play off of each other when alternating post touches. Lopez has increased his output from 10 feet and out, although sacrificing some shots around the rim and shooting efficiency numbers in the process, while Young has reduced his mid-range shooting in his limited time with Brooklyn in favor of those mid-post/front-of-the-rim looks from 3-10 feet, and three-pointers.
Thaddeus's three-point shooting has been good from the top of the key and the corner, in the limited sample (only 20 attempts from deep), and odds are if he can put up more shots from deep his percentages will drop a bit closer to his 32.5% career average. He will, however, offer better spacing options than Kevin Garnett, who is a good pick-and-pop shooter from 18 feet but never developed a three-point stroke. While not a natural three-point shooter after giving up on the shot over a three-year period while with Philadelphia, Young will help to open things up a bit on Brook post-ups.
If Young can consistently knock down his catch-and-shoot looks, he'll open things up for Mason Plumlee also, on his dives off the pick-and-roll and by preventing the help defender from stepping in on his rolls to the rim. Unlike Brook, who can step out to just below the three-point line with his jumper, Plumlee offers no similar help for Young on his post-ups. He'll crash the offensive boards and limit his touches on that end, whereas Brook Lopez's well-rounded game allows the Nets to run some different sets on offense.
The Brooklyn Nets wasted no time Wednesday against the Miami Heat, in going to a HORNs set on their first possession. On this play, the point guard brings the ball up and then dumps it off to either big man, who has set up in the high-post and at the elbows.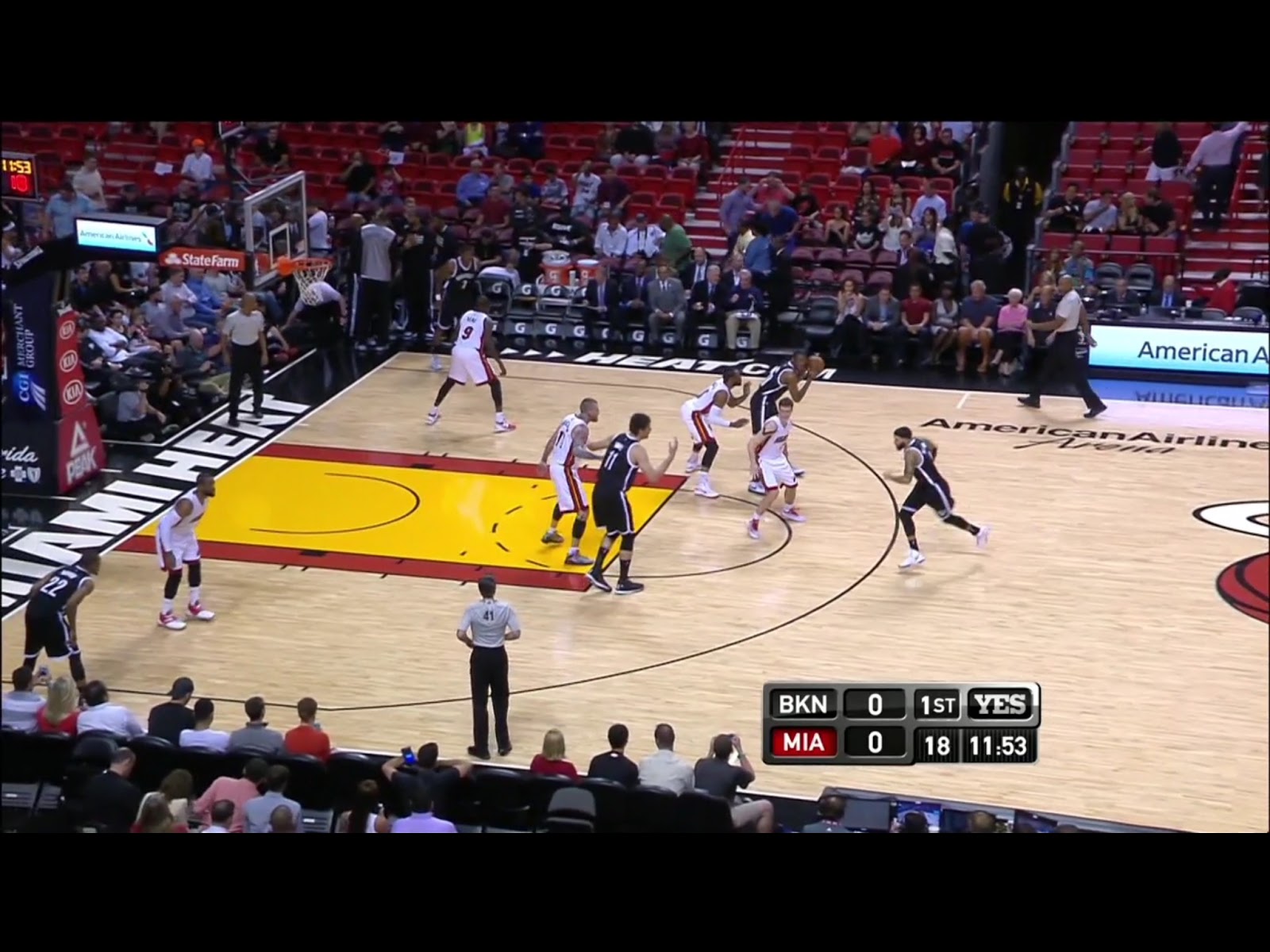 Deron Williams, in this example, gives it up to Thaddeus Young, on the right elbow, and then cuts left to set a down-screen for Markel Brown. Brook Lopez then slides to his right to run a pick-and-roll with Young, as Joe Johnson lurks in the right-corner and keeps Luol Deng occupied.
Deron gets a sagging Dwyane Wade on the screen and prevents him from helping on Young's drive, as Young gets a step on Chris "Birdman" Andersen and turns the corner off the pick. Birdman recovers to bother the layup attempt, but Young gets a good look on his strong side of the rim off of some decent play execution.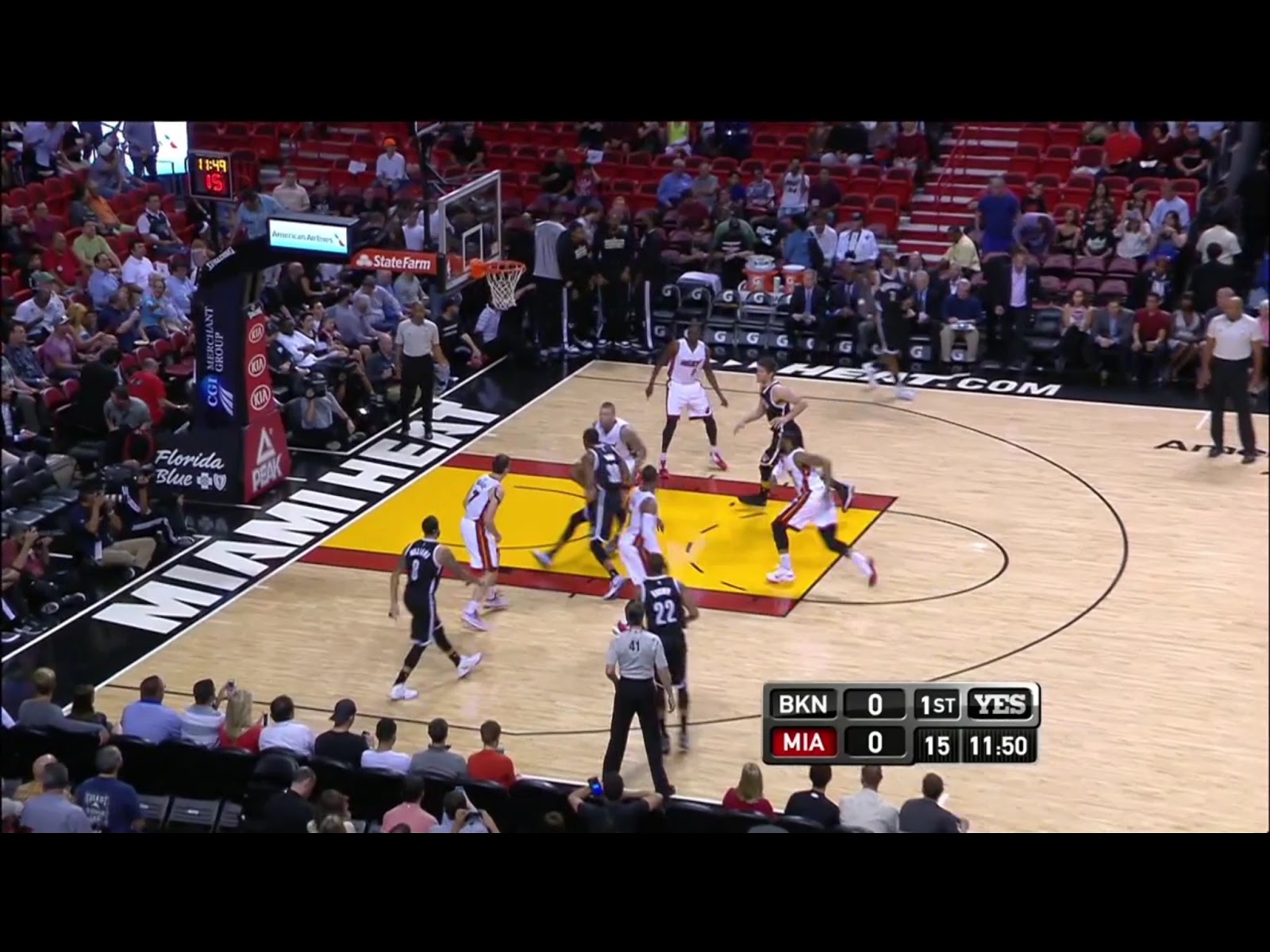 Now there's no doubt that Mason Plumlee could have sprung Young by setting a solid screen off of a similar HORNs set, but notice how close Birdman steps up to play Brook to begin. Until Plumlee develops a decent/non-hideous jumper, he's unable to draw that type of attention from the defense.
Here's one more example, from another HORNs play-call later in the first quarter of the Miami game that also results in a missed layup. This one's thrown up a bit more awkwardly than Thaddeus's take from the opening possession (because Jarrett Jack), but it's a better example of how Brook's ability to draw his defender out to the elbows opens up the rest of the action.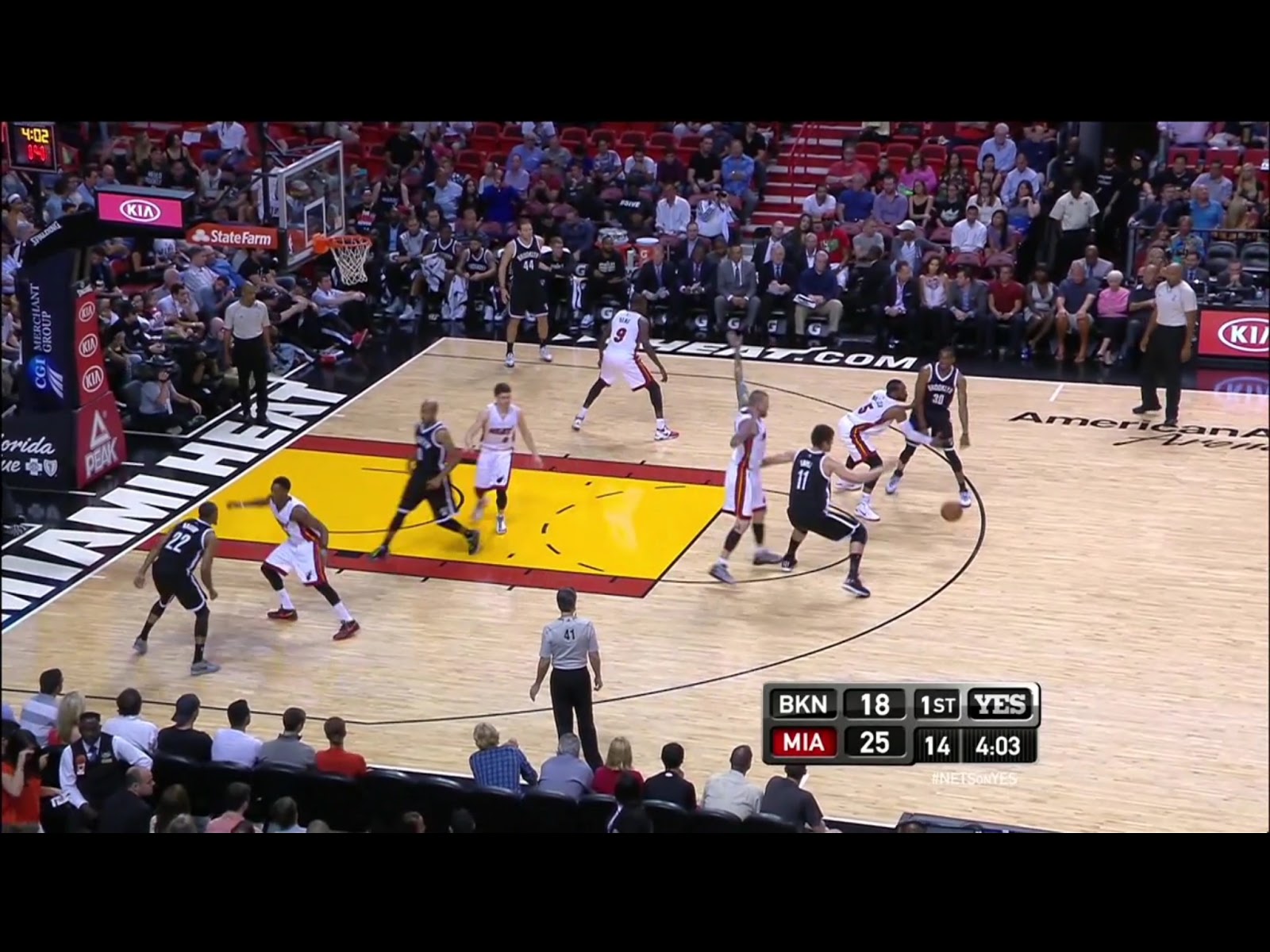 Outside of to avoid a defensive three-second violation, there would be no reason for Birdman to step up to play Mason Plumlee that high. Since Brook can flash the occasional jumper, Andersen plays him aggressively and above the paint, allowing Jarrett Jack to flash the cross-screen on the baseline and cut towards the ball for the dribble-hand off.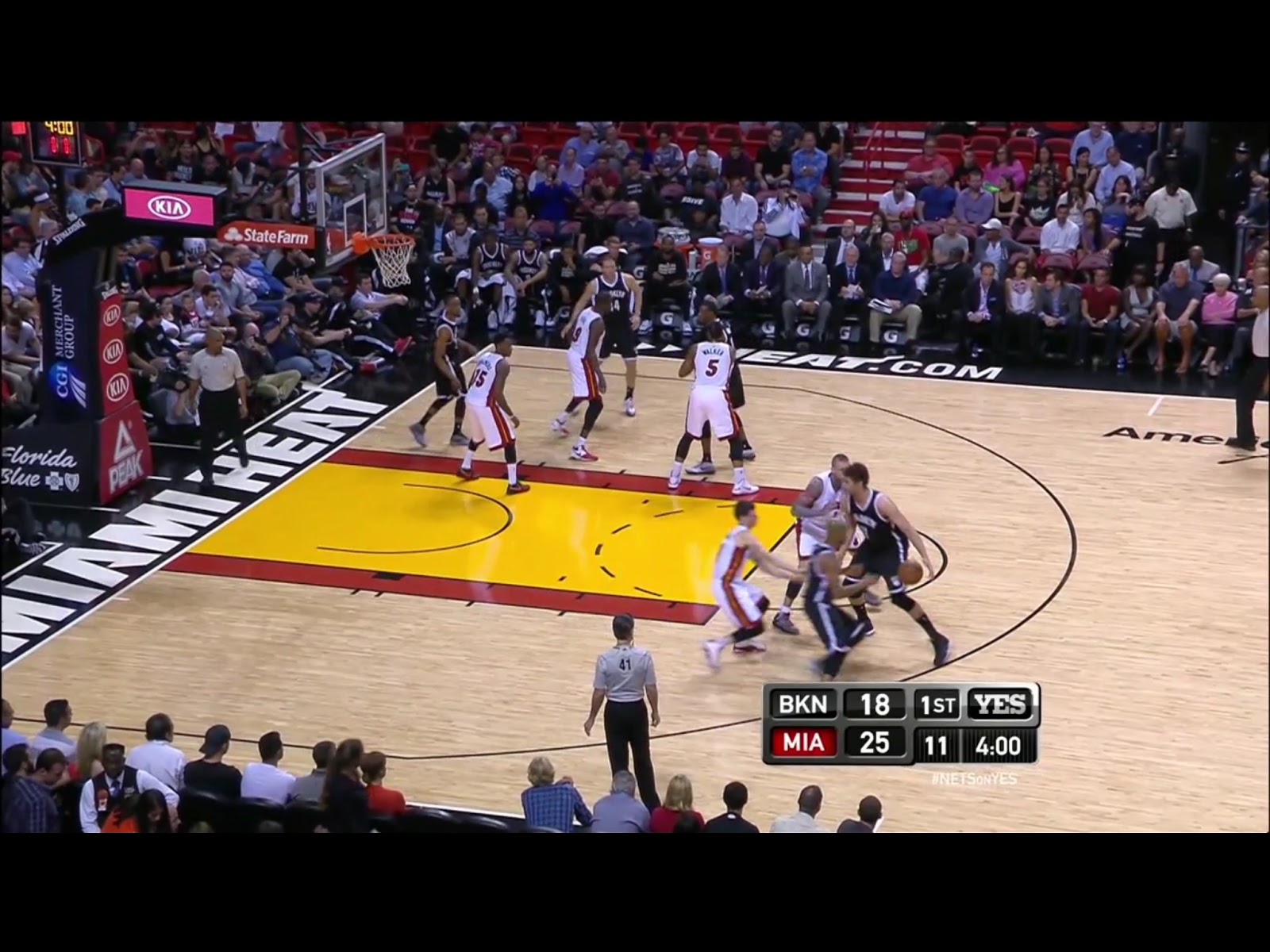 In this HORNs variation, Andersen is a step slow in dropping back in his pick-and-roll coverage and is more focused on Lopez's roll than really bothering Jack as he turns the corner. Thaddeus tries to free Bojan Bogdanovic with a down-screen as he pops to the three-point line and successfully draws two Heat defenders to the arc. Young turns to hit the offensive glass, but Mario Chalmers lets Markel Brown cut to the corner and instead steps in to bother the Jarrett Jack shot attempt, playing the Birdman role in forcing an altered shot in the paint.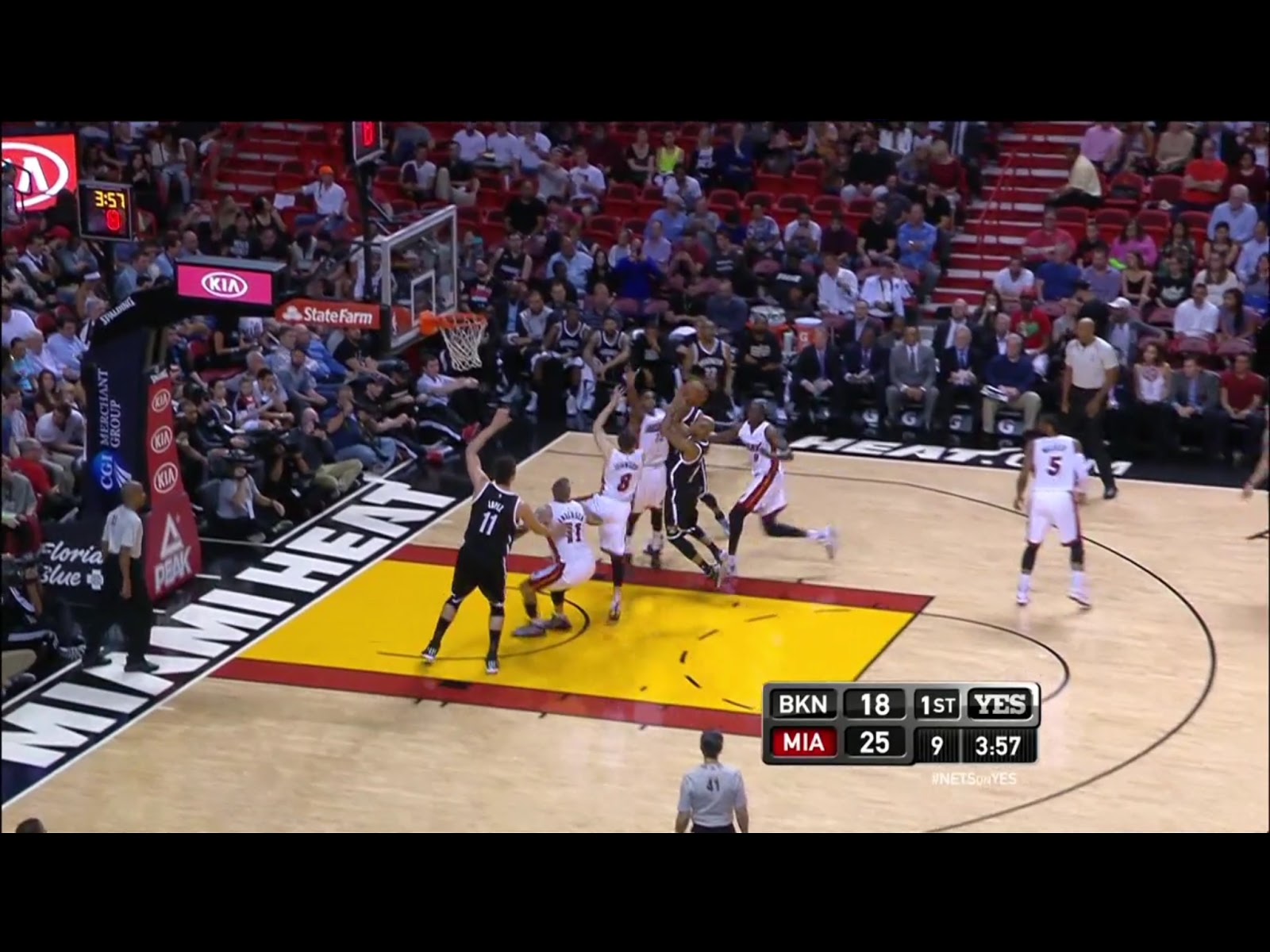 Brook successfully took Birdman out of the play as he rolled to the left side of the basket and drew the shot blocker away from Jack's dribble penetration. A heads-up play by Mario Chalmers in leaving a non-shooter in the corner prevented a Jarrett Jack layup in this instance, but look for more Nets sets involving other HORNs concepts that get both Brook Lopez and Thaddeus Young in space.
As far as the defensive end… that's a bit more complicated. The Thaddeus Young/Brook Lopez lineup has scored 389 points on 51.8% true shooting in their 190 minutes together, but has surrendered 400 points in 359 possessions (or 1.114 PPP) and allowed opposing offenses to shoot 53.9%. The Plumlee/Young combo has actually been worse in shorter minutes, getting outscored 137-161 in 136 possessions (good for a 1.184 PPP against) and outshot 56.4% to 58.6%.
Thaddeus Young, in particular, will have to address his effort and technique issues on the defensive end. His individual metrics aren't exactly encouraging, with a defensive rating of 108.6 since the trade, and NylonCalculus' rim protection numbers have him as the second-worst rim defender in the league on a per game basis and the worst as far as field goal percentage allowed at the rim. Young's never really been a shot blocker in the NBA, with just one season of more than 50 blocked shots (2012-13), and instead uses his seven-foot wingspan to reach and rack up steals (four seasons with 100 or more total steals).
It's already putting some pressure on the big fella, Brook Lopez, in their limited time together. Lopez already isn't the fleetest of foot, and doesn't possess the defensive instincts of other NBA centers (due to his refined talents on offense), but he's been active and trying to help around Thaddeus Young.
In that Vine clip, he's switched onto Miami's Henry Walker on the perimeter and then slides down to the baseline to help Bojan on Luol Deng. It was great help defense, aided by Walker's decision to cut down the lane/crash the boards and draw the help to Deng, and a huge block that unfortunately rolled out of bounds and back to Miami. On the next play after the ensuing inbounds, the Heat stacked their two bigs above the free throw line for their own HORNs set, caught Brook stepping up too far and threw the alley oop to Birdman as he beat him to the basket. It's like Spoelstra saw Lopez make a nice play on defense and immediately called up a set to go right back at him. Poor Brook.
Even with Brook engaged on the defensive end, covering up for Thaddeus Young's handsy defense might be too tall of a task. Here he plays Goran Dragic's drive pretty well, by moving his feet and staying with him along the baseline until Deron can catch back up. Thaddeus, meanwhile, kind of roams in the mid-paint area and gets a nice chip in on Birdman as he cuts down the lane, but from there the praise ends, as he completely loses track of Michael Beasley (!) on the cut and halfheartedly swipes at the penetration, putting Brook in an awkward position. Lopez is hesitant but steps up to Beas, and then somehow (one more time) MICHAEL BEASLEY?! drops down a nice pass to Birdman for the baseline dunk. Again, poor Brook (last one).
It would be tough to imagine Thaddeus Young lasting long in Lionel Hollins's starting lineup with those kinds of (lack of) effort plays. The Nets have fallen into the bottom-third of NBA defenses in recent weeks, ranking 23rd at 104.7 points allowed per 100 possessions on the season, and are actually a bit worse in the three games since starting Young and Lopez, at 110.8 points allowed and 99.2 scored per 100, which would rank second-last (shout-out, Detroit!) in the league, with a -11.6 point differential.
For a team that's 3.5 games out of the last playoff spot in the Eastern Conference (entering Saturday's game in Philadelphia), the Nets and Lionel Hollins will have to hope that the Thaddeus Young/Brook Lopez front court figures it out in the next couple of games, or look to make yet another change to their starting lineup. Back to small-ball, anyone?