Brooklyn's Finest Kicks
Brooklyn's Finest Kicks - February 2015
The month of February saw a tornado of player relocations occur at the NBA trade deadline. Those historical trade winds ultimately swept away Kevin Garnett and his collection of Anta sneakers back to Minnesota.
While KG's passion and leadership will be missed in Brooklyn, many of his sneaker choices won't be. For those of you who appreciate sneakers with Garnett's scowling visage on the tongue, enjoy! For those of you who don't, enjoy anyway! Here's a look back at some of KG's finest kicks from his time as a Net.
THE GOOD
The gold and blue-camo accenting make these pairs my favorites from KG's tenure in Brooklyn. The cleanest pairs KG laced up came when he deviated from the basic black/gray/white color scheme.
THE BAD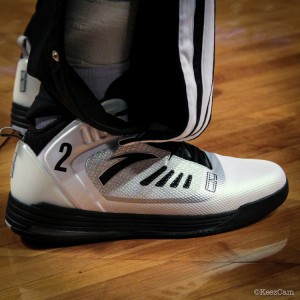 While some may appreciate the simplicity of these kicks, they're wrong to do so. Take away the logos on the shoes and it would appear as if KG were playing in orthotics.
THE "WUT?"
Most players opt for logos that reflect their initials or jersey number. Kevin Garnett isn't most players. Discovering his scowling face logo makes writing about the Nets worth it in and of itself. Thanks, KG. Brooklyn will miss you and your angry sneakers.
Continued thanks to KeezOnSports for the images.