Uncategorized
Why Coach Kidd's regular season debut was a letdown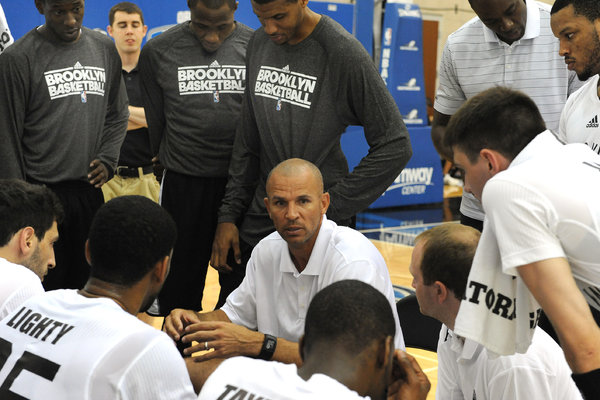 The NBA schedule is full of potholes. Back-to-backs, West Coast swings, four games in five nights, trips to Milwaukee and Minnesota in the dog days of February. Unfortunately, a head coach's debut in the third game of the season in Orlando doesn't fall into any of those categories. That's what makes Sunday night's dispassionate display from the Brooklyn Nets so mystifying.
The Orlando Magic are an up and coming team with a long term strategy toward winning. They have stock piled draft picks in the post-Dwight Howard era and have put together a solid nucleus for the future. For the future. The Brooklyn Nets are built to win right now. Right now. The Nets are the only team in the league with a payroll over $100 million, and are spending upwards of $35 million more than the Magic. Jason Kidd, Paul Pierce, and Kevin Garnett were brought in for their experience and championship pedigree. Victor Oladipo, Moe Harkless, and Andrew Nicholson have a combined two years NBA experience between them.
But on Sunday night the Magic looked like the team full of veteran grinders, not the Nets. The letdown from a huge win over the two-time defending champs in the home opener was inevitable, but it wasn't supposed to be this bad. The box score tells us when a team is getting outworked and out-hustled. Brooklyn allowed Orlando to shoot 47% from the field, roll up a 54-42 rebounding advantage, and gave up a ghastly 42 points in the paint. Friday against Miami, Brooklyn won the battle down low, outscoring the Heat 40-32, and outrebounding them 40-30 on their way to a one point victory.
The Nets fared no better on the other end of the court. Six Magic players were in double figures, compared to only two for the Nets (Brook Lopez and Paul Pierce). The offense appeared out of sync throughout the game. The best stretch came in the third quarter, when after falling behind by 16, Brooklyn went on a 10-3 run to close within nine. That mini run was emphatically capped by this monster Paul Pierce slam. After a Jacque Vaughn timeout, however, rookie Victor Oladipo scored eight straight points and found Nikola Vucevic for a dunk that pushed the lead back up to 15. The young Orlando duo combined for 38 points and 18 rebounds.
Games like this will happen over the course of an elongated 82-game season. The worry here is that it occurred so early in the season. How will coach Kidd's team react come February when, following the All-Star break, they embark on an 11-day, six game road trip? How about later this month during a four games in five nights stretch that includes back-to-back games at the Houston Rockets and Memphis Grizzlies?
Coach Kidd will have all season to tweak his rotations, adjust pick and roll schemes, and fine tune his play calling out of timeouts. What this particular group of players will need is someone at the helm motivating them and pushing them through nights like this. Kevin Garnett is likely the most intense player in the history of the league on a nightly basis, but with his minutes curtailed in the name of health, the responsibility for avoiding these kinds of pitfalls shifts entirely to Kidd.
In his debut, Kidd seemed to be channeling Phil Jackson. There was a calmness and a sense that his players would figure things out without him having to get too involved. He let his veteran team play through runs by the opponent instead of calling time. He declined firing up his team by taking a technical after a pair of conspicuous goaltending no-calls led to put backs for Orlando. And, with his team struggling on the glass all night, he refused to insert resident agitator and rebounder extraordinaire, Reggie Evans into the game. This was a Reggie Evans kind of game through and through, yet he logged just nine minutes. Unsurprisingly, he managed to snare five rebounds in his limited action.
These are the big picture issues coach Kidd will have to work on. The scheme adjustments on a game-to-game basis will come, but it's only going to get tougher to ramp up the intensity as the slog of the season sets in. Coming out flat and not being ready to play should not be issues for a veteran-laden team chasing a championship — not in early November, anyway. Hopefully, Kidd and the Nets can show the hometown fans what this team is really made of Tuesday night against the visiting Utah Jazz.