Uncategorized
Holding our breath before the season begins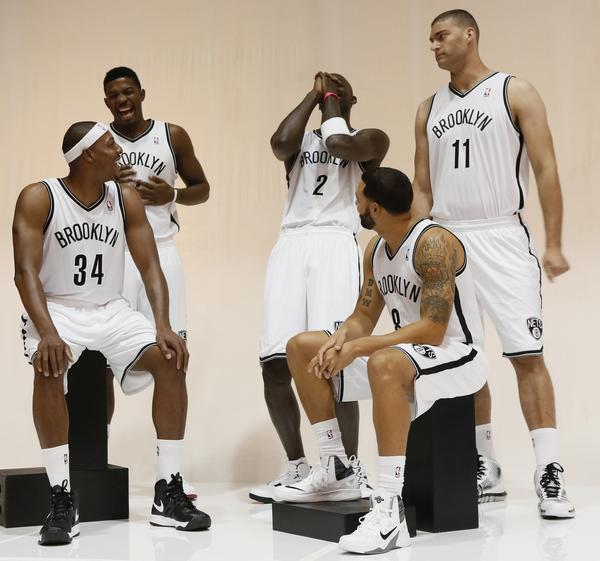 To be honest: On the list of things that keep me up at night, wondering how the Brooklyn Nets will perform this season doesn't rank very high. There are greater unknowns, like whether any of us will find true meaning or whether the Uber app will run out of its kitten shortage before it's too late. Besides, we don't have to imagine how the Nets can or will play: We're about to witness it over the next several months, a season's worth of possibilities awaiting us. That said, the reasons why we're excited to watch the Nets play still exist, and here's a few of them—along with a few predictions that will, most likely, be terribly wrong.
Alan Anderson  
Because: One slightly diminished Jason Terry isn't enough.
Bold prediction: He'll spark at one—and only one—comeback with his shooting.
Andray Blatche
Because: You took a while to grow up, too.
Bold prediction: He'll get in one sideline argument with Kevin Garnett, and then never do it again.
Reggie Evans
Because: A true original. He'll grab 23 rebounds while also insisting on taking the ball to the rim a few times a game, throwing up a lefty hook that shouldn't go in but sometimes will. Here's hoping Kidd can do a better job of reminding him that the Nets now have players who can score the ball, but hey, everyone's got to feel themselves at some point.
Bold prediction: He'll become one of the few post-1973 players to collect 30 boards in a game.
Kevin Garnett
Because: He will yell at his teammates until they learn how to play defense. He will get into an actual barking match with a dog. He will appear at random clubs and terrify the hell out of everyone. You saw Unforgiven, right? KG is Clint Eastwood and LeBron James is his Gene Hackman. Just wait until the playoffs!
Bold prediction: He'll sit out the second game of every back-to-back, but he won't be happy about it.
Joe Johnson
Because: It's hard to be loved when you're overpaid. But with Brooklyn's offense further spread out through the new additions, Johnson can focus on refining into the player he is now rather than the player he was. That means a lot of spot-up shooting from the left corner and right wing, where he was typically on fire, along with the occasional drive to the center to remind us all that he's making nearly $20 million for a reason. He'll be the most expensively paid fourth option in the league, but a job is a job.
Bold prediction: His PER will increase past league average!
Andrei Kirilenko
Because: All of the conspiracy theories about Prokhorov offering him money on the side were unfounded and maybe also a little racist? But that just means it'll be that more satisfying to watch AK-47 do a little bit of everything for a fraction of the price, filling in when Garnett has to rest his legs or when Lopez can't be trusted with crunch-time defense.
Bold prediction: This haircut is long gone. 
Shaun Livingston
Because: Sports are our national mythology, and rarely are narratives more satisfying than the well-earned comeback story. Livingston isn't the nearly generational talent he might've seemed almost a decade ago, but he knows how to pick his spots and put the ball in the right place—skills that already make him a natural upgrade as backup point guard, where he'll be expected to guide the bench offense rather than spark it (compared to C.J. Watson, who never met a jump shot he didn't want to take). Who doesn't want him to succeed?
Bold prediction: He'll receive the largest proportion of fan love to actual playing time.
Brook Lopez
Because: Must all basketball heroes wear scowls and carry inferiority complexes? Brook Lopez, with his inconsistent haircuts and fondness for comic books, is by NBA standards a goofball. What do we make of a player with Nowitzki-lite shooting skills but a heretofore unfortunate lack of ability on defense, mostly characterized by his difficulty with guarding the pick-and-rolls that've come to dominate the modern offense? To hear it from Shaq, Lopez is the best big man in the league—a claim he's come close to making over the last few years, but now given added weight considering Lopez's recent All-Star berth and the expectations for how the Nets will do this season. It's nice to imagine Lopez sitting on the sideline, absorbing everything Garnett has to say about moving your body on defense, but development doesn't come just because we think it should. At the very least, Brook's deficiencies should be immediately mollified through the addition of Garnett and Kirilenko, leaving time for his lessons to take hold. That'll give him more time to become the player only he can be.
Bold prediction: He'll lead the Nets in scoring. Let's say 25 ppg on 55% from the field?
Paul Pierce
Because: This may as well be his final hurrah. He's like a version of Joe Johnson that talks, which means it'll be a lot easier to accept the pull-up threes that don't go in. Again, wait until the playoffs.
Bold prediction: He'll lead the team in taking the final shot.
Mason Plumlee
Because: All Duke grads deserve a chance to redeem themselves. Also, he probably has a really funny definition of what a "hipster" is and it'll be my grand duty to figure it out for you.
Bold prediction: He won't be sent to the D-League, and in fact will become a slightly essential component of the bench unit.
Tornike Shengelia
Because: His name is fun to say, at least.
Bold prediction: Won't really play that much this year. Not so much a bold prediction, but oh well.
Tyshawn Taylor
Because: It would be convenient if he could develop into a worthy backup
Bold prediction: He'll lead a bench lineup that can't score the ball whatsoever but will be weirdly effective at stopping the opponent. Taylor-Terry-Kirilenko-Evans-Plumlee? Get ready for some UGLY SPORTS.
Mirza Teletovic
Because: Those three-pointers have to go in at some point.
Bold prediction: They will!
Jason Terry
Because: Basketball is more fun when guys like him are successful.
Bold prediction: Will be worth the trouble at least once in a crucial playoff game.
Deron Williams
Because: It's now or never. Is he a footnote in the long history of Chris Paul challengers? The Big Sean of NBA superstars? A coach killer who'll never earn his puckish attitude toward the media? I believe, in my heart, that Deron at his best is the league's top scoring point guard—apologies to Derrick Rose—and that the only thing that can stop him is his health. I expect the Nets to be cautious in that regard, but it should never be as bad as the beginning of last season.
Bold prediction: He'll go back to averaging double-digit assists, and will also make the All-Star team.