Uncategorized
Deron Williams hits the CenterStage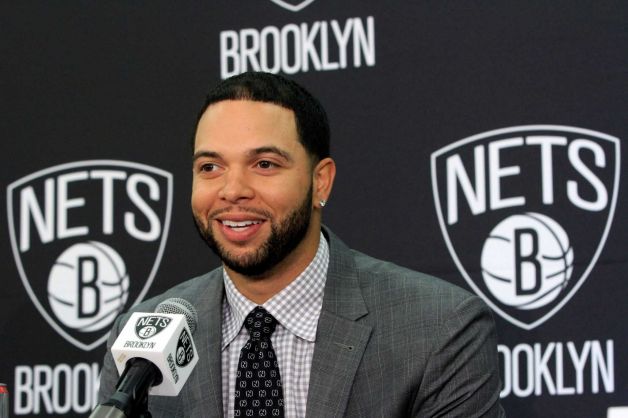 Last week, Deron Williams was a guest on the YES Network's CenterStage with Michael Kay. During the hour-long sit down interview Williams was asked about his upbringing in suburban Dallas, how he ended up at the University of Illinois, the restaurant scene in Salt Lake City, and how he really felt about being traded to the then New Jersey Nets. I'll skip the quotes for those of you that are interested in watching the program, but one thing definitely stood out to me sitting four rows away from the Nets superstar: He's ready to win.
From the opening segment to posing for pictures at the end, Williams demeanor never changed. He was relaxed, confident but gracious, with a touch of attitude. He handled shout outs from the audience between segments with the same honesty as he did Michael Kay's on-camera questioning.
Originally, Deron (who does NOT like to be called De-Ron) wanted to attend the University of North Carolina. He was also considering Georgia Tech. Unfortunately, after weather issues delayed his travel plans the Tar Heels extended a scholarship to Raymond Felton, and the Yellow Jackets signed Jarrett Jack. That left Williams to brave the cold in Champaign where he would help take the Fighting Illini program to new heights.
After a 29-game winning streak to start the regular season, the Illini entered the NCAA tournament poised for a title run. And that's exactly what happened. Williams practically carried the Illini to the Final Four, where he'd meet a familiar face in the title game: Raymond Felton and the UNC Tar Heels.
Despite losing in the championship game, Williams had raised his draft profile significantly during the tournament run. He was now a consensus top ten pick and received the blessing from his college coach, Bruce Weber, to leave after his junior season. Williams was convinced he'd end up in Atlanta, but fell to the Utah Jazz after the Hawks selected former Tar Heel Marvin Williams second overall.
After several playoff runs and visits to French restaurants in Salt Lake City with Tony Parker, Williams was dealt mid-season to the New Jersey Nets in 2011. D-Will said he was shocked at the trade, and that he found out about it watching SportsCenter in a hotel room in his hometown Dallas of all places. He admitted to being worried and apprehensive upon his arrival in New Jersey.
Eventually, he embraced the move to Brooklyn and agreed to sign a max extension contract to remain with the Nets for his prime years. The factors that led to him staying? The Joe Johnson trade. The Gerald Wallace trade. And an undeniable feeling that he was meant to be here to take care of unfinished business. Williams admitted to wanting to play for his hometown Dallas Mavericks. Although he stopped short of saying Mark Cuban's presence would've changed his decision on where to sign, there was definitely an edge to D-Will's response when Kay posed the question.
This long journey has led Williams to the most important season of his career. With veteran, championship-winning teammates, a mentor for a head coach, and all the ancillary pieces in place, it's time for Deron Williams to re-establish himself as one of the top point guards in the league.
At Media Day on Monday, he calmly addressed his new mindset with a self-assurance that has been lacking in recent seasons.
"I think it's just confidence," Williams said. "I think the last couple of years I've lost confidence. Being on a losing team was tough on me. For the first time in my career I picked up bad habits; got negative at times. It's hard to get out of that. Now I've got great teammates. I got guys that will keep me straight if things go south."
Quotes like the one above echo his attitude regarding the upcoming season and the new expectations on the team he unquestionably leads. One thing is for sure: If D-Will can stay healthy, Nets fan will be treated to the finest—and hopefully most successful—season of his career.