Uncategorized
How Kevin Garnett can keep up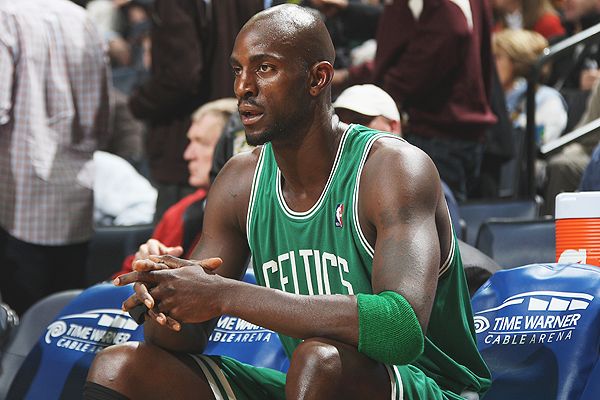 In the summer of 2007 the Celtics needed to make a splash after failing to land one of the top two draft selections that year. Sending out seven players for a single player had never been done before in NBA history, but that's exactly what Boston did, sending out a pair of number one draft choices, Al Jefferson, Ryan Gomes, Sebastian Telfair, Gerald Green, and Theo Ratliff for Kevin Garnett. It immediately paid dividends as Garnett, Paul Pierce, and Ray Allen marched to a 66-win regular season and the franchise's 17th NBA Championship.
Now, it's the Brooklyn Nets who are looking to take the next step into championship contention by swinging a mega-trade for the trash-talking, floor-slapping, head-banging, shot-swatting, larger-than-life force that is KG. In yet another blockbuster, Garnett was acquired (along with Paul Pierce and Jason Terry) for three future first round draft picks, Gerald Wallace, Kris Humphries, Keith Bogans, Kris Joseph, and MarShon Brooks. The Nets are hoping Garnett can provide a similar impact on defense and the overall team culture as he did in Boston.
Unfortunately, the Nets did not trade for 2007 Kevin Garnett. Last year, Garnett played less than 30 minutes per game for only the third time in his career, and missed 13 games due to injury and rest-related nights off. According to multiple reports, he realistically considered retirement this offseason before agreeing to waive his no-trade clause in order to allow the Nets deal to go through. It came as no surprise then, when new coach Jason Kidd indicated he may not play Garnett in back-to-back games this season.
Speaking with the New York Daily News' Stefan Bondy, Kidd said, "We've talked about it that there's going to be (minutes restrictions). When you look at KG, probably no back-to-backs for him. Those are just topics we're talking about, throwing around to keep these guy's minutes down because we are deep. You want to be fresh going into the playoffs."
This season the Nets have 20 back-to-backs, including five in February, and a somewhat shocking four in the final two and half weeks of the season in April. Last year's Celtics had 21 back-to-backs including five in December, and four each in February and March. Garnett suited up for 17 of these games on zero days rest, missing several games in March and April with left ankle issues. A careful examination of the schedule reveals what may have caused Garnett's injuries and what Coach Kidd will have to do to avoid a similar fate.
Despite 13 back-to-backs before the All-Star break, Garnett showed no signs of injury. He was held to 30.3 minutes per game (per NBA.com) but played in all 52 games through that point. After the All-Star break (KG played six minutes in the All-Star game), the Celtics opened with back-to-back road games against the Denver Nuggets and Los Angeles Lakers. Two days later, Coach Doc Rivers gave KG the night off in Phoenix because he didn't want him playing three games in four nights. Garnett finished out the road trip in Portland and Utah, playing 33 and 36 minutes, respectively. Boston would only play one game in the next seven days, with three days off each surrounding a home tilt against the Golden State Warriors.
This was the point when the schedule turned on Garnett and the Celtics. On March 5th, the team began a stretch of six games in nine days, including two back-to-back sets. Here are KG's minutes totals from those games:
Tues 3/5 at PHI: 28 minutes

Wed 3/6 at IND: 30 minutes

Fri 3/8 vs ATL: 35 minutes

Sun 3/10 at OKC: 31 minutes

Tue 3/12 at CHA: 20 minutes

Wed 3/13 vs TOR: 20 minutes
Between the travel and the workload, KG's body finally broke down. He sat out two games with an abductor strain in his left leg before returning to the lineup a week later. He played 29 minutes each in the next two games before shutting it down with a left ankle sprain and inflammation. Garnett missed the Celtics next eight games before getting in some spot duty in the last week of the season. With the Celtics having secured a playoff berth, he sat out two more games to rest.
KG played in all six of the Celtics playoff games against the New York Knicks, but seemed a shell of his former self. Clearly, the last month had robbed him off his ability to blow up an opponent's pick-and-roll attack, as the Knicks relentlessly involved KG in screens all over the floor. Garnett looked flat out slow for maybe the first time in his storied career.
Using data from NBA.com/stats, Garnett's offensive and defensive impact can be measured based on how many days rest he had before playing. Somewhat surprisingly his offense didn't seem to suffer at all. Garnett actually raised his scoring efficiency in games in which he had zero days rest. In the 17 games he played on zero days rest he shot 55.8% from the field, compared to 47.8% from the field in his other 51 games. Small sample sizes surely play a role, but it's still a large difference in conversion rate.
Garnett was most affected on the defensive end and on the glass in these short rest situations. His individual defensive rating rose slightly to 98.0 with zero days rest, but shot up to an eye-popping 108.6 in the February back-to-backs. The 98.0 figure is still elite, but the 108.6 is Tyreke Evans level. For the season, his defensive rating was 96.2, good for 8th in the league among players who averaged at least 20 minutes per game, showing just how far he fell off in those February back-to-backs.
The other area where KG was most affected was on the boards, where his defensive rebound rate fell to 23.8% on zero days rest (25.9% season average). Defensive rebound percentage is an estimate of the percentage of available rebounds a player grabbed while on the floor. An 'activity stat' like rebound rate is one way to measure if a player needs more rest.
Coach Kidd will need to closely monitor not only KG's minutes, but also when he plays. It's not enough to say he won't play in all back-to-back games because as the Celtics learned last year, not all back-to-backs are created equal. To begin the season the Nets have four back-to-back sets in November including a three-in-four nights stretch during a West coast road trip, and a four-in-five nights gauntlet to close out the month.
The schedule doesn't turn ugly again until February when the Nets play five games in eight days. Then they close the month out with a pair of back-to-backs as part of another West coast swing. The schedule lets up in March, with only a pair of back-to-backs to worry about, before the finals weeks of the season descend on Brooklyn like a tidal wave. The Nets close by playing ten games in 16 days, including four games in five nights to open the month. Ideally, Brooklyn will have the playoffs locked up and won't be involved in a battle for seeding. How Kidd rests Garnett during these runs will play a major part in determining his health for the playoffs.
The good news is Coach Kidd is already acutely aware of his big man's limitations. The bad news is until he's truly held to the fire no one knows how Kidd will react. Can he resist keeping KG in the lineup if the Nets are battling for homecourt advantage? Will he really be able to limit Garnett's minutes in big games against the Knicks and Heat? Even the seasoned Doc Rivers had trouble staying the course last season. How will a first-time coach juggle this kind of maddening situation? And will any of it be enough to keep a productive KG on the floor anyhow?
The Nets pushed all of their chips to the middle by making the trade for KG, Pierce, and Terry - just like the Celtics themselves did once upon time. If Coach Kidd can avoid the pitfalls that plagued the Celtics and Garnett last year, the Nets may find themselves where the Celtics did at the end of 2008 - holding the Larry O'Brien trophy.