Game Recaps
Nets 103, Pistons 99: HELLO PLAYOFFS!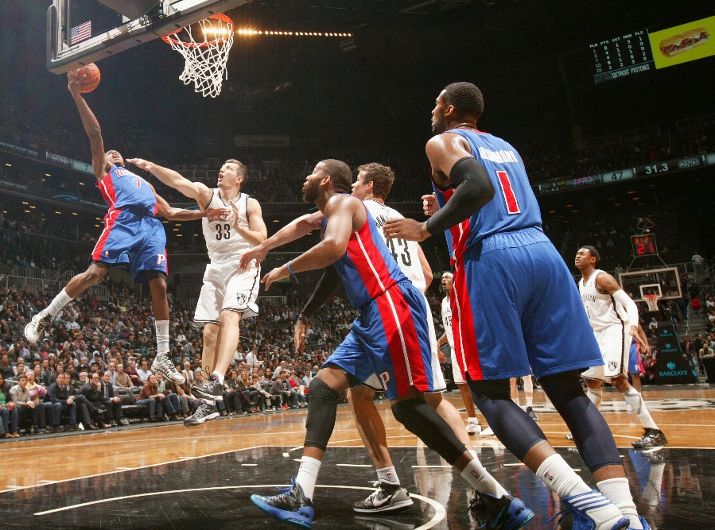 The gist of it
With a half-hearted win over the lowly Detroit Pistons, Brooklyn can finally say hello to the postseason. Were you expecting anything better? Carlesimo played his starters for the entire first quarter, allowing the Nets to jump out to an early lead—after that, Tyshawn and Mirza got tons of time. Not that it mattered much—they held a double-digit lead until the fourth quarter, when Detroit suddenly launched a furious run (including the game's final 11 points), but still held on the season-sealing victory.
The more important thing happened elsewhere: The Knicks blew out the Hawks, meaning that the Nets will kick off their inaugural playoff trip against the Chicago Bulls. The banged-up Bulls managed to take three of four from the Nets during the season, which means this'll be no easy series—especially since they've probably got taped up photos of the Miami Heat in their locker room, salivating at the opportunity to disrupt their season. (They may be the best chance in the East to do so, not that that means so much considering how good the Heat have been.)
Observations
° Half of Brooklyn's shots came in the paint, where they really dominated on the offensive end despite Detroit's theoretically robust paint presence in Andre Drummond and Greg Monroe. Lopez, Humphries and Blatche all scored in double digits, which hadn't happened since a mid-January game against the Knicks.
° Carlesimo spread out the starting unit juuuuust enough, giving them enough to work off of heading into the playoffs—they sat out all of Monday's game—while pulling them out before they got gassed.
° You'd think the final game of the season would be the time for Monroe and Drummond to unleash some hellish stat line justifying the rightful hype of what those two could mean to the Pistons for years to come. They sort of did—Monroe had a double-double, and Drummond filled up the steal-block chart—but they also had a hard time staying on the floor, each racking up four fouls. That's an omen of literally nothing but it would've been nice to see them get the entire game to screw around. Next year, guys.
° Gerald Wallace missed pretty bad on a pair of long jumpers, but when he's tuned in on defense (he had four steals) and is hitting the paint hard (he had back-to-back dunks), Crash is simply more productive.
° Playoffs, y'all!
So considerate
http://youtu.be/ZCraiVF8NWo
Teletovic's game-saving block helped avoid a truly dire situation: this meaningless game going to overtime, which would've ruined so many late-night commutes.
Up next
The playoffs begin on Saturday against Chicago, who took the season series 3-1. In the Nets' only win, both Joakim Noah and Carlos Boozer were missing—so this shouldn't be a stroll.