Game Recaps
Nets 101, Celtics 93: Closer to a clinched seed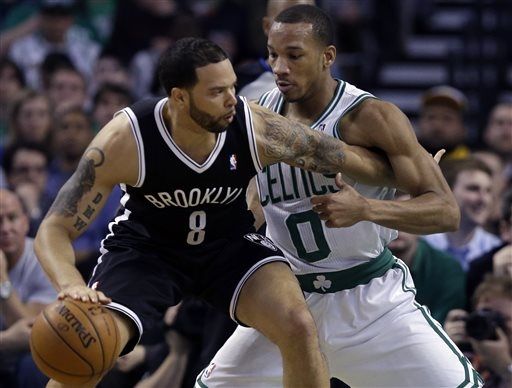 The gist of it
Avery Bradley is a high level defensive guard, so you'd expect him to ride Deron Williams the length of the floor for 30-plus minutes when his Boston Celtics took on the Nets last night. Instead, Bradley rode the pine most of the night – rendered useless by three Williams-drawn fouls - while D-Will proceeded to pick apart one of the league's best defenses.  Williams led all scorers with 29 points on 9-18 shooting, dished out 12 assists with only 1 turnover, and most importantly, enabled Joe Johnson to look comfortable on the floor three games after returning from injury.
Williams, Johnson, and Brook Lopez have each taken turns as the Nets wildcard this season, but against the Celtics they each scored 20+ points (for the third time this season, all wins), and taking a page out of Boston's playbook, they are finally starting to gel when it matters:  at the end of the season against playoff teams. On Monday, we wrote about the inevitability of Gerald Wallace's lost confidence, but with the Nets' Big Three taking charge, and the emergence of Reggie Evans as a multi-dimensional player, Wallace's struggles are easier to mask.
The Celtics played the Nets to a near draw in the first quarter, with Kevin Garnett, Brandon Bass, and Chris Wilcox setting beautiful screens to free up open three point looks that went down. The Nets looked sloppy early, manifested most prominently in Wallace's inability to catch the ball (before leaving the game with a knee injury) and the team unable to close out on perimeter shots.
As the second quarter rolled around, though, the Nets began forcing the Celtics inside, realizing that the three-headed Shavlik Randolph-Chris Wilcox-DJ White monster isn't a very scary one. This is when Lopez and Evans began to manhandle the Celtics frontcourt down-low. Evans collected 14 defensive rebounds – extending his double-digit rebound streak to 15 – while Brook Lopez affected shots like a pre-Lakers Dwight Howard. While a 14-point lead against the Celtics is never safe, the Nets closed out the half on a 15-4 run and maintained control as they coasted to an easy win against a not-so-easy team.
Observations
° Most questions posed by viewers during Ask The Announcer segments are sugar-coated softballs. But then @benj510 blew away the Eagle-Spanarkel duo with a real puzzle: 'What's better? Nine 40-point games from Carmelo Anthony or eight 20-rebound games from Reggie Evans.' Hmm.
° Deron Williams, C.J. Watson, and Marshon Brooks shared the court for ~5 minutes. It yielded little, but was intriguing nonetheless. If the Nets make a playoff run (and what would be considered a run? Taking a team to 7 games in the second round?), I can't help but think that Marshon Brooks or C.J. Watson will have a couple of 2007 Daniel Gibson games.
° Ian Eagle during a live look-in at the Nets pregame shootaround: "Evans already working himself up into a lather." Was anything less than 14 rebounds in doubt after that?
° Like an NFL team trying to establish their running game, the Nets have recently found success getting Lopez and Evans (yes, looking to him before he gets a rebound) the ball early in games to establish an inside game. This worked extremely well against the 76ers, as Lopez and Evans scored 46 points on 19-32 shooting. This did not work as well against the Celtics, but Lopez proved just as effective on pick-and-rolls and pick-and-pops. Shaq may still be wrong in his assessment that Lopez is the best center in the NBA, but he doesn't sound as crazy as he did last year.
° Generally, teams in new cities don't make the playoffs in the first year. Barring a disastrous finish, though, the Nets will have home court advantage in the first round. Barclays Center fans have been tremendous all season, but it will be interesting to see how they handle the burden of taking it to the next level for a first-season-in-town playoff run.
° With four games left, the Nets have a 3 1/2-game lead for the fourth seed. So unless they suddenly forget how to hold a ball…
If only they could all be this easy
What looks like a well executed D-Will/Lopez pick-and-pop becomes a Lopez rack attack when he sees the open space. Not many centers are versatile enough to read the defense that quickly, accelerate, and with one dribble, throw down a monster dunk.
Up next: 
On Friday, a true test against the third place Indiana Pacers.