Game Recaps
Nets 105, Bobcats 96: Say goodbye to your teeth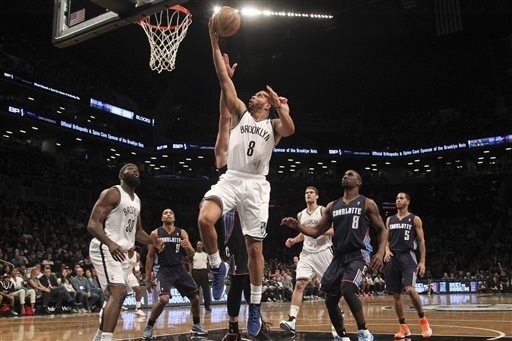 By Dakota Schmidt (@dakota_schmidt)
Have you ever had an annoying relative that you just can't get rid of because they latch on to you and don't let go? I had that feeling when I was in bed watching last night's game. I knew from the start that Brooklyn should win and Charlotte should not—one team is a four seed, one team is tuned into the NCAA tournament to scout its next overwhelmed rookie—but the Bobcats were persistent little buggers, and wouldn't give up. Brooklyn's own inconsistencies that lasted for the majority of the game, and thus there really wasn't a "dagger" moment even though the outcome appeared to be certain from the start.
There were times in the game either in the 1st quarter or the 2nd half where it appeared the Nets had control of the game but then either Gerald Henderson or Ben Gordon would either nail a three pointer or make that trip to the free throw line that would just make the lead vanish before the eyes of everyone at the Barclays Center. As a Bobcats writer I know about the trials and tribulations that Gordon has been through during the season so it was definitely crazy to see him go off for 27 points on 8-16 shooting (6-11 from beyond the arc). (Editor's note: Imagine what Gordon's career might've been like if he hadn't tethered himself to a mediocre Detroit team after leaving the Bulls.)
That said, the Brooklyn backbone of Lopez, Williams, and Evans was enough to stymie any Bobcat punchiness. Deron had a typically stellar post-All Star performance, putting up 32 points on 11-18 shooting, while Brook (19 points and 4 blocks) and Reggie Evans (14 points and 20 rebounds) took Charlotte's front-court behind the woodshed and blew up the points in the paint disparity (54-34). An easy and not-so-easy win against one of the NBA's worst teams that wasn't as boring as a blowout, thankfully, even if no one wants to feel nervous against the Bobcats.
Observations
° Within the first 60 seconds of the 2nd half, Charlotte rookie Michael Kidd Gilchrist unintentionally landed an elbow in the mouth of Reggie Evans which knocked one of his teeth out. I don't know what it was but a certain animalistic intensity came out of Evans because he put up 12 points and 8 rebounds after the incident.
° Andray Blatche! Despite playing only 17 minutes on Saturday, Blatche was an absolute monster on offense by easily taking care of Charlotte front-court players in Byron Mullens and Josh McRoberts. While Charlotte's roster is still a huge work in progress it still was a pleasant surprise to see 'Dray give the Nets such a boost off a Nets bench that really didn't do much else. Blatche has been a key fixture of this Nets team for the entire season and perhaps him getting hot at the right time could help lead the Nets past Chicago in the potential 1st round matchup.
° As an outsider watching this game on League Pass, I was extremely impressed and somewhat jealous of the YES broadcast team of Ian Eagle and Jim Spanarkel. While I'm familiar with Ian's work from to his work on CBS's NFL coverage, I was just extremely impressed both by the way he called the game and his overall chemistry with Spanarkel. They were both informative and entertaining even if Spanarkel ignored some of Ian's puns or references to older movies.
° While the conveniently sampled post-break stretch has seen its fair share of Reggie Evans glass wiping and D-Will scoring explosion, it hasn't seen too many Joe Johnson moments. He was a mild non-factor in the game, getting on the board with 15 points but needing 16 shots to get there—and there were plenty of moments where he slowed the game down while trying to take control. Joe's one of the more talented true scorers in the league, but he can still hurt a team when he's trying to be the leader on an off-night.
Slow your roll
A perfect Deron sequence. Speed, brains, he's got it all!
Up next: Philadelphia on Tuesday, as the Nets try to dig into their playoff seed.
Dakota Schmidt contributes to Behind the Back Pass, Rufus on Fire, and Ridiculous upside. He's at @dakota_schmidt on Twitter.