Game Recaps
Nets 115, Cavaliers 95: What a way to end a road trip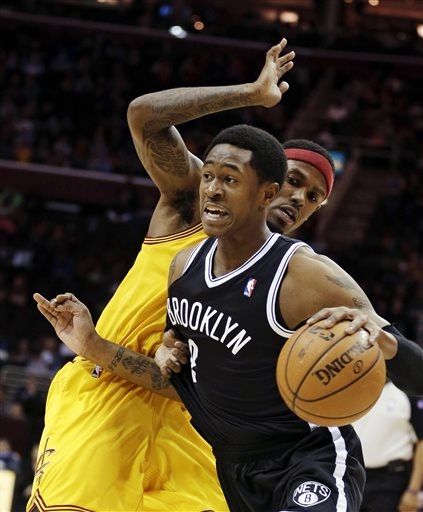 The gist of it
The Cleveland Cavaliers are not necessarily going to make a go of things, but that's not their fault—they're young, injury-depleted, bad on defense, giving non-negligible minutes to a (surprisingly-effective-but-still) Luke Walton, etc., especially not when their best player is active in just his second game in the last three weeks and when the other team is looking to slam the door on a mostly successful road trip. Confirmation bias, maybe—"The Cavaliers are bad and the Nets are good, so that's how this will go"—but really no other way to look at it when Brooklyn is up by 30 as they're shooting 75% in the second quarter. That was a theme of this concluded road trip, which the Nets finished 5-3 overall: the Nuggets game aside, their games were either blowouts over mediocre-to-bad teams, or close losses to playoff teams. (I'll ignore Phoenix's torrid comeback and just remember the first half.) Which is why a few minutes into the fourth quarter, with the Nets up by a hefty margin, I realized I'd begun idly playing the Nyan Cat web game in spite of my better instincts, since it was a more compelling spectacle than the Cavaliers were providing.
But! It was still a fun thing to MarShon Brooks blow past his career high points with 27; to watch Deron Williams dunk; to watch Jerry Stackhouse dunk; to watch Kyrie Irving look vulnerable for once; to watch Kyrie all but throw his coach under the bus at the end by hinting that he'd lost the team's attention; to end a two-week circus trip by winning the most road games in team history, with home a short flight away. Precious things, these early April blowouts; cherish them while we can.
Observations
° There were so many oddball stats to isolate at any given point. MarShon Brooks opened the game 10-for-10 from the field; at one point, he, Deron and Brook had outscored the entire Cavaliers team by themselves; near the end of the first half, Reggie Evans had more defensive rebounds than Cleveland, too; through the first half the Nets were shooting like 20% better from the floor than they were from the free throw line. Just an odd night.
° You're never going to question another team's effort to their face, but… the Cavaliers gave up two consecutive dunks to Reggie Evans and another to Jerry Stackhouse and let the Nets shoot 75% in the first half. Maybe they weren't feeling it tonight?
° Speaking of Stackhouse, he has two dunks on the season. Deron Williams has one.
° Didn't have the exact numbers because stats websites only go back so far, but I'm pretty sure the Nets entered the game having played their starting lineup of Williams-Brooks-Bogans-Evans-Lopez less than ten minutes all season.
° This is kind of a dumb observation but MarShon Brooks is sort of like the Future of NBA players, maybe? They're both goofy dudes who make something uniquely beautiful out of something that should be ugly (excessive Auto-Tuning, isolation plays). I don't know, just listen to "Turn on the Lights."
° Did anyone else have a little bit of a brain fart when they turned the channel to the YES Network only to realize the game wasn't playing? It was on My9, which was thankfully pointed out to me—blame baseball season, which we can expect to confuse us furthermore for the next few weeks.
° I'm sure the road-weary Nets don't share my exact POV on this, but every time I've returned to Brooklyn from a long trip I've thought to myself, "Thank God I'm back in Brooklyn." (What a precious reaction, right?) So maybe the Nets will be extra jazzed, too, enough to carry them through the remaining homestand with vigor and aplomb.
Do you believe in magic?
Such a deeply lovable MarShon play, to me: a drive, a bobble, a recovery, a bailout pass, a bailout three.
Up next: The Bulls, tonight. First home game in nearly two weeks as they face a very hurt Chicago team.