Game Recaps
Nets 93, Hawks 80: The sleepiest blowout ever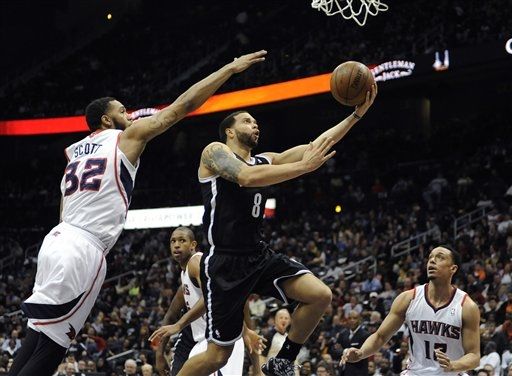 There's certainly nothing bad about a blowout, because it's obviously better than losing. But blowouts come in different forms and tonight's against the Atlanta Hawks was a mildly dreary affair absent of any dramatic tension and closely resembling the basketball equivalent of boiled cabbage: limp and not much to get excited about. The margin of victory was wider during Friday's win over the Charlotte Bobcats, but that game had the Deron Williams Blues Explosion to capture our attention. By comparison, Nets-Hawks didn't feature a single player scoring more than 18 points, with both teams shooting a combined 42.% from the floor and 26.9% from beyond the arc. Andray Blatche was the leading scorer of the game on a 9-for-11 shooting performance built on long 2s, ponderous dribble-drives and fast break layups. Goofily entertaining in a way, but not great to watch in the flow of things.
Which is what happens sometimes, when two not entirely aesthetically pleasant teams meet and play to their respective levels. The Hawks are in a bit of a slump: it was their fifth loss in the last six games, and after an 11-1 start they quickly found themselves in a morass of bricked 3s and settled jumpers (they shot just four free throws in the first half). The Nets, meanwhile, more or less abandoned their game plan once the blowout was in effect, allowing Blatche to take all the (admittedly successful) ill-advised shots he could muster. At one point, Keith Bogans—Keith Bogans!—got the ball behind the arc and drove to the rim, which he's explicitly paid not to do. (Seriously: He's driven on just 1.9% of his possessions this year, the lowest rate of any Net who isn't Mirza Teletovic.)
Brooklyn was up by 19 going into the fourth quarter and never allowed Atlanta to get closer than 13 through the rest of the game. Joe Johnson had a bad shooting night, but it didn't really matter; Blatche turned it over four times, but that didn't really matter; Tornike Shengeila used a rare appearance to chain together two of the ugliest offensive possessions of the game, but that certainly didn't matter. They're still in fourth place in the Eastern Conference, and they might even be able to ride this winning streak until the matchup with the Los Angeles Clippers in two weeks: up next on the schedule is Philadelphia, New Orleans, Atlanta again, Detroit and Dallas, none of whom are playing particularly well. It's not impossible to think they might get to 50 wins—and a win is a win, even if it's not very entertaining.
Observations
° Not the warmest reception for Joe Johnson, who had a famously lethargic time toward the end of his Atlanta tenure that culminated in the fanbase's ecstasy when he was traded to Brooklyn. There was a chorus of jeers when he air balled a three in the third quarter, to which he only smiled—maybe because he knows that, contrary to popular belief, Atlanta's offensive efficiency hasn't improved at all since he left town.
° Mirza Teletovic sometimes seems reluctant to shoot, though passing along the perimeter to the open man isn't necessarily a bad instinct. His jumpshot is a beautiful thing if he's on the money, with lots of arc on an automaton release. Beware correlation and causation, but the Nets are 3-0 since he took a more prominent place in the rotation.
° Absent a defensive game plan, Ivan Johnson settled for trying to aggravate Brook Lopez by forcing a jump ball and then holding his arm as they went for it, leading to a pair of free throws. "Hey, I was trying to bait him into punching me and getting kicked out," he might've said to a perturbed Larry Drew on the sideline.
° A day after his record-setting night, Deron Williams was just 2-of-7 from three-point range.
° Kris Humphries continues to look pretty happy through his demotion, but hey, I'd probably be stoked if I were being paid eight figures to ride the bench.
"Whatever, we're up by 18."
With the way the game was going, Joe Johnson probably didn't even mind the blond kid making faces. Not that much, at least.